FDA Warns of Dangers of Fluoroquinolone Use – Antibiotic Lawsuits Move Forward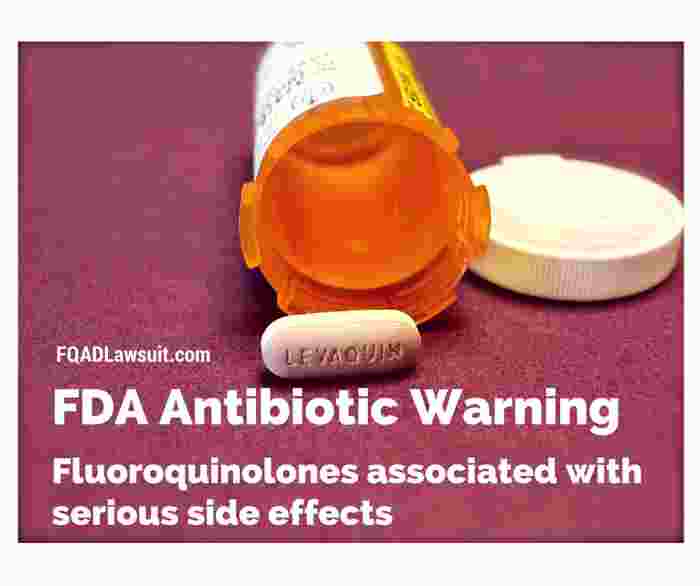 Last Thursday, the FDA issued the long awaited Drug Safety Communication advising the public about the dangers of fluoroquinolones antibiotic use. Fluoroquinolones (FQs) are one of the most prescribed classes of antibiotics, some of which are Cipro, Levaquin, Avelox, Floxin, Factive, and generic versions of these same drugs.
According to the FDA Safety Communication, serious side effects associated with these popular antibacterial drugs outweigh the benefits for patients with sinusitis, bronchitis, and uncomplicated urinary tract infections who have other treatment options.
Experts say these drugs are overprescribed. According to the Centers for Disease Control and Prevention, 268.6 million courses of antibiotics are written in the outpatient setting annually (as of 2013). This equates to more than five antibiotic prescriptions written each year for every six people in the United States. Fluorquinolones are the fourth-most prescribed antibiotic nationwide, given to 33 million Americans in 2013 alone. It is imperative that news of this Drug Safety Communication is shared with all Americans.
According to the FDA,
Systematic use of fluoroquinolones (such as Cipro, Levaquin, Avelox, Floxin and Factive) is associated with disabling and potentially permanent serious side effects that can occur together.
Previously, an FDA Advisory Panel referred to these serious side effect that occur together as "fluoroquinolones associated disability" (or FQAD) because these side effects had been found to be a substantial disruption to a person's ability to conduct a normal life. Although the FDA stopped short of calling this "constellation of symptoms" a disease, the serious side effects that will now be the subject of a strengthened warning are the same as those explained in detail by 30 members of the public at the November 2015 Advisory Panel meeting.
Serious side effects include damage to the tendons, muscles, joints, nerves, and central nervous system.
In addition to the Drug Safety Communication made on Thursday, it is important to note that these drugs will also get a label change that includes a "limitation of use" so that it is no longer appropriate for a health care professional to prescribe one of these antibiotics to treat sinusitis, bronchitis or an uncomplicated urinary tract infection. This also serves as a warning to health care practitioners that side effects occurring in the tendons, muscles, joints, nerves, and central nervous system can be linked to these drugs, giving patients a better chance of understanding the source of their pain at an earlier point in time.
Since the FDA announcement last week, there has been a growing amount of attention in the media, and specifically within social media, as a result of some very vocal individuals who have been living with these side effects for a long time and don't want this "floxing" to occur to others.
Antibiotics lawyers, including TorHoerman Law, are also moving forward with lawsuits against the manufacturers of Levaquin, Cipro, Avelox, Factive and Floxin. These lawsuits are being filed on behalf of individuals that believe they were "floxed" –previously healthy and highly functioning individuals who took fluoroquinolones for a non-life threatening disease and now live with painful and life-changing injuries. While these injuries vary from person to person, they include aortic aneurisms, aortic dissection, peripheral neuropathy and the constellation of disorders affecting the tendons, muscles, joints, nerves and central nervous system.
If you or someone you love has suffered from fluoroquinolones toxicity, aortic aneurism, aortic dissection, valvuopathy or peripheral neuropathy, you can access our Instant Case Evaluation at anytime with no obligation to file a lawsuit and for no cost.
These antibiotic lawsuits allege that the manufacturers of these fluoroquinolones were aware of these side effects and had a duty to warn the public of these risks, most especially in the case of non-life threatening uses of these drugs such as sinusitis, bronchitis, or uncomplicated urinary tract infections where there are alternative treatments available.
We look forward to holding these manufacturers accountable for the injuries they have caused to so many individuals living with life altering injuries. We also look forward to helping get word out about these risks, thus decreasing the number of individuals "floxed" in the future.