TorHoerman Law is "Tank Full" for the Main Street Community Center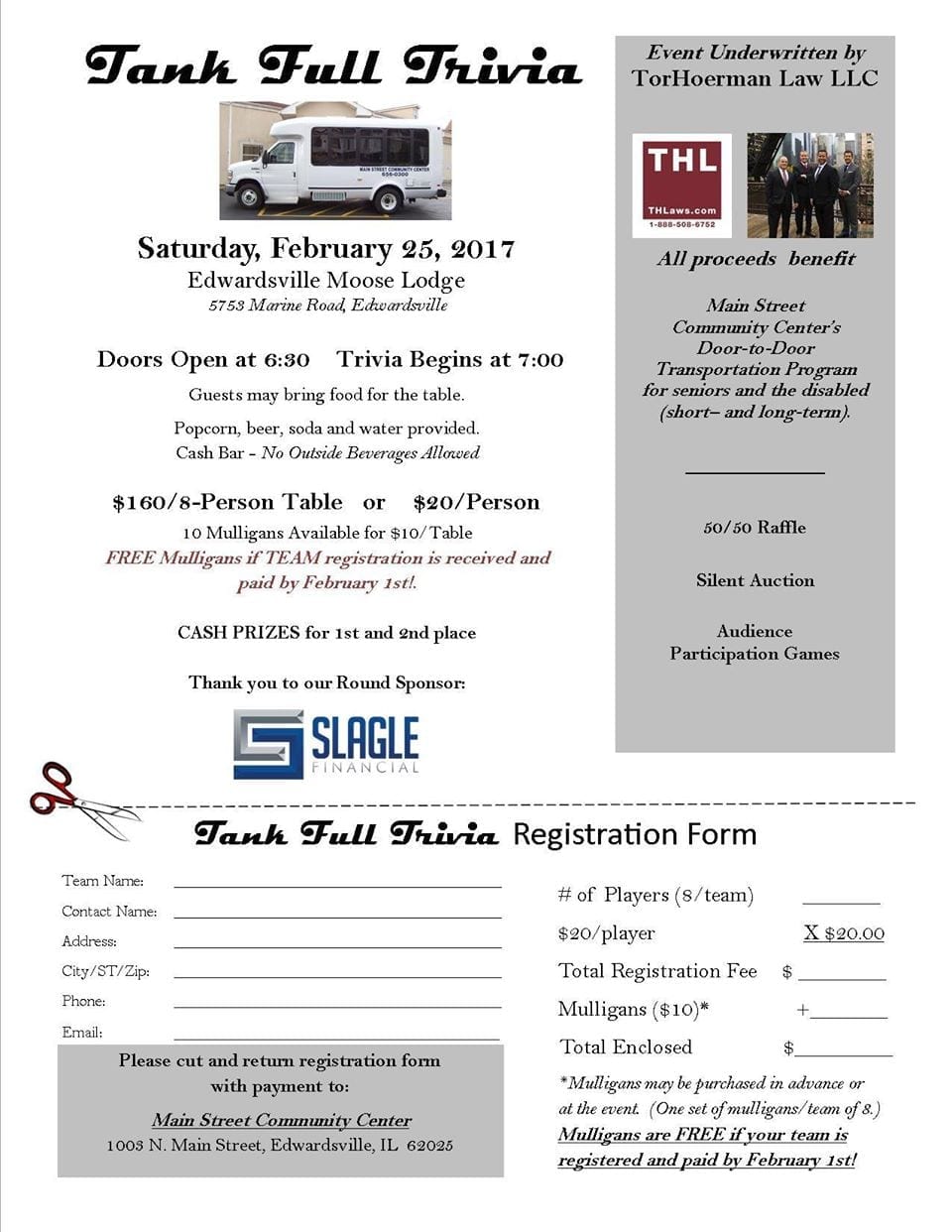 TorHoerman Law is once again proud to sponsor the Main Street Community Center (MSCC) "Tank Full" Trivia event happening on Saturday February 25th at the Edwardsville IL Moose Lodge. All proceeds for this event benefit a door-to-door transportation program for seniors and the disabled in the community such as Bea, and 86 year old regular rider who says she would be "lost without the Main Street Community Center"! 
The mission of the Main Street Community Center is to provide a range of group and individual activities and services that respond to the needs and interests of individuals spanning several generations, including older adults, families, caregivers, and other members of the community. The Center has been a centerpiece of Edwardsville and neighboring communities since 1974. 
Sara Berkbigler, Executive Director of the Main Street Community Center, is looking forward to another successful trivia night that will assist with their future programs but she also looks forward to gathering the special community of people that have made these services possible.  In addition, it is likely that this event will be sold out as in past years as many come for the great trivia competition. 
If you are interested in attending the event, the cost is $20/person or $160 for an 8-person table.  If you are unable to be at the event but would like to assist with any of the MSCC programs, visit the MSCC's website for more information.   In addition, MSCC will be handing out pledge cards for other individuals/organizations to "sponsor a day/week/month" of gas for the bus.  If you can't make the event, but would like to sponsor the bus, please contact Sara Berkbigler at sara@mainstcc.org.
Februrary 2017 is the perfect time to be "Tank Full" – we hope you will join us.