People for Justice
Steven D. Davis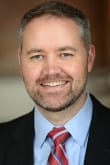 Steven Davis represents people injured by the wrongful acts of pharmaceutical companies in the development and marketing of dangerous drugs and medical devices. He currently represents individuals suffering serious side injuries caused by use of prescription medications such as Zelnorm and hormone replacement therapy, as well as individuals harmed by defective medical devices manufactured by Boston Scientific (Guidant) and Medtronic.
While in law school, Steven worked as a States Attorney (Saline County, IL) and a County Prosecutor (Vanderburgh County, IN). He received first-rate courtroom training as a legal representative for the counties, but, believed he could effect more of a change by finding a firm that pursued justice for those harmed by profit seeking conglomerates.
In the Pharmaceutical group at SimmonsCooper, Steve was happy to find others that believed in the same. In his new move to TorHoerman Law LLC, Steve looks forward to continuing the fight for the rights of victims harmed by pharmaceuctical corporations when they put consumer safety behind their own profit goals.
Personal Bio
Steven enjoys spending time with his wife, also an attorney, and their children. He is an active member of his church and an avid guitarist. He is a lifelong St. Louis Cardinals fan and has had the pleasure of watching his Cardinals win the World Series twice in his lifetime – A joy, he is sad to say, his Cub-loving friend Tor has not felt. Steven is proud of the work he does as a pro-bono court appointed guardian ad litem in Madison County where he has been able to stand up for the best interests of children involved in contested family matters.
Bar and Court Admissions
California
Illinois
Missouri
U.S. Federal Court
Southern District of Illinois
U.S. Federal Court
Eastern District of Missouri
U.S. Federal Court
Central District of Illinois
Education
Southern Illinois University
School of Law,
Carbondale, IL, 2003, J.D.
Southern Illinois
University, Carbondale, IL,
2000, B.S.; Honors:
Magna Cum Laude
Professional & Community Affiliations
American Association for Justice
American Bar Association
Illinois Trial Lawyers Association – Board of Managers
Madison County Bar Association
Court Appointed Guardian ad litem in Madison County, IL
Awards and Recognitions
Recent Professional Speaking/Writing Engagements
November 1, 2012 – Harris Martin Pradaxa Litigation Conference – "Introduction to the Southern District of Illinois: How and When to File Your Pradaxa Case and an Update on Discovery"
Blogging at Chicago-Land Legal Examiner