NEWS
A Guide to Bringing Your Dog to Your Workplace
Best Practices for Taking Your Dog to Work
The concept of a pet-friendly workspace has been growing in popularity in recent years. In fact, 7% of employers have policies in place that allow their employees to bring their animal companions to work.
The thought of bringing an animal — especially a dog — into the workplace can be exhilarating. You can work with your loyal canine by your side. Gentle nuzzles and puppy-dog eyes can provide perpetual emotional support and help you to distress throughout the busy workdays. 
However, it's essential to remember that there are also many risks that you run every time you walk through those office doors with a pet by your side.
This guide is designed to help you break down the benefits and drawbacks associated with pets in the workplace. If you do decide to bring your pet to work, it will also provide information to help you prepare for the adventure as thoroughly as possible.
Should You Bring Your Dog to Work?
It's easy to romanticize the concept of bringing your dog to work. If you're seriously thinking of doing so, though, you must carefully consider both the pros and the cons in order to decide if it's really worth it.
Benefits
There are many clear benefits that come from having a dog by your side throughout the workday, including:
Increased positive interactions created by

having a pet to "break the ice"

with other coworkers and peers.
Many research-backed health benefits of pets such as decreased stress, lower blood pressure, and the ability to boost one's mood.

Increased productivity and focus

as the presence of pets can reduce stress, encourage regular breaks, and help staff maintain a positive mindset while working.
Financial savings due to the fact that you do not need to pay for dog-sitting, dog-walking, or other pet care that may be required while you're at work.
While these are all excellent reasons to bring your pet with you to work, they should only be half of your considerations.
Drawbacks
As with all meaningful things in life, there are downsides to consider along with the good. There are several drawbacks that should be weighed before you commit to bringing your pup to work, such as:
A dog will require necessary maintenance and attention throughout the day, such as going for walks and the provision of food and water.
If your dog isn't well-trained, they may cause damage by chewing on office furniture, scratching up floors, ripping up cushions, or having accidents.
If your dog moves about too freely, they may become a workplace hazard due to potential trip and fall accidents, which could

create legal liability for both employee and employer

.
If other animals are in the office, your dog may be tempted to chase, bark at, or even quarrel with other pets.
If your dog has a temper, they may get out of hand and nip at a coworker, potentially leading to

a dog bite lawsuit

.
The potential dangers involved in bringing a dog to the office are not insignificant and should be carefully weighed in each and every situation.
Preparing to Bring Your Dog to the Office
While bringing your dog to the office may be in the best interest of everyone involved, it's important that you take proper precautions before you do so in order to avoid any legal concerns that may arise.
Here are a few of the most critical areas to address with your pup before you bring them to the office.
Meeting Workplace Requirements
While nearly one in ten employers have officially embraced a pet-friendly office policy, that hardly means every office operates with the same rules.
The first thing you should do is thoroughly read through your employer's specific regulations regarding dogs in the workplace. Things to look for include:
Size or breed restrictions: For instance, a Great Dane could very likely be too large to inhabit a traditional office or bullpen.
Upkeep on vet visits and medication: With both humans and pets around your dog, it's likely required (and important, either way) that your pet is up-to-date on all shots, vaccines, and flea, tick, and heartworm medication.
Maintaining hygiene: A filthy dog likely will not be allowed in the office.
Behavior and leash rules: There may be a threshold of behavior, such as being housetrained, as well as additional requirements, such as keeping even the calmest animals on a leash at all times.
Pet-proofing your workspaces: You may need to pet-proof your space in order to avoid animal-caused damage.
Whatever regulations your particular office may have, make sure to review them carefully.
Items to Bring With You
Before you waltz into work with your briefcase, your dog, a leash, and nothing else, consider what your pet may need while you're there. A few suggestions include:
A water bowl.
A food bowl (if they'll be there over feeding time).
A bed.
Quiet, non-distracting toys.
Rawhides.
Treats.
Create a checklist so that you know precisely what you need to have on hand each time you head to work.
Investing in Dog Training
A distracting or disobedient dog will not last long in a productive workplace. If your dog still isn't quite able to handle themselves over longer periods of time, you may want to invest in dog training before you bring your pup to the office.
Dog training can be a bit pricey — typically around $50 per class. However, it can provide invaluable guidance, accountability, and direction for both you and your dog as you attempt to learn how to respectfully function together in an office.
How to Manage Your Dog's Behavior at Work
When it comes to managing your dog's behavior within the workplace itself, it's important that you create clear and consistent guidelines to follow, including:
Asking others before you attend meetings with your dog.
Remaining aware of your coworkers' feelings and opinions regarding having your dog at work.
Having distractions, such as toys and treats, ready to help diffuse any tense situations.
Formulating an alternative plan for possible scenarios, such as too much barking or your dog marking its territory.
As you sort through these standards and attempt to teach your dog to follow new rules in a strange place, remember that there will be a learning curve. As long as you're willing to remain consistent while simultaneously adapting to whatever works best for your situation, things should eventually work out.
How to Handle Incidents Involving Your Dog
Finally, if you find yourself in the unfortunate situation where your dog has bitten someone at work, it's critical that you:
Remain calm and collected.
Remove the dog from the area and confine them.
Attempt to clean out the bite and generally offer first aid to the victim.
Call 911 if the injury is serious.
Exchange information with the bite victim.
Contact a lawyer to discuss your best steps moving forward.
If you begin the process by maintaining your composure, you give both you and your dog the best possible chance of avoiding serious repercussions from the encounter.
Summary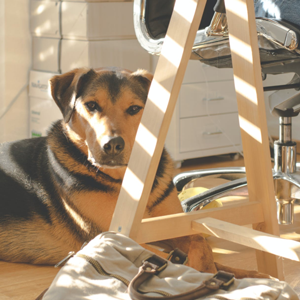 Article Name
A Guide to Bringing Your Dog to Your Workplace
Description
Pet-friendly offices are growing in popularity. However, it's important that you weigh the pros and cons and then properly prepare if you want to bring your dog to work, and that employers set clear standards for safety and etiquette.
Author
Publisher Name
Publisher Logo