NEWS
Workers Killed, Others Injured, in Georgia Factory Liquid Nitrogen Leak

Local authorities and U.S. Occupational Safety and Health Administration employees are investigating a vaporized liquid nitrogen leak at a northeast Georgia poultry plant that killed six workers last Thursday. The Associated Press reports that other workers escaped through a fog of vaporizing liquid after a liquid nitrogen line burst at Foundation Good Group in Gainesville, Georgia. The leak left four additional workers hospitalized and others with potential complications due to exposure. Investigators are still working to determine what caused the line to burst. Liquid nitrogen is often used to freeze poultry and other meats for later use. Exposure to the chemical can lead to severe complications, injury, and death.
What is Liquid Nitrogen and What is it Used For?
Liquid nitrogen is a cryogenic, meaning extremely cold, chemical used to flash freeze foods. At -321 degrees F (-196 degrees C), it is common in factories that produce frozen and wholesale meats, produce, and pre-prepared meals. Liquid nitrogen is a colorless, low viscosity coolant making it common in research labs, medical centers, and other industries where material preservation is required.
Is Liquid Nitrogen Dangerous?
Liquid nitrogen is nearly 300 degrees F below freezing. Exposure to liquid nitrogen and other cryogenics without the appropriate personal protective equipment (PPE) and safe handling procedures can be dangerous and, in some cases, deadly. However, foods frozen with the chemical are non-toxic and safe for consumption.
Liquid Nitrogen Exposure Risks
Liquid nitrogen exposure can be dangerous.  Even brief exposure to the vapor can rapidly freeze skin tissue and eye fluid causing frostbite, cold burns, and permanent eye damage. Additional hazards and health effects include asphyxiation, pressure buildup, and chemical explosions. Nitrogen can displace oxygen in a space to create an atmosphere that cannot sustain life.  People should not be in environments where oxygen levels fall below 19.5% without proper breathing equipment. This can cause asphyxia and excessive amounts of nausea, dizziness, vomiting, and loss of consciousness. When oxygen levels reach 6% and lower, sudden death can occur.  
Foundation Food Group Liquid Nitrogen Exposure
According to the AP, Foundation Food Group factory employees called emergency officials reporting that coworkers were potentially frozen from liquid nitrogen, including symptoms such as "foaming at the mouth" and "breathing very slowly." Advocates worry that workers who were not killed or hospitalized might suffer from undetected injuries. Officials continue to investigate the cause of the leak. Workers report hearing a loud noise then seeing an intense fog overtake the factory. A strong odor indicated the presence of nitrogen and employees were then rushed outside of the plant. Liquid nitrogen can cause both chemical and pressure-induced explosions due to condensed oxygen and pressure buildups. Leaks are common when vessels are not properly maintained or do not have adequate pressure relief.
What Should I Do If I Was Exposed to Liquid Nitrogen in the Workplace?
OSHA standards obligate employers to provide their workers adequate personal protective equipment (PPE) and a workplace with safe oxygen level standards. If you or a loved one were exposed to unsafe levels of liquid nitrogen and/or your workplace oxygen levels decreased below OHSA standards due to liquid nitrogen, seek a professional medical assessment for potential conditions. Mention your exposure and your concerns. Be sure to follow your doctor's orders and treat your injuries if needed. If you are diagnosed with any other complications from exposure to the cryogenic, you might be eligible to participate in a liquid nitrogen exposure lawsuit. Contact a chemical exposure attorney today to learn more. TorHoerman Law is working to bring awareness to the dangers of liquid nitrogen exposure. As one of the nation's leading workplace chemical exposure law firms, we have fought for justice for factory workers and their families nationwide. To date, we have won over $5 billion in client settlements in verdicts.
Summary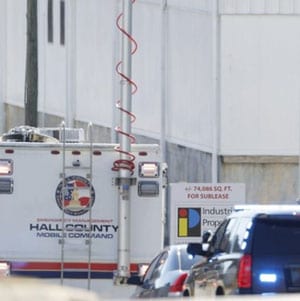 Article Name
Workers Killed, Others Injured, in Georgia Factory Liquid Nitrogen Leak
Description
Georgia factory liquid nitrogen leak kills, injures workers - cause of leak unknown - Foundation Food Group to face nitrogen exposure lawsuit?
Author
Publisher Name
Publisher Logo