NEWS
How to Give Back this Veterans Day
TorHoerman Law will be closing its offices on Friday to celebrate Veterans Day, a day set aside to honor the great men and women who have served our country and risked their lives to protect our freedoms. It is easy to forget the reason why most of us get a day off of work on November 11th. While it is a nice way to relax and spend time with family and friends, Veterans Day is also meant to be a day for reflecting on the sacrifices of our service men and women and honoring those individuals through recognition and charitable service.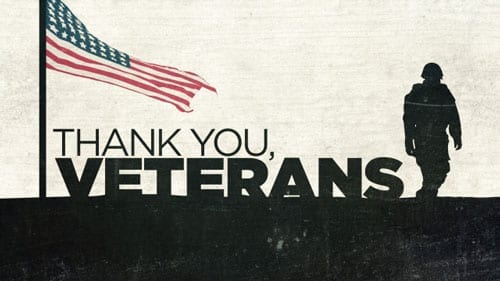 Unfortunately, our veterans do not get the recognition and support that they deserve year-round. Many veterans still battle the after-effects of service on a daily basis – medical and mental health issues such as PTSD or financial instability to help their families. Luckily, there are thousands of charities to help aid our vets. But these charities do not have the means to help every veteran in need.
This is where you come in. Giving back to our vets is not as hard as one may think. In fact, this week many local businesses are offering "giving back programs", donating a portion of their profits to veteran aid charities. There are also a number of financially responsible charities with the sole mission of supporting our active duty troops, veterans, and their families. So, while you are enjoying your extra time off this weekend, take a minute to give back to the men and women who have served. Whether it be giving to a charity, donating time at your local VA or VFW, or visiting a business that offers "giving back programs." The men and women who have sacrificed everything deserve a little sacrifice from us.
Businesses Giving Back Programs
Below are a few businesses who will be giving part of their profits back to veterans this weekend: Bar Louie – Between Nov. 11-13, order any limited addition food item and Bar Louie will donate 10 percent of sales to Operation Homefront. Dunkin' Donuts– Dunkin' Donuts is donating $10,000 donation to Homes For Our Troops. Additionally, Dunkin' Donuts will provide a year's worth of Dunkin' Donuts K-Cup® pods along with a new Keurig® Brewing System to up to 100 Veterans who have been or will be provided new specially adapted custom homes by Homes For Our Troops. Cracker Barrel– Between Oct. 30 – Nov. 11, Cracker Barrel will donate 20 percent of proceeds from online and in-store purchases of Lodge cookware to Operation Homefront. iHOP– $1 from the purchase of every Red, White & Blue Combo from November 1-30 goes to support Children of Fallen Patriots Foundation. Sports Clips– From October 16 through Veterans Day, November 11, Sports Clips will aid "Help A Hero" by donating to the Help A Hero Scholarship program, which provides scholarships to veterans through the VFW. Sport Clips will donate $1 from every hair care service to the program. Starbucks– When you purchase a Veterans Starbucks Card or eGift now through November 15, Starbucks will donate $5 to veteran's organizations that are working to strengthen our communities.
Spotlight Charity
This year, you can easily make a $5 donation to veterans via text. By texting "Soldiers" to 20222, you will automatically donate $5 to Soldiers Angels. Soldiers Angels is a nonprofit organization, through which ordinary American citizens can "adopt" a military serviceman or servicewoman who is serving overseas by sending gifts, care packages, calling cards and/or specialized equipment like sand scarves. Again, just text the word "Soldiers" to 20222 to make a $5 contribution.
Charitable Organizations Supporting Veterans
Although it is always great to donate to a charitable organization, it is important to know who you are giving to. Some charities go the extra mile to give back, while others don't quite live up to the highest standards. It is hard to tell which veteran's charities do the best work. Luckily, charitynavigator.org offers a comprehensive list of charitable organizations dedicated to giving back to our active duty troops, veterans, and their families. These charities have been deemed financially responsible, accountable, and transparent.