NEWS
How to Improve Quality of Life for Someone with Dementia or Alzheimer's

Dementia refers to a range of neurodegenerative brain disorders that are often progressive and irreversible. These disorders are characterized by abnormal brain changes that cause deterioration to thinking, comprehension, memory, judgment, language, and other cognitive functions. Nearly 70 percent of dementia cases are due to Alzheimer's disease, with other major forms including lewy body dementia, vascular dementia, Parkinson's, and Huntington's. Dementia is one of the leading causes of disability and dependency among the elderly population. In the United States alone, over 5 million people are living with Alzheimer's and other age-related dementias. Of Americans living past the age of 55, one of every six women and one of out of every ten men will develop dementia. It is also estimated that approximately 200,000 young Americans have early-onset Alzheimer's. These disorders can be stressful for everyone involved. A dementia diagnosis can have physical, psychological, financial, and social impacts. People with dementia are particularly vulnerable to elderly abuse including neglect and unlawful personal injury. While there currently are no known cures for these disorders, there are steps that family members and caregivers can take for improving quality of life for dementia patients. Read on to learn how to keep someone with dementia happy and comfortable.
Provide Enriching Activities
A dementia diagnosis doesn't mean a person has to give up his or her favorite activities and hobbies. In fact, keeping people with dementia actively engaged and involved is a crucial aspect of care. Meaningful activities have been proven to help maintain cognitive function, reduce anxiety and irritability, and provide a sense of purpose and safety. The following types of activities are helpful in improving the quality of life for dementia patients.
Art, Music, and Creativity
Creative engagement and expression can provide joy, excitement, and well-being. Activity ideas include: listening to music, singing, dancing, whistling, humming, drawing, painting, crafting, knitting, collaging, storytelling, reading, arranging photos, putting together outfits and costumes, writing, and visiting museums.
Games
Games and mental exercises are a great outlet for strengthening cognition, reducing memory loss, and reinforcing feelings of competency. Some ideas include: board games, simple arithmetic, trivia, memory questions, crosswords and Sudoku, puzzles, computer games, bingo, card games, matching exercises, spelling quizzes, and riddles. Make sure that the tasks are manageable and fit for the person's abilities.  
Lifestyle and Work Activities
Reenacting work and day-to-day tasks can help dementia patients feel secure and in control. This can include visits to familiar places, carrying out former job tasks (ex: an ex-librarian organizing books), sorting and organizing possessions, cleaning, caring for a pet, cooking and baking, spiritual and religious rituals, household chores, and even just talking about their day.
How to Improve Quality of Life for Someone With Dementia While Keeping Them Safe
It's important that caretakers are mindful of the person with dementia's preferences, limitations, and needs. Avoid tasks that might be overwhelming or unsafe. Pay special attention to what brings the person a sense of joy and achievement. Certain activities, such as operating a motor vehicle, should not be encouraged. You should actively discourage and prevent activities that could result in an accident. Car accidents  and other vehicle accidents are common for individuals suffering from dementia who are not limited by loved ones.
Offer Social Opportunities
Social interaction is crucial for people with dementia and Alzheimer's.  Researchers at Southern California Kaiser Permanente Medical Group found that adults with strong social circles have reduced risks for dementia symptoms and cognitive impairment. Many scientists now believe that social interaction is a key to maintaining memory and mental functioning as people age. Socialization has also been shown to reinforce healthy habits in seniors and give them a more positive outlook on life. There are many social opportunities for seniors with dementia both inside and outside of their homes. Friends and family members can coordinate schedules to visit on a regular basis. Many organizations also coordinate senior outings, activities, exercise sessions, and dementia caring support groups. Seniors can also benefit from attending religious or spiritual services where they can meet and connect with other people their age.
Encourage Exercise
Regular exercise is an important, and often overlooked, aspect of dementia and Alzheimer's care. It has been found to provide a number of both physical and cognitive benefits. Seniors who regularly exercise experience fewer health-related complications, report improvements in mood,  and are more likely to participate in social activities. Evidence shows that less than 20 percent of people 65 and older engage in an adequate level of physical activity, with even lower participation levels from those with dementia. It is important to find physical activity that is both suitable and enjoyable for the person. Be sure to consult their doctor before starting any exercise routines, especially if they have existing disabilities or other health conditions. While structured, planned programs are often the most effective, adults with dementia benefit from any type of exercise. This can include activities that get them moving such as gardening, dancing, walking, yoga, and even yard work.
Be Patient and Understanding
Understanding how to make an Alzheimer's patient happy requires empathy and patience. Dementia disorders make it difficult for people to think clearly, communicate, and take care of themselves. This loss of ability and autonomy can be incredibly frustrating and defeating. The stages of dementia can also affect behavior and personality and cause severe mood swings. Preparing for potential behavioral and communication issues can help make caregiving less stressful. Practical communication strategies include limiting noise and distractions, using simple language, being patient when waiting for replies, showing affection, giving reassurance, and speaking in a pleasant tone. If behavioral issues arise, be sure to stay calm and show compassion. Be sure to consider any triggers or underlying causes for their behavior. It can also be helpful to seek support from groups for dementia patient caregivers and family caregivers.
Observe any Discomfort
Research shows that a majority of people with dementia experience daily, chronic pain. They might not be able to communicate this, so it's important to be attentive to any signs or symptoms. Non-verbal signs of pain can include gestures, restlessness, increased or decreased vocalizations, slow or limited movement, moaning, grimacing, and crying. It is also important to keep an eye out for any signs of psychological abuse. Preventable injury to a resident at a care facility could result in a personal injury or even wrongful death.
Provide a Healthy, Substantial Diet
A healthy, well-balanced diet is a great way to boost mood and overall health. Proper nutrition can limit cognitive and physical decline while providing a myriad of health benefits. For people with dementia, this is important as their diet can reduce the severity of their symptoms. People with dementia do not require a special diet. A balanced meal plan with a variety of healthy foods including fruits, vegetables, whole grains, lean proteins, and low-fat dairy products is best. Limit refined sugars and foods high in sodium. Be mindful of their hydration and offer small servings or water or other liquids throughout the day. It is especially important to be aware of any dietary restrictions or food allergies. People with dementia are also more likely to experience loss of appetite or unhealthy weight loss; in this case, consult a doctor about additional meals and supplements.
Don't Overwhelm Them
Dementia changes how a person's brain processes the world around them. This sometimes makes it difficult to focus and filter out unnecessary noise, movement, and information. People with dementia can become overwhelmed in settings with too many auditory and visual stimuli, or in situations with a lot of people. Alzheimer's and dementia patients might also struggle with conversations or tasks that are overwrought with details or indirect language. It's important to be mindful of this so you can help them avoid information overload. The Alzheimer's Society recommends that when helping someone with dementia, maintain a calm space free of unnecessary distractions. When speaking with them, use simple language and minimize background noise. Remember that while social interactions are important for dementia and quality of life, an overloaded schedule can be overwhelming.
Lend Your Ear
Dementia patients are prone to isolation and depression. The loss of cognitive function can be scary, disheartening, and frustrating. Many people with dementia feel alone or like others can't understand them. Many others are unaware of their cognitive decline. Regardless, offering to spend time with them can help minimize their frustration and bring joy to their lives. Know that communicating with a person with Alzheimer's or other form of dementia requires patience and understanding. Be sure to offer assurance, avoid criticisms, and to give them plenty of time to speak.
Improving Quality of Life for Someone with Dementia
Helping someone with dementia can seem daunting, but there are many ways to improve the lives of those affected. Whether you're caring for a patient with dementia or helping a loved one with a diagnosis, it's important to have the right attitude and the right information. This is especially important at care facilities where staff is responsible for the safety of their residents, and injury on their premises could result in serious injury.
Summary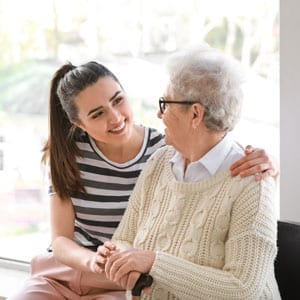 Article Name
How to Improve Quality of Life for Someone with Dementia or Alzheimer's
Description
How Do You Help Someone With Dementia or Alzheimer's Be Happy? A Guide on How to Improve Quality of Life for Someone With Dementia.
Author
Publisher Name
Publisher Logo