NEWS
Illinois Juul Lawsuit Filed in Southern District of Illinois by TorHoerman Law
8/19/2019 – TorHoerman Law filed the first Illinois Juul lawsuit on behalf of a young adult who became addicted to Juul and suffered life-threatening injuries as a result. The Plaintiff, who remains unnamed at this time, was a bright, social, active and ambitious 19 year old when he was first exposed to Juul.  Like many other young adults, he was unaware that Juul contained nicotine or could cause him any adverse effects.  Within months, he was smoking multiple "pods" a day and addicted. At age 22, the plaintiff suffered multiple seizures, and now suffers back pain from his three spinal taps, cognitive impairments, imbalance, mood disorder, nicotine addiction, and permanent brain change. The Illinois Juul complaint describes the orchestrated efforts made by the defendants, Juul Labs along with Phillip Morris Inc. (which holds minority ownership in Juul) to addict a new generation of young adults to nicotine. Juul's negligence has changed the plaintiff's life permanently, and there are many other young adults and teens suffering similarly.
Illinois Juul Lawsuit
The Illinois Juul lawsuit, which was filed in the United States District Court for the Southern District of Illinois East St. Louis Division, claims that the defendant knowingly designed a dangerous product (Juul) and marketed Juul to underage consumers, while failing to warn consumers of the adverse risks associated with Juul. The complaint further alleges that the defendant violated consumer fraudulence laws, negligently misrepresented their product, and failed to recall their product despite being aware of its design defects. These claims are far from unsubstantiated. The complaints specifically sites scientific research and numerous examples supporting the argument that Juul Labs knowingly and purposefully advertised Juul products to youth and adults alike, while failing to disclaim the known health risks associated with using Juul. The plaintiff of the Illinois Juul lawsuit, a 22-year-old male from Southern Illinois, suffered multiple seizures after becoming severely addicted to Juul. The plaintiff underwent three spinal tap procedures along with other diagnostic testing before medical professionals were able to determine the cause of his seizures were a result of his Juul addiction.
Addiction
Multiple studies, including a recent study conducted by the American Stroke Association, have shown that e-cigarettes increase the risk of stroke, heart attack, coronary artery disease, significantly increase blood pressure, heart rate, and arterial stiffness. Along with the cardiovascular risks associated with Juul, other studies that shown that e-cigarette use can significantly increase the risk of nicotine addiction, increase the risk of permanent brain changes and mood disorders, heighten the risk of cancer, and may cause pulmonary and respiratory damage. These risks increase significantly for teens and young adults. The United States Surgeon General has concluded that e-cigarettes, including JUUL, are not safe for anyone under age 26. Despite the Surgeon General's conclusion, Juul Labs failed to warn consumers, especially teens and young adults, of the known risks associated with using Juul.
Juul Seeks to Re-create the "Magic" of the Cigarette – Teens/Young Adults Are Targeted
The facts included in the Illinois Juul lawsuit complaint make it evident that Juul employed the same marketing tactics previously used by Big Tobacco to specifically target teens and young adults. These marketing tactics that were first implemented by Philip Morris (who currently holds 35 percent ownership in Juul) during the surge of youth cigarette use through the 1970's-1990's; including the use of fruity cigarette flavors and ads with imaginary that appeal specifically to youth.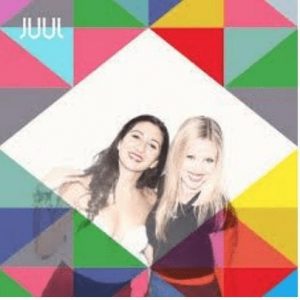 Federal regulations no longer allow "Big Tobacco" to use these marketing tactics. However, e-cigarette companies, like Juul Labs, are not regulated the same.  A loophole in the cigarette legislation has allowed Juul to operate without the restrictions placed on Big Tobacco, and therefore forego any restrictions on using youth targeted marketing tactics such as fruity flavor and colorful imagery. Without legal restrictions, Juul was able to implement a marketing strategy that is a literal modernized replica of the retired strategy of Big Tobacco, pulled directly from the playbook of co-owning entity, Philip Morris. Juul designed a product that would be sleek and easy to conceal, perfect for underage users trying to hide their e-cigarette smoking habit. While Juul pods come in traditional cigarette flavors like mint and menthol, there is also a range of fun fruity flavors such as mango, fruit, cream, that seem more appealing to youth. Juul created ads for these fruity flavors that utilized bright colors and imagery which would entice a younger demographic.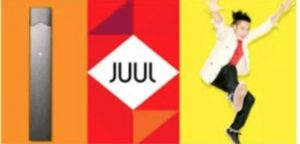 Juul quickly flooded the social media platforms with these ads. Their goal: to capture the teen and young adult market who make up a large portion of social media users. By paying young, popular social media influencers in these ads, Juul was able to invoke a feeling of trendiness towards their product. Young people who may have been skeptical of cigarettes saw influential social figures using Juul in happy or positive settings, making the product seem safer and more appealing. In some instances, Juul paid these influencers to post images of them using Juul directly on the influencer's social media account, diminishing the idea that the post was an ad at all. Teens and young adults saw these posts and began to associate the product with the fun, hip images glorifying Juul that they saw on social media. By implementing these efforts, Juul was successfully able to squash the stigmas around smoking and captivate an entirely new generation of youth smokers.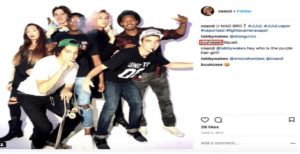 The Illinois Juul lawsuit further claims that the Defendant methodically designed JUUL in a way that resulted in a quick and severe addiction from a non-smoking customer base. By consulting cigarette industry documents and cigarette patent literature, engaging former cigarette industry researchers to aid in product design, incorporating cigarette industry marketing tactics, and working closely with cigarette industry leaders, Juul Labs was successfully able to create an e-cigarette that contained extremely high levels of highly addictive nicotine, without the bulkiness of other e-cigarette options. Unlike other e-cigarettes, Juul is small, concealable, and has almost no visible exhalant when smoking. It's the perfect product for underage smokers to use without being noticed by adults. It is often-times confused as a USB flash drive, and because there is little to no smoke exhalant and no smell, young people can get away with smoking it basically anywhere. One Juul pod contains the same amount of nicotine as an entire pack of cigarettes. So, it's trendy to youth, easy to hide from adults, and highly addictive. It is no wonder then why the U.S. Department of Health and Human Services has characterized the surge in youth Juul youth as "an epidemic". "The surge in youth Juul use is largest ever recorded [increase in substance abuse] in the past 43 years for any adolescent substance use outcome in the U.S.", as explained by Alex Azar, the Secretary of the U.S. Department of Health and Human Services. "We have never seen the use of any substance by America's young people rise as rapidly as e-cigarette use is rising." The plaintiff in the Illinois Juul lawsuit is just one of many victims of this epidemic. If you or a loved one have suffered an injury as a result of using Juul, you may be eligible to participate in a Juul lawsuit. Contact the attorneys at TorHoerman Law right away for a free no-obligation case consultation to determine whether you qualify.