NEWS
Juuling Dangers – How This Epidemic is Putting Your Child at Risk
"Juuling."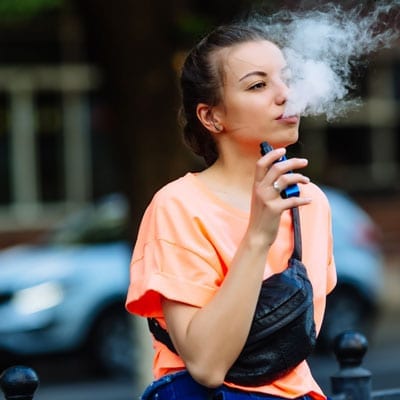 A new trend, and not a good one, has taken the world by storm, seen on sidewalks and school campuses around the country. But, what is it, why are our children using them, and what are the Juuling dangers? Juul is a popular USB-styled e-cigarette that has transcended (across) consumerism into pop culture, gaining a cult following, especially amongst teens and young adults. Juul now commands more than 60 percent of the e-cigarette market. Nothing short of a social phenomenon, it has gained trending status on Twitter and grown into an Instagram tag — #JUUL – that boasts more than 200,000 posts. If teenagers and twenty-somethings grew up with the DARE program, anti-smoking campaigns, and a general understanding that cigarettes are bad, how did Juul become a sensation so quickly? Juul manufacturer, Juul Labs, claims that the e-cigarette was designed as a healthier alternative for adult smokers to curb their cigarettes addiction. Experts argue that Juul's sleek & easily-concealable shape, odorless vapor exhalant, range of enticing liquid flavors, and early onset social media marketing campaigns indicate that these e-cigarettes were meant to appeal to a younger audience – and they have. Cue the outrage and disbelief. How could a company deliberately market a product, found to cause harm, to our children? "I've never seen a tobacco-related product spread across this country as fast among young people as this product," explained Matt Myers, head of the Campaign for Tobacco-Free Kids. "Everyone was asleep at the switch, and by the time we woke up, we had an epidemic on our hand." Juul's façade flash drive size and shape, paired with its odorless vapor smoke, allow teens to hide their smoking habits from adults in plain sight. Kids are taking full advantage of the cloaked smoking apparatus, Juuling anywhere and everywhere that they can, without the knowledge of their parents. You can find evidence all across social media, where #DoItForTheJuul features young adults Juuling in classrooms, in close proximity to adults, and in inappropriate public settings. It has become something of a communal challenge within the younger generation, promoted through social media, where those who are willing to go the furthest to test the limits receive the highest praise. In a way, Juul has made smoking "cool" again. After years of advocacy efforts spent campaigning against the popularity of tobacco use, anti-smoking groups were able to create a stigmatization around cigarettes. Defamed for their off-putting smell and life-threatening health consequences, cigarette use amongst students began to decline beginning in the mid-1990's. But with the introduction of odorless e-cigarettes, advertised as a healthier alternative to traditional smoking, Juul has made smoking socially acceptable again. Student tobacco use is once again on the rise, an alarming trend for parents. Even more alarming, Juuling has spread from high school aged students, and now engulfs middle schools nationwide.
"Juuling is a huge problem for middle school and high school students. When I walk into my local gas station, which is less than a mile from the local high school, there is a huge advertisement on the door and the Juuling devices and pods are kept on the front counter instead of back behind where the other tobacco products are located. I've wondered "Why is this allowed for these devices, which contains nicotine just like a cigarette?" These devices are so small and hard to detect when used it is making it even harder for adults to monitor. Not to mention we have no idea what the long-term effects of using these devices are on young people. It is truly scary the speed of which the popularity of these devices has grown for our youth." Stacy Laurent-Smith Parent & Educator
Juul's market shares are booming. Even within an exploding industry full of competitors, Juul stands alone as the kingpin of e-cigarettes. But, how do we face the problem head on? As lawyers, we see entirely too often the dangers of chemical exposures. E-cigarettes, as science and studies are beginning to show, will prove to be no different. As parents, we can sit down with our children and have a conversation about Juuling dangers. But, what do we say that will actually provoke our children to make good decisions and say no to Juuling? First things first, know the facts.
Don't let Juul's marketing campaign fool you, e-cigarettes are by no means a healthier alternative to cigarettes. Each pod contains 59 milligrams of nicotine per milliliter of liquid, which is nearly equivalent to a pack of cigarettes.
Juul actually contains quite a bit more nicotine than other e-cigarettes, which range from 6 to 30 milligrams per milliliter. So not only is Juul more appealing to users, it's also more addictive. A recent study astoundingly found that 63% of Juul users ages 15 to 24 were not even aware that the product always contains nicotine.
Juul has been linked to a number of life-threatening, highly aggressive health issues.

Only weeks after beginning to vape, an 18-year old woman was diagnosed with hypersensitivity pneumonitis, more commonly known as "wet lung". Chemicals found in the e-liquids are believed to have initiated an allergic reaction that eventually developed into full respiratory failure.
Experts believe bronchiolitis obliterans, known as popcorn lung and constrictive bronchiolitis, will become a deadly side effect of Juuling. The disease results in obstruction of the smallest airways of the lungs (bronchioles) due to inflammation. Symptoms include a dry cough, shortness of breath, wheezing and feeling tired.
The statistics are staggering. E-cigarettes are not good for you, despite all of the advertisements that portray otherwise. Is it alarming that our children are falling prey to enticing marketing? Yes. But, one conversation could help save your child from harmful and potentially deadly side effects down the road. Find a time to have a courteous, open conversation with your child. They'll have questions, and you may not have all of the answers, but most important is they become aware of the Juuling dangers and risks. The companies that produce e-cigarettes copied the playbook of the tobacco industry from the 1950's. The only difference? We have social media that propels ideas into a phenomenon, but at the same time, side effects and dangers are quicker to be exposed. Experts have been warning lawyers to begin preparing for a flood of Juul lawsuit injury cases. We hope that we will have a client if proper action is taken. We would rather represent nobody than see a bunch of injured teenagers. Will you help us become part of the solution to ending this epidemic? Let's capture the momentum and talk to our children about Juuling dangers.