NEWS
Rediscovering 4 Forgotten Sites Government lost track of nuclear operations here and nationwide
Rediscovering 4 Forgotten Sites
The sixth of a seven-part series appearing in the St. Louis Post-Dispatch February 12 – 19th, 1989
By – Carolyn Bower, Louis J. Rose and Theresa Tighe of the Post Dispatch Staff
Pictures include those from the original story as well as others that we were able to find when relevant.
Propped up in his bed at Cochran Veterans Hospital, Tom Green described how he had worked for 12 years as a truck driver hauling radioactive material in the St. Louis area. He spoke at a fast clip as Kay Drey, a local environmental activist, struggled to take notes. Drey had never met Green before, but she knew from his family that he was seriously ill with cancer of both lungs. Green, who had been a smoker, blamed cancer on radiation exposure from his job. As they talked in 1979, Green had no way of knowing that nearly a decade later his comments would lead to the discovery and testing of a potentially contaminated site long forgotten by federal officials. Green, then 63, told how he had driven truckloads of heavy uranium ingots across the McKinley Bridge to a plant in Madison during the latter half of the 1950s. He described how the barrel-shaped ingots, 18 inches in diameter and height, were heated and reshaped at the plant at College and Weaver streets then operated by Dow Chemical Co. Three months after his conversation with Drey in the hospital at 915 North Grand Boulevard, Green died of cancer that had spread through his spine and intestines. Now his account is prompting federal officials to take a new look into whether the former Dow plant may be contaminated. The Madison plant is one of four "forgotten" sites the Post-Dispatch has discovered in the St. Louis area – sites where radioactive material was processed or stored in virtual secrecy after World War II.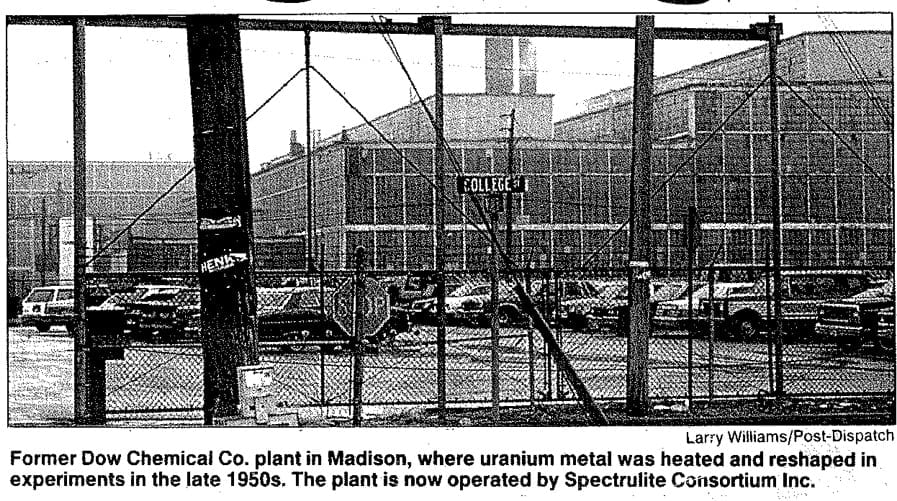 There are dozens of such sites across the country that the federal government lost track of in the postwar years. Department of Energy officials say there is no reason to believe that any of the four St. Louis-area sites poses a serious health threat. In at least one case – the former Tyson Valley powder plant in far west St. Louis County – there appears to be no threat at all. But the agency plans to conduct tests within the next several months at the old Dow plant and at another Illinois site, the old General Casting plant in Granite City. The tests would determine whether buildings or equipment in those two places are contaminated by radioactivity. The fourth local site would be hard to test. It was a large building – torn down eight years ago – at the former small-arms plant complex in north St. Louis. Across the nation, federal and military investigators have spent millions of dollars over the last 14 years searching for and testing such "forgotten" sites. Investigators admit they may not be able to identify all the factories, businesses and warehouses once involved in the country's top-secret production of nuclear arms. What follows is a discussion of the four area sites that were lost in the shuffle: The Old Dow Plant… Tom Green had worked from 1946 until about 1958 for several small trucking companies that hauled materials for Mallinckrodt Chemical Works in north St. Louis. The company processed uranium for the federal government under contract to the Atomic Energy Commission.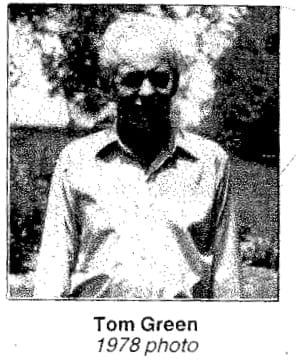 About a year ago, Post-Dispatch reporters, examining the notes taken by Drey, noticed the references to Dow. They were able to confirm through documents and interviews with former Mallinckrodt employees that experimental uranium extrusion work had been performed at Dow during the late 1950s. But the Department of Energy had lost track of the experimental work. "We found nothing regarding it. We can't find anything in (our) records," was the first response from Andrew Wallo, an Energy Department spokesman. After an extensive search, the agency found two brief documents that mentioned the extrusion work at Dow. "We hope to be conducting a radiological survey there later this year," Wallo said. "You could get some contamination in the equipment or the building somewhere depending on the equipment and procedures they used," Wallo said he doubted there would be enough contamination to pose any serious health threat. Dow operated the plant in Madison from 1954 to about 1969, employing about 850 workers at one point. The plant has been used primarily for the fabrication of aluminum and magnesium metals. The plant's current operator is Spectrulite Consortium Inc., which took over the facility in late 1986. About 450 people now work there, producing rolled and extruded aluminum and magnesium products. A Spectrulite spokesman said: "We are aware of the interest being displayed in the incident in the past. But we are not commenting." Officials at Dow's corporate headquarters in Midland, Mich., could find no reference to the extrusion work done at the Madison plant. Neither could Mallinckrodt. Raymond F. Bentele, president, and chief executive at Mallinckrodt, said the company long ago had turned over to the government any records of work is performed for the old Atomic Energy Commission. In the extrusion process, heated metal is reshaped by forcing it through a specially designed opening. Uranium bars that ultimately would be used in nuclear reactors were extruded from cylindrical ingots of uranium metal. Each ingot weighed about 3,300 pounds and measured 18 inches in height and diameter. The tests at Dow were intended to help Mallinckrodt perfect large-scale extrusion procedures for use at the Atomic Energy Commission's uranium processing plant near Weldon Spring. Wallo said that contamination could have occurred during the heating and extrusion process if uranium oxide flaked off the metal and was carried as dust or small specks in the air. "There is potential for there to be residual radioactive material above our guidelines, but we certainly don't expect any significant hazard or risk," he said. The old Atomic Energy Commission generally required careful control of uranium metal for security reasons as well as safety, Wallo said. Also, he said, some degree of cleanup or decontamination normally was required once a job was completed. Environmentalist Drey takes a more pessimistic view. She said she was concerned that uranium-oxide dust might have settled into cracks in floors, ceilings or concrete walls and still be present. Robert Alvarez, a frequent DOE critic, said he would not place much confidence in the effectiveness of decontamination efforts at Dow or anywhere else during the late 1950s. "I am unaware that there were any real standards for decontamination at all at that time," Alvarez said. He is an environmental research professional who is now on the staff of a Senate committee investigating the Energy Department's nuclear programs. Granite City Plant… On his death bed, Green also told Drey that uranium metals may have been taken for X-ray to the former Dow plant in Madison. But Energy Department researchers, while checking that statement, found this work actually had been done in Granite City at the old General Castings plant. From 1958 to about 1966, records show, uranium products from Mallinckrodt had been taken to the General Castings building to be examined for defects with equipment similar to a large X-ray machine. Now the structure, isolated and no longer in use, is part of the Granite City Steel complex. Wallo said the Energy Department hopes to test the building within the next few months. Small Arms Plant… In 1979, St. Louis officials bought and later razed a massive concrete building to make way for an industrial park. They had no way of knowing that tons of radioactive uranium material had been stored at the building after World War II.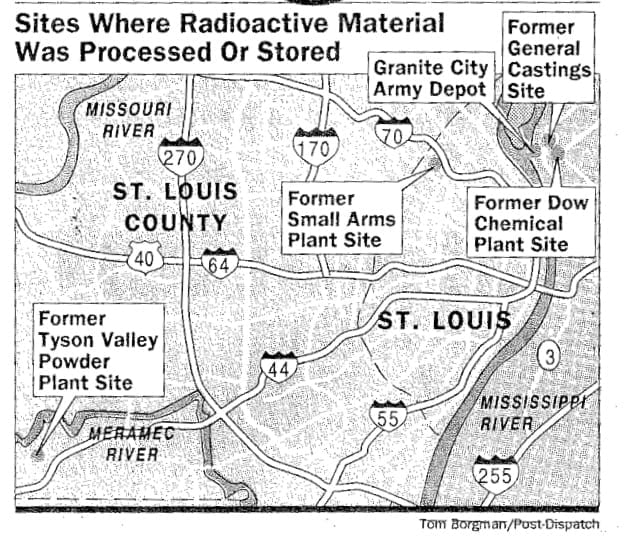 Now, eight years after the demolition, no one seems to know for sure where all the rubble from the 725-foot-long structure was hauled and buried. Nor does anyone know whether the building became contaminated as a result of the products stored there. The building – known as the "proof house" – was part of the Small Arms Plant complex off Goodfellow Boulevard in north St. Louis. It was used during World War II to test-fire machine-gun ammunition manufactured at the complex. After the war, from 1947 to about 1950, the building was virtually stripped bare and later used by the old Atomic Energy Commission to store uranium products destined for government facilities producing nuclear fuel and weapons. Workers using flashlights and often groping in the dark in the gutted firing ranges stacked metal and fiberboard containers of uranium products into thick-walled concrete corridors that ran through the building. Sources interviewed by reporters said that most items stored in the proof house were finished products from Mallinckrodt awaiting shipment to government facilities at Oak Ridge, Tenn., and other locations. Federal officials can find no documents relating to the storage. Wallo of the Department of Energy said parts of the huge building could have become contaminated. But, he said, it is doubtful this ever would have posed any serious health risk. Alvarez, the critic of the Energy Department, argued that the Energy Department lacks the documentation needed to draw valid conclusions about the site. "If they weren't monitoring it, they can only guess," said Alvarez. Mallinckrodt officials say they have no records about what was stored at the proof house; all such records had been turned over to the government in 1966. Harold Thayer retired Mallinckrodt board chairman, said he knew of no way to accurately gauge the volume of material that may have been stored in the cavernous building. "There were tons of it," he said. He said the building was used for the temporary storage of such materials as uranium tetrafluoride and uranium dioxide – commonly referred to then as green salt and brown oxide. Others recalled seeing wooden crates containing uranium metal stored at the proof house, as well as empty 55-gallon drums. The materials were trucked from Mallinckrodt to the proof house and later shipped out by rail. Thayer said Mallinckrodt used the building at the government's request. He said he did not know whether efforts were made to decontaminate the structure, or whether decontamination had even been needed. Asked if there could have been contamination problems, Thayer said: "I don't see how, unless somebody broke a container and spilled it or dropped it. It was all sealed products, as far as I know." During the Korean War, the government decided to reactivate a number of buildings at the Small Arms complex, including the proof house. A St. Louis firm, Alport Construction, got a contract in 1954 to rehab the structure to put in more sophisticated ammunition-testing equipment. In 1979, the city's Planned Industrial Expansion Authority bought a 44 1/2-acre tract at the former Small Arms complex, including the proof house. The purchase was part of an unsuccessful attempt to persuade General Motors Corp. to use the property and keep open its nearby assembly plant. One year later, the agency contracted with Spirtas Wrecking Co. to demolish about 50 structures at the site, including the proof house. Arnold Spirtas, president of the company, said in a recent interview that his company no longer had records relating to the demolition or which landfills or dumps were used to dispose of the rubble. Spirtas said he could not recall details, but he said his company had fully complied with terms of the demolition contract. One former employee of a nearby business told reporters he had watched some of the demolition work and believed that part of the rubble from the proof house had been buried on site. However, Thomas J. Mullen, of the city's Economic Development Corp., said he spent a lot of time at the site and he was sure all of the rubble from the building was hauled off. Mullen said he did not know where the wrecking firm took the debris. Tyson Valley Powder Plant… This is the case of the disappearing waste. More than 60 tons of radioactive material was stored after World War II in concrete bunkers at what is now Washington University's Tyson Research Center in far west St. Louis County. It was moved somewhere – presumably to a plant near Pittsburgh – but no shipping records can be found.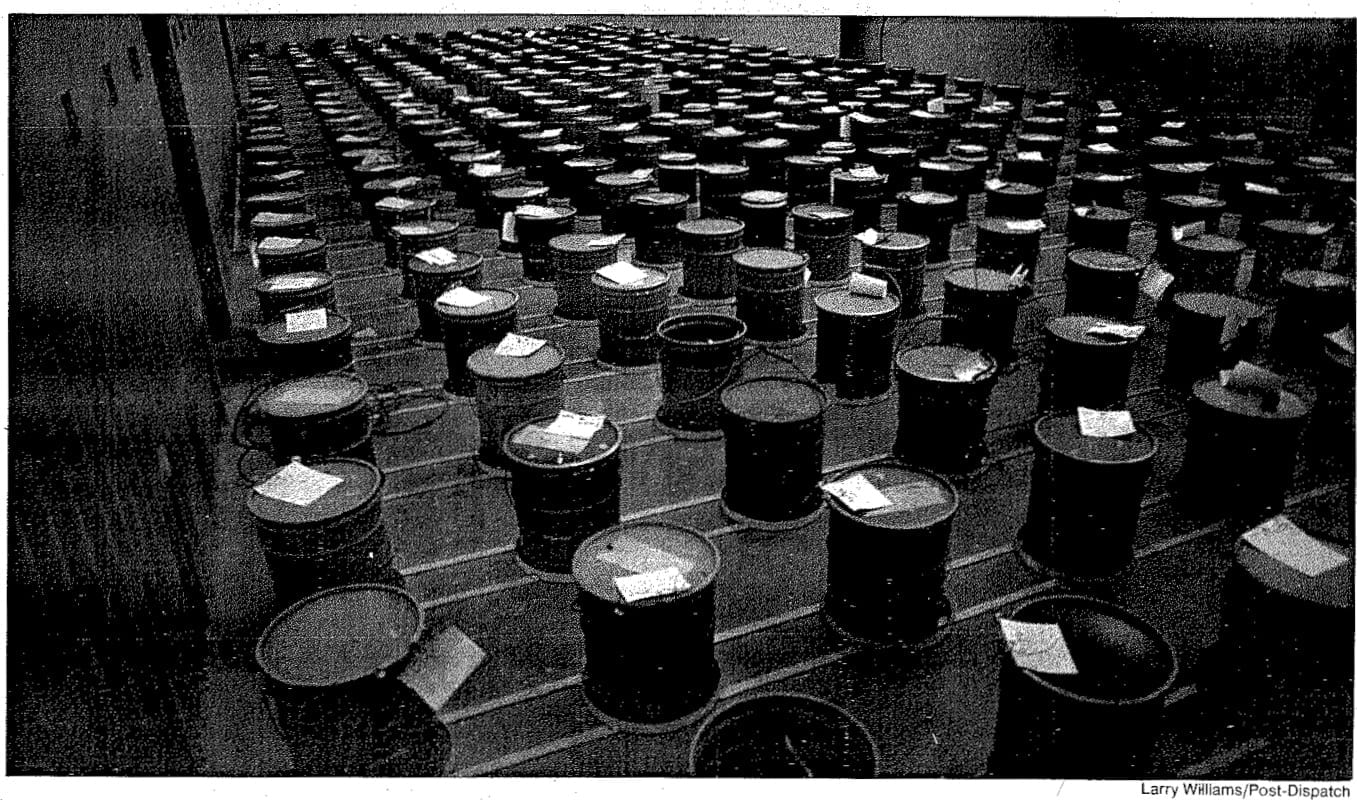 Federal records that had gone unnoticed for decades show that the old Atomic Energy Commission used at least two bunkers at Tyson for storage in the late 1940s. The site, about 20 miles west of St. Louis on Interstate 44, was then part of the Tyson Valley Powder Plant, where explosives and ammunition were stored during World War II. The government turned the 1,963-acre tract over to the university in 1963 for use in wildlife and environmental research. Documents found last year in AEC files said the radioactive material was stored in 250 wooden barrels and metal drums – including 14 containers without tops. The residue was described as "68,103 pounds of C-Special and 53,252 pounds of C-4." C-Special and C-4 were code names for slag residue from the production of uranium metal. The AEC stored the material at Tyson from at least May 1947 through March 1948, when memos were being exchanged to negotiate shipment of the residue to a plant at Cannonsburg, Pa. Federal officials say they are not sure where the material was taken. University officials did not learn about the storage of radioactive residue at Tyson until reporters brought it to their attention last year. With the university's cooperation, reporters visited the site in June and took radiological readings in and around 16 of the old concrete storage bunkers. None of the readings showed radiation exceeding normal background levels. University radiation specialists later tested all remaining structures at the site, including 50 concrete bunkers. No elevated readings were found, university officials said.   For more information about the Coldwater Creek Contamination Lawsuit, contact TorHoerman Law.