NEWS
Underrated Lawyer Movies, According to a Lawyer and Movie Aficionado
Not every movie about a lawyer is good. In fact, most are terrible. But you can't approach all legal movies the same way. Assuming Legally Blonde is in the same category as 12 Angry Men is akin to assuming spaghetti is the same as fettuccini – while they're both Italian, they serve a different fix. (Let it be noted though that this is not a shot against Legally Blond, which is actually pretty funny.) Nonetheless, because I am often asked about legal movies I liked, how realistic a certain movie is, or particular questions about particular issues in a movie. So, during a weekend where I would normally have been with my family, but instead am stuck inside, I thought I would put together a shortlist of underrated legal dramas – movies that often do not get the attention films such as To Kill a Mockingbird, A Few Good Men, The Verdict, and A Time to Kill. Even further, since most of you are stuck at home, I limited the five films below to ones available, for no additional cost, on Amazon Prime, Netflix, or Pluto TV (which is a free TV service you can add to most smart TVs, Rokus, etc.) This is a composition of underrated lawyer movies, according to a lawyer. Of note, all of these movies are Rated R for good reason. Please know I am not making any recommendations on whether they are appropriate for family viewing.
Underrated Lawyer Movies, According to a Lawyer:
Puncture (available on Amazon Prime)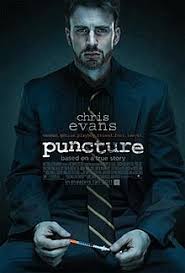 Puncture went under the radar when it first came out despite getting decent reviews. Perhaps that's because Chris Evans, aka Captain America, was on the verge of becoming a megastar and Marvel didn't want a movie where he represents a heroin-addicted attorney to disrupt their superhero promotion. The plotline, which is based on a true story, centers around two Houston attorneys, one being Chris Evans, who learn from a nurse that she contracted AIDS a couple of years ago when she was accidentally pinpricked with a contaminated needle by a violent patient. The nurse shows the attorneys a retractable safety needle that could have prevented her exposure (and thousands of others like her) that was invented by an engineer who is unable to sell his product to any hospital due to political and business reasons. While it is a bit formulaic in its David v. Goliath approach, it's quite powerful. Chris Evan's performance is raw and powerful and really balances the duality of his compassion and addiction. Given the nature of our occupation, this movie has stuck with me throughout the years.
The Lincoln Lawyer (available on Amazon Prime)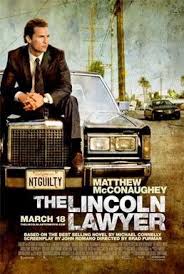 The Lincoln Lawyer is the perfect Friday night film. It has a great cast (Matthew McConaughey, Marisa Tomei, William H. Macy, Bryan Cranston, Ryan Phillippe), it's fast-paced, and its twists have a purpose and are interesting. Based on a Michael Connelly novel, the film centers around a criminal defense attorney (McConaughey) who is hired to represent a man charged with assault (Phillippe). When the details of the case start to resemble a former murder case, the past and present begin to merge into a twisty drama that makes two hours fly by. While I cannot represent to you that this movie is realistic at all, it's definitely fun.
The Rainmaker (Available on Netflix)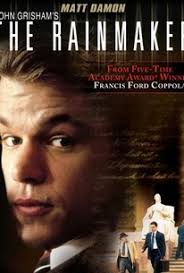 There's no "courtroom drama" film list without a John Grisham movie. While The Rainmaker is a fairly well-known movie, it doesn't seem to get the kind of attention that other Grisham movies like A Time to Kill, The Firm, and The Pelican Brief seem to get – and honestly, I don't know why. Directed by Francis Ford Coppola (yes, the same Coppola who directed The Godfather trilogy), The Rainmaker is another David vs. Goliath story. Matt Damon plays a struggling young attorney who decides to challenge an insurance company that denied coverage to a young man dying from leukemia. Like any good David v. Goliath story, in order for it to be successful, you have to be fully committed to the David character. That works here, as Matt Damon plays a sympathetic yet charismatic lead and Jon Voight is particularly nasty as the insurance attorney on the other side. With great support from Claire Danes and Danny DeVito (plus a nice little role as the shady mentor by Mickey Rourke), The Rainmaker shines as one of Grisham's best.
…And Justice for All (available on Pluto TV)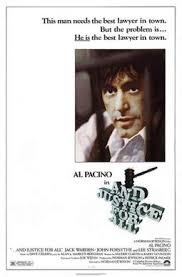 It's crazy to me that this movie isn't as well known as the most famous line ("You're out of order! The whole trial is out of order! They're out of order!"). You have an academy award-nominated director with a screenplay written by an academy award winner overseeing the always great Al Pacino (who was nominated for an academy award for his role in this movie). Thus, you literary have all the ingredients for greatness – and this movie is just that. Al Pacino plays a defense attorney who finds themself representing a Judge who has been charged with rape. The problem is that Pacino's character hates the Judge and in fact is arrested in the first scene for attempting to punch him. This is one of those movies that every young law student should watch because Pacino does such a wonderful job displaying empathy and passion as a lawyer. In a lot of ways, this movie was ahead of its time as well – shining a light on issues with our criminal justice system, discrimination, and inequality. I cannot recommend this movie enough.
The People vs. Larry Flynt (available on Pluto TV)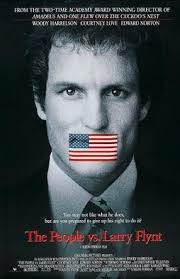 Okay – it may seem odd that I am recommending a movie about the publisher and man who created the pornographic magazine Hustler. But, Larry Flynt, for all his flaws is actually an incredibly important figure in American law and his lawsuits regarding the First Amendment are still studied in law schools today. As Woody Harrelson (as Flynt) says "murder is illegal, but if you take a picture of it, you may get your name in a magazine or maybe win a Pulitzer Prize. However, sex is legal, but if you take a picture of that act, you can go to jail." The portions of this film that deal with Flynt's lawsuits and his lawyer, Alan Isaacman (who has represented Geraldo Rivera, Kathy Griffin, Rock Hudson, and CBS), are particularly interesting and demonstrate the difficulty in balancing a passionate client with the slow pace of legal justice. The movie's handling of Larry Flynt's lawsuit against Southern Baptist pastor Jerry Falwell Sr. is fascinating, especially the argument scene before the United States Supreme Court. While opinions on Larry Flynt may vary, sometimes the strangest cases have the biggest impact on the law.   Ok – that's it for now. Enjoy these lawyer movie recommendations from a personal injury lawyer this weekend while you're stuck at home. I know there are a lot of legal movies out there though so if there's anything available on a streaming source that you want to recommend, please let us know. Last, and only because I always get asked the question, "what is your favorite lawyer movie?" The answer? My Cousin Vinny with Joe Pesci. I have watched that movie dozens of times and it still makes me laugh while being surprisingly accurate.