NEWS
Vaginal Mesh Scandal: First Reported Death Related to Mesh Complication
The first incident of death due to sepsis caused by vaginal mesh complications was reported this week in Canada in what has come to be known as a vaginal mesh scandal. The deceased, Christina Brajcic, of Ontario, Canada, is the first vaginal mesh recipient to die as a result of complications caused by the device.  Brajcic developed an antibiotic-resistant infection which resulted in her body going septic which eventually led to her death.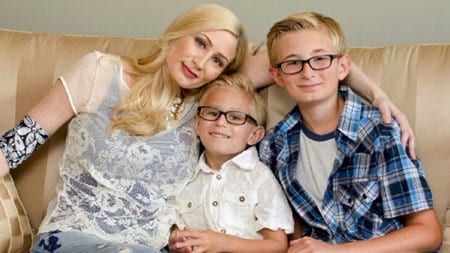 (Brajcic, pictured with her two sons)
Brajcic was implanted with a polypropylene mesh tension-free vaginal tape (TVT) shortly after the birth of her second son in 2013. The device was meant to treat Brajcic's mild postpartum urinary incontinence. Hours after the implantation, Brajcic recognized a spike in pain, explaining "The pain got worse, and worse, and worse and finally it was like my insides were ripping out."  It was sometime after Brajcic recognized this pain that doctors realized her device had malfunctioned. It was one year before Brajcic was able to have her mesh TVT removed through a surgical procedure. In that time, Brajcic was left bedridden, suffering nerve damage and continuous pain. Post-removal, Brajcic was hospitalized once more due to multiple urinary tract infections related to the surgery. At some point, these infections became resistant to the antibiotics that Brajcic was receiving to treat them. Brajcic's body tried to combat the UTI's by developing sepsis, a natural bodily response to infection that can eventually lead to organ failure. Brajcic was readmitted to a hospital to treat the sepsis in October. On November 28th, Brajcic was pronounced dead. Although Brajcic's family is still awaiting an official toxicology report, her death is believed to be directly linked to her mesh implantation, malfunction, and removal surgery. Brajcic's death has come to be known as the vaginal mesh scandal, occurring only weeks after the U.K. National Institute for Health and Care Excellence (NICE) recommended banning vaginal mesh as a form of treatment for incontinence and prolapse after childbirth. Brajcic, herself, was a major player in the campaign against vaginal mesh products. Before her death, Brajcic launched efforts against mesh procedures: campaigning, selling shirt and ribbons to raise awareness of the dangers of mesh and to aid individuals who had suffered from mesh products. Before her death, Brajcic had also filed a lawsuit against vaginal mesh manufacturer Johnson & Johnson, joining a conglomeration of thousands of other women in the U.S., U.K., and Canada who have brought on litigations against mesh manufacturers. Kath Sansom, the founder of a vaginal mesh sufferers advocacy group, Sling the Mesh, recently launched a Just Giving page on a Crowdfunding website, raising money to support the children that Christina Brajcic leaves behind. "Many women in groups globally are close to being antibiotic-resistant – and then what? Benefits do not outweigh the risks of this operation. It's time to say enough is enough." Samsom said about the vaginal mesh scandal.