NEWS
When Can You Sue Someone for Emotional Distress?

Dealing with emotional distress can make it difficult to deal with life. Whether you're suffering from feelings of hopelessness, lacking energy, or having trouble sleeping — the symptoms can make it hard to function. While it's normal to deal with this every so often, emotional distress can indicate greater problems when it's frequent or sustained. What many people don't realize is that emotional distress can have long-term impacts both mentally and physically. In fact, it can even be grounds for legal action. If you experienced emotional trauma as the result of another person's actions ­– whether by intentional infliction or neglect – there's a chance you can earn compensation for your pain and suffering. This article covers legal interpretations of emotional distress and how these cases make it to trial.
What Is Emotional Distress?
Emotional distress, also referred to as mental anguish, is legally defined as:
a highly unpleasant emotional reaction (as anguish, humiliation, or fury) which results from another's conduct and for which damages may be sought.
Emotional distress claims cover instances in which a victim suffers a severe emotional reaction due to another party's actions. For emotional distress to apply in court, the act in question must have been negligent or intentional. While not always necessary, the plaintiff is more likely to recover damages if he or she also suffered from a physical injury.
Symptoms of Emotional Distress
Emotional distress can materialize as a variety of symptoms. Each victim of emotional trauma is unique, and symptoms and their severity differ from person to person. Common emotional distress symptoms include:
Sleep disturbances
Frequent mood swings
Obsessive and/or compulsive behaviors
Increased irritability
Decreased memory and information retention skills
Anger management problems
Chronic fatigue
Shifts in weight and/or appetite
The symptoms of emotional distress are similar to those of depression and anxiety disorders. Victims often require mental health counseling and / or psychiatric treatment to improve. It is important that individuals frequently dealing with symptoms speak with a doctor or other health care professional.
How Do You Sue Someone for Emotional Distress?
Suing for emotional distress is not always straightforward. Emotional distress lawsuits require proof, and emotional distress damages are harder to prove than a physical injury. While this makes the process a bit more difficult, it's still very possible.  
Filing an Emotional Distress Lawsuit
If you believe that you are eligible for an emotional distress lawsuit, it is advised that you work with an injury lawyer. He or she will gather the necessary information to answer the big question: "can you sue for emotional distress?" Once it's determined that you have a viable case, it's time to file a claim. Your attorney will work with you through the civil litigation process. If a verdict is made in your favor, or if you and the defendant settle out of court, you will then receive compensation for your damages.
Requirements When Suing for Emotional Damages
The legal emotional distress definition makes it clear that the victim's mental anguish must be due to another person's actions. For emotional distress damages to hold up in court, several criteria must be met. This includes:
Intentional infliction or negligence
The plaintiff (victim) must prove that the defendant inflicted the emotional distress intentionally or due to negligence. Intentional infliction means that the person intended to cause harm or showed reckless indifference. Negligence indicates that he or she failed to act with a level of care that a person of good judgment would have exercised in the situation.
Evidence
When suing for pain and suffering, it's important that you provide as much accurate information and evidence as possible. Victims must be able to prove that they suffered mental anguish. Tangible evidence for this claim could include medical records, lists of prescriptions, witnesses, and testimonies from qualified medical professionals such as a therapist or psychiatrist.
Physical trauma
(Required in certain states) Certain states require that victims suing for emotional distress also suffered physical trauma from the same situation. If this is not a requirement in your state, payout for emotional distress can be awarded without there being a case of physical harm. However, emotional distress compensation is more common when evidence of physical trauma is also present.
Common Emotional Distress Lawsuits
Many experiences that warrant a lawsuit are traumatizing. Victims who experience a traumatic event often suffer mentally long after the incident occurs. Because of this, emotional distress claims are common in cases involving accidents, abuse, and neglect. The following are lawsuits that often involve emotional distress claims:
Medical malpractice
Patients deserve an accurate diagnosis, safe treatment, and quality medical care. When this isn't the case, patients suffer. Emotional distress damages are common in medical malpractice cases for both patients and their families.
Witnessing a wrongful death
Whether it's friends and family or even a stranger, seeing someone lose his or her life is hard to handle. Wrongful death witnesses often struggle with severe mental anguish, making it difficult to readjust to life and work.
Personal injury
Personal injury law encompasses a wide range of cases that make it to court. From assaults to toxic exposure, personal injury refers to any injury, damage, or loss to one's body, mind, or emotional well being. Victims in these lawsuits often seek compensation for both physical and mental pain.
Wrongful arrests
Research on the psychological impacts of wrongful conviction shows that exonerees face a range of difficulties readjusting to life. With the many problems they face, mental health issues are common. Victims of false arrests can seek emotional distress damages to compensate for their mental anguish and any subsequent expenses (assessments, counseling, medications, etc.).
Emotional distress after a traffic accident
People involved in car accidents and truck accidents that are not their fault are often left to deal with physical and emotional pain. Victims in severe accidents can also develop anxiety, depression and post traumatic stress disorder. This is especially common in cases involving a negligent driver.
Nursing home abuse
Victims of nursing home abuse and neglect suffer at the hands of care facility staff. This puts them at risk of a number of health issues. When this occurs, victims and their families have the right to seek damages for their emotional suffering.   These lawsuits are just a few of the many emotional distress examples. Damages for mental anguish and emotional trauma can be claimed in many different cases. If you're wondering if you have the potential to claim emotional distress damages in your case, contact an experienced injury attorney.
Best Practices for Emotional Distress Lawsuits
Succeeding in an emotional distress lawsuit requires due diligence from the victim and his or her representatives. Emotional distress meanings can become convoluted in court, so it's important that you are prepared. The following steps will help you make a better claim and increase your chances of earning compensation for your pain and suffering.
Mitigate Your Damages and Losses
Legal professionals often emphasize the importance of mitigation in personal injury cases. In lawsuits involving mental anguish, it's just as crucial.  Victims should seek professional diagnosis and treatment for their emotional distress as soon as possible. This can include, but is not limited to, treatments such as counseling, therapies, and medications. This is important for your health and recovery, and it increases the likelihood of a successful claim. Your treatment records can also serve as evidence for your claim and / or trial (see below).
Report and Document the Incident
If you are able to, report and document the incident as soon as possible. For example, if you experience emotional trauma because of workplace violence, you should file a complaint with the Occupational Safety and Health Administration. In the case of a car accident, contact the local police and your insurance company. Documentation includes detailed notes of the situation, contact information of any witnesses, and photos at the scene. Reporting and documenting the initial cause of emotional distress will help build your potential settlement claim.
Review Legal Requirements
Before seeking legal advice for your case, make sure that there is at least some potential for an emotional distress claim. Review the emotional distress definition, verify that there was negligent or intentional infliction of emotional distress, and make sure you have some form of proof (witnesses, medical records, etc.) Once you are sure you meet these requirements, or if you have questions about if your case is valid, contact an injury lawyer for assistance with your emotional distress and personal injury claim.
Work with an Experienced Emotional Distress Attorney
Working with an experienced emotional distress attorney will help ensure that you have a strong case. Legal representation will increase your chances of earning full compensation for your emotional distress damages including the costs of therapies, medications, and lost wages. Your lawyer will help you determine the best course of legal action, how to quantify emotional distress damages, and how to prepare for your claim and / or trial.  
Gather Evidence and Testimonials
Your mental anguish attorney will work with you to gather evidence during the discovery phase. This includes pieces of the documentation and reporting of the incident mentioned earlier. It's also helpful to have an expert witness, such as a therapist or doctor that gave your mental health diagnosis, willing to speak on record to bolster your claims. Copies of bills for psychiatric treatments serve as concrete proof that the incidence caused emotional distress. Your attorney might also recommend that you keep a daily journal to document the way the incident has affected your daily life.
Be Aware of the Statute of Limitations
It's crucial that you are familiar with your state's statute of limitations. This is essentially the limited time period that you have to make a legal claim. For example, the Illinois statute of limitations for personal injuries is two years from when the incidence occurred. The statute of limitations generally begins the moment the victim knows about his or her injury (or in this case, emotional distress), but ruling varies state by state. A local attorney can help you with the statute of limitations in your state.
Frequently Asked Questions About Emotional Distress Lawsuits
Emotional distress lawsuits can be complex. Unlike cases involving physical trauma, damages are difficult to visualize and quantify. Victims suffering from emotional distress due to another person's actions are often unaware of how to seek justice. The following answers clarify some common concerns about emotional distress cases.  
How much money can you sue for pain and suffering from emotional distress?
'Pain and suffering' is subjective and often difficult to measure. However, an experienced injury attorney will be able to determine and fight for fair compensation for your distress. Emotional distress can often qualify for both special and general damages. Because of this, pain and suffering compensation usually amounts to 2 to 5 times the total costs of medical bills (therapies, medications, etc.) and lost wages from missed work. This amount can vary significantly on a case-by-case basis. These damages are determined based on a number of factors including total out-of-pocket cost, damages caps, and the severity of your pain and suffering.
Do emotional distress lawsuits require that the victim have suffered from physical trauma?
Some states require that physical trauma be present to earn emotional distress damages. In most states, victims suffering from emotional distress due to another person's intentional or negligent actions do not need proof of physical pain. However, victims are more likely to receive compensation for emotional distress claims if they also suffered a physical injury from the same incident. The victim must also be able to prove that they experienced emotional distress.  
Can you sue someone for causing stress?
You can potentially sue for stress, but there are certain stipulations that must be met for your case to hold up in court (see 'Requirements When Suing for Emotional Damages' above). Emotional distress claims cover cases where an emotional reaction is severe enough to make it difficult to carry out day-to-day functions. For example, if an employer violates their duty of care to create a safe and secure workplace, employees might have a case for emotional distress. This can include instances of harassment, discrimination, and other acts of personal misconduct.  
Can you sue your spouse for emotional distress?
Emotional distress claims can be made against a spouse if his or her actions (by neglect or intentional infliction) caused severe mental anguish. The criteria for cases involving spouses are the same as other emotional distress lawsuits. These claims are common in cases involving abuse (both physical and emotional), financial disputes, and neglect of parental duties.  
Can you sue a landlord for emotional distress?
State laws require landlords to take reasonable steps to guarantee their real estate is safe and habitable for their tenants. If he or she fails to do so, the tenant might have cause to sue. If your landlord's actions ­– or lack thereof ­– caused you significant emotional harm, you might be able to seek emotional distress damages. Emotional distress damages are potentially applicable in situations involving housing discrimination, injuries due to a landlord's neglect, uninhabitable housing, and many other instances.  
Can a victim's family member seek damages for emotional distress?
The family members of someone who suffered due to another person's actions might be able to sue for emotional distress. Emotional distress damages have been awarded to family members in lawsuits where family members have been affected.  This includes medical malpractice, false conviction, wrongful death, and many other cases. If a family member is acting as the victim's representative, they can sue for emotional distress.
Summary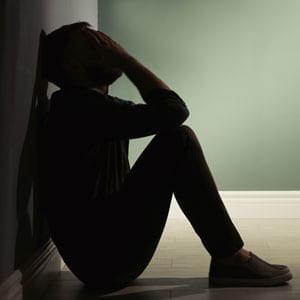 Article Name
When Can You Sue Someone for Emotional Distress?
Description
When can you sue someone for emotional distress? Learn what qualifies for an emotional distress lawsuit & get answers to frequently asked questions
Author
Publisher Name
Publisher Logo