NEWS
A Guide to Safe Driving for Seniors
How to Promote Safe Driving With Seniors
Driving is so much more than a means of transportation for many people; it provides a sense of freedom and independence, as well as the autonomy to complete important, everyday tasks such as grocery shopping, social visits, and other errands. Unfortunately, as we age, our ability to drive independently wanes for a variety of reasons. Giving up driving can be a scary prospect for many seniors, especially if they don't know when, or if, it will become unsafe for them to continue driving independently.  

How Aging Affects Driving
There are several different ways that aging can affect your ability to drive independently, and even increase your risk for common vehicle accidents. Your vision, hearing, reaction speed, and freedom of mobility are all vital parts of being a safe driver, and can all be affected by the aging process. Your genetics, lifestyle, or emerging conditions and prescriptions can impair any of these qualities. 
Vision Impairment
Vision is one of the most important senses we use when driving, and driving with impaired vision can lead to serious injury in a car accident. There can be several causes of vision impairment in seniors, such as:
Macular Degeneration:

Macular Degeneration causes a loss in the center field of vision. Dry macular degeneration is when the center of the retina deteriorates, while wet macular degeneration is caused by leaking blood vessels growing under the retina. Blurred vision in the center field is the key symptom, and macular degeneration can be treated with supplements or surgery, depending on the type and severity. 
Glaucoma:

Glaucoma occurs when the nerve connecting the eye to the brain weakens. Glaucoma's only symptom tends to be slow vision loss, however, eye pain accompanied by nausea and sudden visual disturbances can indicate severe glaucoma in need of emergency care. Glaucoma can be treated with eye drops, other medication, or surgery depending on the severity. 
Cataracts:

Cataracts are caused by a film growing over the clear lens of the eye. Cloudy and blurry vision can be a symptom of cataracts, as well as impaired night vision and light halos. Cataracts can be treated with an out-patient procedure, replacing the clouded eye lens with a clear, artificial lens. 
Worsening astigmatism or near/farsightedness can also be an age-related vision impairment, and can be treated with bifocals or trifocals. If you are diagnosed with any of these conditions, you may need to take an eye test at your local DMV to retain a valid driving license. Each state will have its own vision requirement laws for drivers. 
Hearing Impairment
Driving with hearing loss can be dangerous, especially when in or near heavy traffic. For example, the inability to hear high-pitched tones, due to age-related hearing loss, can prevent you from hearing sirens from emergency response vehicles, especially among background noise like horns or railroad warnings. This can put you and other drivers at risk. It can be difficult to notice the gradual loss in hearing related to age, so it's important past the age of 65 to get your hearing checked regularly — this can be done conveniently at the time of your yearly physical. 
Cognitive Impairment
As you get older, your brain needs more time to process information. For senior drivers, this natural cognitive decline can result in slower reaction times and make it harder to ignore distractions on the road. This can make driving in high-traffic areas especially dangerous, and increase your chance of collisions. The good news is that mature judgment, years of driving experience, and good driving habits can help senior drivers manage their slower reaction times. 
Prescription Impairment
It is common for senior individuals to take daily prescriptions for age-related pain or a pre-existing condition. Many will not interfere with your ability to drive, but some, or some in combination with others, specifically prohibit the operation of heavy machinery — which means driving. Check your prescriptions for any of these warnings or ask your doctor if they will impair your ability to drive. 
Warning Signs of Unsafe Senior Drivers
There are several external warning signs that indicate a senior driver can no longer safely operate a motor vehicle. These warning signs may stem from a deeper problem — such as vision or cognitive impairment — and may include:
Difficulty turning to look out the rear window;

Poor or misjudged parking;

Confusing the brake and gas pedals;

Hard stops or tailgating;

Drifting between lanes;

Increase in dents and scratches;

Driving the wrong speed — both too slow and too fast. 
If you notice unsafe driving habits on the part of your senior parent or loved one, it may be time to talk about their future behind the wheel. This conversation can be awkward, and even uncomfortable to have; no one wants to give up a part of their independence. Therefore, it's a good idea to approach this conversation delicately and respectfully. Here are some tips that can make talking to your senior loved ones about their driving easier:
Start the Conversation Early:

Before you begin to notice issues in your parents or loved ones driving, ask them how they might want to approach retiring their license, should the need arise. This allows you to be proactive, as well as soften some of the emotional tension. 
Know your Resources:

Know what local transportation services are available. Even if your loved one is not safe to drive independently, they still deserve mobility to conduct their errands or social calls. Reliable public transportation can stand in for driving, and some cities even have senior shuttles or taxi services that come to little or no cost to use. 
Talk One-on-One:

This is a delicate and sensitive issue, and can feel incredibly isolating to your parents or loved one. Having a one-on-one conversation rather than an "intervention" style gathering may help your parent or loved one feel more secure and open to having a deeper conversation. 
Listen Actively:

Your parent or loved one may feel embarrassment, anger, denial, or isolation in the face of giving up something that has always signified independence and freedom. Listen actively to these emotions or concerns without trying to immediately problem-solve. This will give them the time they need to process, and allow for a more productive conversation.
Senior Driving Assessment
There are a few different ways to assess a senior individual's driving ability. Both clinical and practical skills assessments are available through several different outlets. Clinical assessments will benefit those with physical or cognitive conditions that cause impairments to their driving. These assessments can be performed by an occupational therapist or a Certified Driver Rehabilitation Specialist (CDRS). Practical or skill assessments are designed for those who believe that their driving skills, such as parking or changing lanes, have diminished. These assessments can be performed by your DMV, a private instructor, or even by a family member or as a self-assessment. The practical skills assessment can tell you the current state of your driving ability and what skills are in need of improvement.
Driving Self-Assessment Test
If you are performing a driving self-assessment, you will first need to acknowledge your personal bias. You may not see certain behaviors as indicative of a problem the way some professional assessments might, as you are used to your own driving routine. If you are performing a self-assessment, it may be helpful to follow a questionnaire, such as the one found in the AAA Drivers 65 Plus assessment booklet. These questionnaires can help you pay specific attention to areas where senior drivers may experience trouble or unsafe behavior. 
Professional Assessment
The most objective way to determine whether or not a senior individual is safe to drive is via professional assessment. Professional assessments will range in price, depending on what type of assessment they are — either clinical or skills — and who is performing the assessment. Clinical assessments can cost between $200 to $400 dollars, while skills assessments range from $100 and $200 dollars. Driver Rehabilitation is also an option, with or upon completion of your assessment, and can typically cost $100/hour. Depending on your need for rehabilitation, some insurance policies may cover it. 
Senior Driving Test
There is a free online driving test available for seniors. This test is state-specific, and can help prepare you for your state's written test should the need to renew your license arise, or should you wish to assess and improve your current driving procedural knowledge. This practice test is multiple-choice, and offers hints before and explanations after each question, making it a valuable teaching tool. 
How to Stay Safe as a Senior Driver
Being over the age of 65 doesn't automatically make you unsafe to drive. However, there are ways that you can practice safe driving as you age that take into account some of the age-related challenges seniors face. Here are some safe-driving tips for senior drivers:
Regularly Schedule Hearing and Vision Tests:

Once over 65, vision and hearing tests should be a part of your health maintenance routine. You can schedule these at the time of your yearly physical, or as you feel needed. 
Don't Drive in Poor Conditions:

If you have difficulty seeing at night, or in low-visibility weather such as rain or fog, avoid driving in these conditions. Knowing your limitations is part of being a responsible senior driver. 
Manage Your Medication:

Before taking any new medication, you should ask your doctor how, or if, the medication will affect your ability to drive. Even temporary medications used for pain management can make you drowsy or unfocused, which can compromise your ability to drive. 
Limit Distractions:

This is an important safety tip for all drivers — when you're in the car, you should

limit distractions

such as cell phones, eating or drinking, and any other behavior that takes your eyes off the road or your hands off the wheel. 
How to Promote Independence for Seniors
Feeling independent is an important part of maintaining a senior's mental well-being. If you, a parent, or a loved one is unable to drive on their own, there are still ways that you can encourage independent living. For example, staying physically active can help improve quality of life, strengthen muscles and bones, and decrease fall risks, allowing seniors to provide for themselves for longer. Socialization and community involvement can also improve mental well-being, as well as inspire a sense of connectivity and purpose on a daily basis. This may mean taking a community class, attending local sporting events, or visiting friends. Having an independent social life can help seniors feel like they are retaining their own identity and lifestyle. 
Alternative Transportation Options
Finding ways to maintain independent transportation is another way that seniors can maintain their desired lifestyle. As we've mentioned before, some places may have senior shuttles or taxi services available on certain schedules at little or no cost. And with the advent of ride-sharing apps, as well as the availability of public transportation, being unable to drive doesn't have to mean being entirely reliant on someone else's schedule. Carpooling with family and friends can serve as an alternate form of transportation, as well as a social activity. 
Driving Aids
As a senior driver, there are certain things you can add to your car or driving routine that may help you drive safer and more comfortably:
Prescription Sunglasses:

If you wear glasses while you drive, getting a pair of prescription sunglasses can help improve your visibility while driving by decreasing glare or brightness. Your optometrist will likely offer sunglasses to match your prescription needs. 
Seat Cushion:

There are several types of seat cushions that can assist senior drivers — those that add height to allow greater visibility over the dashboard, those designed for back support, and those that simply increase your comfort-level on longer drives. These are widely available online, or in the automotive section of many big box stores. 
Seat Belt Adjuster:

Seat belt adjusters are meant to help your seat belt sit more comfortably while driving, while seat belt cushions can prevent chafing or rubbing. Seat belt extenders and adjusters can change the position of the seat belt, while still keeping you safe. These can also be purchased online, or at automotive stores. 
Healthy Living
One of the best ways to preserve your independence as a senior is to live a healthy lifestyle. This includes both physical and mental health. Maintaining proper nutrition, physical activity, and mental stimulation — such as learning new skills or hobbies — is all a part of maintaining a healthy lifestyle. If you experience barriers to nutrition, such as difficulties cooking or grocery shopping, or physical exercise due to pain or mobility limitations, it may be worthwhile to talk to a nutritionist or physical therapist. These professionals can help you navigate your specific situation, as well as provide actionable steps for the future.  
Resources for Senior Drivers
If you are a senior driver, there are ways that you can increase your ability to drive safely, and prolong your time behind the wheel. Here is a list of some of the available resources for senior drivers:
Additionally, your state DMV may have specific resources for senior drivers listed on their website.    
Resources for Family, Friends, and Caregivers
As the family or loved one of a senior driver, you have resources available to you that can help you assist and assess the road safety of your loved ones:
If you are the caregiver or legal executor of a senior individual, you may consider putting your name on the title of their vehicle or insurance policy. This way, should they be involved in an accident, you will be able to assist with the insurance and maintenance of the car going forward. 
Summary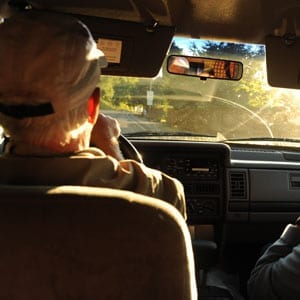 Article Name
A Guide to Safe Driving for Seniors
Description
Driving as a senior citizen poses unique challenges, as age-related impairments to vision, cognitive judgment, and hearing can all affect a senior driver's ability to be safe on the road.
Author
Publisher Name
Publisher Logo