NEWS
Choosing a Daycare | What to look for When Evaluating Daycares
How to Choose a Daycare
Choosing the right daycare can be an overwhelming process. There are endless things to consider, and everybody has different needs for their childcare. However, above all else, your child needs to be safe and secure at all times. Nobody wants to experience the stress and pain of their child being in a daycare accident, but unfortunately, they do happen. It's best to prepare for the worst so you can avoid needing to file a lawsuit if your child is injured at daycare. With the right knowledge and mindset, you will be able to find the right daycare for you that minimizes the risk of daycare injuries.
Signs of a Good and Safe Daycare
Here are 3 major indicators of a safe daycare that you should keep in mind when choosing a daycare for your child. If the childcare center you are considering has all of these, then there is a solid chance that you can entrust them to take good care of your child and avoid any unwanted daycare accidents.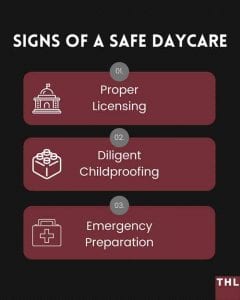 The Facility is Licensed
First and foremost, make sure the childcare facility is licensed and is willing to show you the paperwork before even considering it. You can easily look up daycare licensing online, you can go and follow the link to your state. Not only does sufficient licensing indicate legitimacy, but it also ensures that the facility follows all the baseline requirements of running a safe daycare, including:
Sanitation and cleanliness
Nutrition during meal times
Supervision and minimum staff-to-child ratio (varies by state)
Building safety (emergency exits, maintenance, etc.)
In addition, while in the process of choosing a daycare, you can look up any licensed daycare centers in your state online to check if they have any violations. This will let you directly compare childcare centers to aid you in your decision. By always doing your research on the daycare in question, you will be able to make a more informed decision that can ensure your child will be safe and happy in their new environment.
The Facility Has Proper Childproofing
If you wish to place your child in safe care, childproofing should always be near the top of the checklist for choosing a daycare. Proper childproofing reduces the chances of accidents and injuries, and any daycare should have at least the following:
Covered outlets
Absence of choking hazards
Window guards
Sanitized toys and other equipment
Pools and exposure to bodies of water
While childproofing shows an emphasis on daycare safety, it also displays another important aspect in high-quality daycares: attention to detail. Conscientiousness is important for all caretakers, and it is a desirable quality in any good daycare facility. When the staff members pay attention to even the smallest details, they are much less likely to make mistakes out of negligence and inadvertently put your child in harm's way.
All Staff Members are Prepared for Emergency
Be sure to ask the daycare about their policies and procedures for any emergencies, whether it's for tornadoes, fires, or medical emergencies. Confirm that all staff are CPR certified and can give first aid and some medical treatment at any given moment. The ability and training necessary to help when a child is hurt or in an emergency can be the difference between life and death in the worst cases, and you will want to make sure the staff is prepared for those instances. To find out what kind of training the staff has, bring it up in interviews. During tours, take note of first aid kits, AEDs, and any other medical equipment they have. You can also review your state's medical requirements for licensing to confirm that they are up to standards.
3 Red Flags to Look Out For When Choosing a Daycare
Above were signs that daycare is safe and suitable for your child. Additionally, here are 3 red flags that you should be aware of in your daycare search. If the daycare in question fits any or all of these, then that should be cause for concern and you should consider looking elsewhere.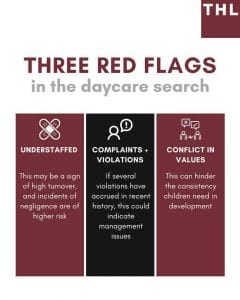 The Facility is Understaffed
Understaffed facilities presented multiple issues to parents who are choosing a daycare for their child. If a childcare center is understaffed, this may be a sign that turnover rates are high. This can be detrimental to the overall quality of the daycare since children need consistent and reliable caregivers that establish trusting relationships. Another concern about understaffed daycares is that there will simply be fewer eyes on the children, and it is more likely that a child may have an accident from neglect and lack of supervision. Here is a basic guideline for adequate staff-to-child ratios:
Less than 1 year: 1 adult to every 4 children
1-2 years: 1 adult to every 6 children
2-3 years: 1 adult to every 8 children
3-5 years: 1 adult to every 10 children
More than 5 years: 1 adult to every 12 children
There are Many Complaints or Violations on Record
Hearkening back to licensing, it is wise to verify that the childcare center has not accumulated many or any violations in recent history. By knowing their history, you can ask the daycare during interviews about what has happened in the past and how they addressed the problem. If the daycare facility learned from the complaint/violation and was receptive to the parents, that is a great sign that they have the children's best interest in mind. On the contrary, if the daycare has had many of the same complaints through a long timespan, that may be a sign that the staff is not open-minded and receptive to feedback, which doesn't bode well. If a daycare has several violations in the last 6 months, then that may also be a sign to take your sights somewhere else.
The Daycare's Values Conflict With Yours
In interviews and tours, asking the daycare about their philosophies and values towards nurturing children is incredibly important. Everybody's situation is different, so if the daycare's values align with yours, it can go a long way in ensuring open communication and support for your child. It also reinforces the values you want to teach your child and helps form strong relationships with the staff. A final aspect to pay attention to when choosing a daycare is how the staff handle misconduct and discipline towards the children. If staff members use harsh words or physical punishment and do not discipline in a way that encourages development, this could also be a sign that it is not the right fit for you.
Summary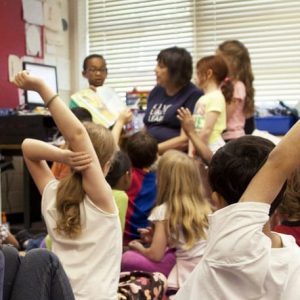 Article Name
Choosing a Daycare | What to Look For When Evaluating Daycares
Description
Learn about choosing a daycare that will ensure your child's safety. Find out how to evaluate daycares by safety measures and other factors.
Author
Publisher Name
Publisher Logo