NEWS
Personal Injury Lawsuit Compensation | Financial Recovery for Injuries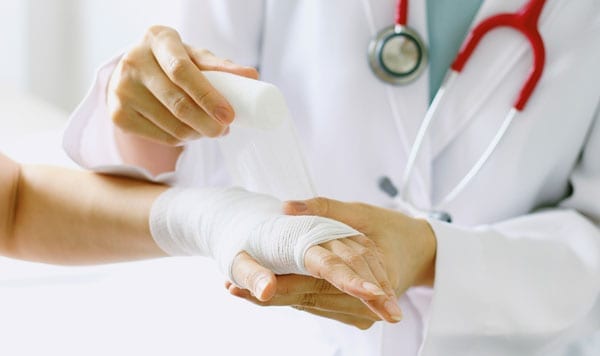 After an accident has occurred and you go through the process of obtaining a personal injury lawyer to fight for your rights, you may wonder, "How much is my case even worth?"
It's a valid, frequently-asked question. The amount of compensation comes down to the number of general damages you have suffered. Basically, determining the costs you have incurred, economically, physically, and emotionally, all play a part in deciding how much compensation you should receive.
Personal injury compensation is a complex topic that differs greatly case-by-case. Talk to a personal injury attorney to determine how much compensation you qualify to receive for your personal injury.
In a personal injury case, compensation is paid to the injured party (plaintiff) by the person or company found legally responsible (defendant) for the injury or death.
Personal injury cases, whether that be a car accident, wrongful death, daycare accident, or an injury as a result of a faulty medical device, can be a confusing, messy and overall drawn-out process. Let us help you to simplify that process and receive the compensation that you deserve.
Do I Need a Personal Injury Lawyer to Get Compensated For My Injury?
A personal injury attorney, with full knowledge of the law and your rights as an accident victim, can assist you throughout the process so that you don't make the mistake of accepting a settlement that does not fully meet the necessary compensation for your injuries.
Hiring legal representation can seem like just another unnecessary expense. But here at TorHoerman Law, our attorneys work on a contingency basis, meaning that we don't get charge for legal services unless you gain compensation. This also means that we are just as inclined as you are to see a successful outcome with the highest possible level of compensation.
Suffering an injury due to another person's negligence is a terrible situation as is. There is no reason that you should suffer monetary loss or any loss for that matter. Don't settle for a mediocre level of compensation when you can fight for total compensation for both types of damages, economic and non-economic, that you've already endured.
What Does Personal Injury Compensation Usually Cover?
At TorHoerman Law, we are committed to fighting so that you get the monetary compensation that you need for such costs as:
Medical Expenses such as medical treatment and medical bills
Property damages
Lost wages
Future loss of potential income
Rehabilitation
Pain and suffering
Emotional distress
Loss of enjoyment
Loss of consortium
There are two types of categories compensation can be awarded in – compensatory damages and punitive damages. One covers the monetary expenses incurred as a result of the injury and the other, punitive, are essentially a punishment for the defendant if the behavior was extremely malicious, reprehensible, or wrong. For more information, read our guide on compensatory and punitive damages here.
If I was Partially Responsible for the Accident, Can I Still Receive Compensation?
Yes, but the compensation awarded will more than likely be reduced by the percentage you were at fault. In the legal industry, this is called the "comparative negligence" concept.
For example: you were involved in a motor vehicle accident. You, the injured party, were stopped at a red light with no other vehicles behind you. A car, who was speeding, failed to stop in time and hit the back of your vehicle, causing substantial injuries to you. After the accident, it was determined that while the driver of the vehicle that hit you failed to reduce speed and was texting on the phone, they did not see your tail lights because they had gone out/were broken.
In this case, the driver of the other vehicle will be held responsible for 90% of the accident, but since you had taillights that did not work, you are found to be responsible for the other 10% of the accident. This is an example of comparative negligence. When going to court to receive compensation for the damages incurred, the settlement amount, in this case, will be reduced by 10% because of the lack of tail lights indicating the vehicle was stopped.
How Do I Receive Compensation For An Injury?
In a personal injury claim, there are two ways of receiving personal injury compensation. Either compensation will be negotiated and agreed upon in settlement talks and then awarded based on those agreements. Or, if neither party can agree on an amount, the case will proceed to trial where either a verdict will be issued by a jury or judge. Once a verdict has been awarded in your favor, the responsible party will be required, by law, to pay the amount determined.
The cost and strain of a personal injury can be greatly increased when trying to receive adequate personal injury compensation for your losses. You shouldn't be left dealing with the strenuous process of fighting for that compensation. If you have any questions, contact the law firm of TorHoerman Law.
How Is Compensation Calculated?
Compensation is calculated by the court using guidelines established by the Judicial Studies Board. The judge determines the amount that a plaintiff should be awarded in personal injury compensation based on similar cases.
How Long Do Personal Injury Settlements Take?
The length of time for settlements differs greatly for each case. Many factors go into how long it takes for a plaintiff to receive compensation, including the type of case, what court district the case was filed in, and the judge's responsiveness, just to name a few. It can take as short as a few weeks to a month or as long as a year or more to receive your settlement.
Learn More About the Lawsuit Process: