NEWS
TorHoerman Law Teacher Support Grant Winners Announced
TorHoerman Law, along with other local law firms Walton Telken, LLC and Glisson Law, are thrilled to announce this year's THL Teacher Support Grant winners – thanks to TorHoerman Law Employee Foundation's THL Giving Back efforts.  We asked local teachers to tell us how we could help to support their efforts to provide essential classroom supplies to make their classrooms better – and we were thrilled with the submissions! Please helps us to congratulate the following teachers for their amazing submissions.
1. Amanda Powers, West Elementary School, Alton, 4-5th grades, Behavioral Disorders.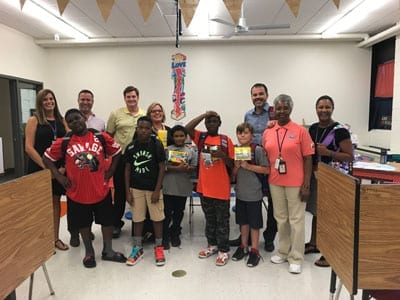 As one of our $2,000 prize winners, Amanda requested items that ranged from school supplies and backpacks, food items for students who come to school hungry or without a lunch, to basic toiletries like deodorant and tampons. The need-based items are essential for an exceptional learning environment and at TorHoerman Law, we couldn't refuse the opportunity to help. After buying all of the necessary items, members of TorHoerman Law surprised Amanda at school. Their reactions were priceless!
2. Kimberly Moore, Albert Cassens Elementary School, Edwardsville, 3rd-5th grades, Special Education Kimberly won the other $2,000 grant, and with it, it will transform her classroom to "enhance the learning environment and experience" of the students. Specifically, she asked for technology to allow for a more tailored, specialized experience for each individual student. By providing individualized technology, Kimberly can use reading and math programs to target specific skill sets, use videos and graphics to assist in building knowledge and vocabulary and keep current data on each student's progress. According to Kimberly, "The capabilities are endless when technology can be put in the hands of children."
3. Kelsey Stosberg, Jefferson Elementary School, Belleville, 5th grade First-year teacher, Kelsey, was tasked with building a classroom from the ground up. "With much enthusiasm and excitement, I will be starting my first year of teaching, but its been hard trying to build an enriching library for my students, provide supplies that will keep the classroom running, and decorate and furnish the room to make it an environment that will be welcoming and stimulating for my students," Kelsey said. Her desire to provide an extraordinary environment for her students caught our attention. That motivation is what prompted us to choose Kelsey because we knew, without a doubt, Kelsey would use the grant to improve her classroom and in turn, enhance the education of her students.
4. Christine Petroff, Collinsville Middle School, Collinsville, 8th grade Christine applied hoping to win a grant for her students who have troubles finding an interest in reading or have learning disabilities. The grant, she said, could "provide an avenue for reading that gets students excited to read." At a crucial time in a child's development, establishing the skills and desire to read effectively is essential. Christine also reached out for help in providing ESL, or English as a Second Language, reading the material. "At my school, we have a large Hispanic population, one of the book sets I'd like to purchase is specifically towards this demographic of students," she said.
5. Stacy Matz, Triad Success Center, Troy, 9-12th grades A new program was established at Triad School District, one that would help students get back on track and excel in the academic setting. Stacy Matz, a special education teacher, is an advocate as she has worked hard to establish the program. "Our mission is to provide innovative solutions to challenges in education and human services," Stacy said. In her application, Stacy requested flexible seating options to help the students feel comfortable in their learning environment and incentives to help encourage personal growth and the completion of their personal success plan goals. The program is different than most because it is specifically dedicated to helping those who have not flourished in a typical environment, and for that, we felt there was a tremendous need to help the organization thrive.
6. Jennifer Fowler, LeClair Elementary School, Edwardsville, 2nd grade At a time when attention spans are short and students have trouble sitting still for longer than a few minutes, Jennifer wants to take those challenges and run with them. "The students I see in my classroom today are more active, distracted, and have more sensory demands," Jennifer said. "There are many more ADHD students in our general education classrooms, than ever before. "I would like to offer a classroom with flexible seating alternatives and a variety of sensory tools to help ADHD students be more successful." We all have experienced those times when the focus is difficult and the need to take a breath and walk around is great. For students that may not always be an option. Thanks to Jennifer, her students will have the option to learn while being occupied, a great advantage in providing an exceptional learning environment.   We may be biased, but, metro-east has the best teachers!  There were so many deserving applicants, that we can't wait to read next year's submissions.  We hope to see many of those that were not awarded prizes this year, resubmit!