NEWS
Tor Hoerman Honored as Lawyer Who's Achieved Success
Tor Hoerman Distiguished as Kent Law Alumni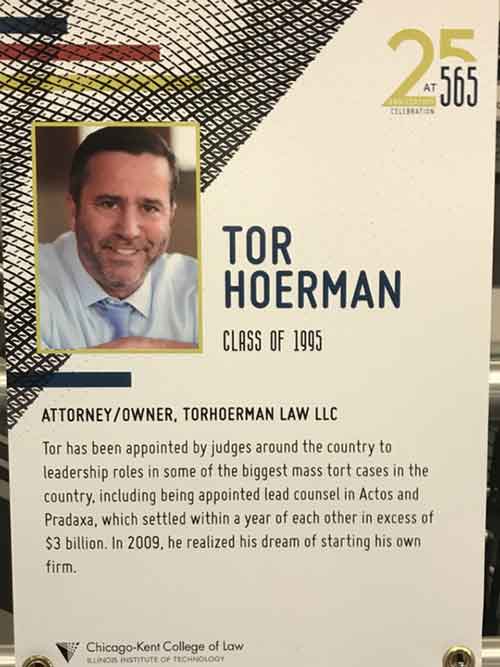 Often, there are individuals and/or organizations to which a person can attribute his or her achievements and success. For Tor Hoerman, it's been a combination of both that has allowed him to succeed personally and professionally. One such organization is his alma mater, Chicago-Kent College of Law. In celebration of 25 years at their current location, Chicago-Kent selected 25 distinguished, successful alumni to showcase at an event on Thursday, July 20. Tor Hoerman was one of 25 alumni selected to be honored at the event because of his achievements.
Said Tor, "I was actually a bit surprised to be recognized alongside some of other incredible Kent graduates."
Since he began his career upon graduation from Chicago-Kent in 1995, Tor has led a career of great accomplishment. In 2009 Tor realized his dream of starting his own firm, TorHoerman Law, LLC. He brought his entire mass tort team with him, most of whom continue their pursuit of justice at THL. THL now has offices in Edwardsville, Chicago, St. Louis and Philadelphia and is one of the recognized leaders in mass torts nationally.
"To be recognized by my alma mater is humbling and a great honor because it shows that I have made a difference not only in the legal industry but for individuals who have been injured by the misconduct of some of the world's largest corporations," said Tor Hoerman. "I only hope that I can continue to be successful, not for myself, but for the people we represent."
In addition to honoring distinguished alumni, the open house consisted of various speeches, tours of the building, and opportunities to mingle with former classmates and professors. The event was designed to showcase one of the most technologically advanced law schools in the nation. The first of its kind, Chicago-Kent College of Law educates the best and brightest law students while utilizing top-notch technology. In a nod to the great influence that Chicago-Kent has on his career and life, Tor mentioned several graduates of Kent with whom he has interacted over the years including Judge Deborah Dooling, the fine judge that presided over the Actos litigation and Sherry Knutson, lead defense counsel in the Actos case.
But most important is Tor's wife, Jessica Paluch, also a great lawyer and a Kent graduate, where they met. Kent and so many of its great graduates provided the foundation to mold him into the lawyer he is today. Much of his success is, in part, due to the people he met along the way and the lessons he learned at various organizations, such as the Chicago-Kent School of Law.