NEWS
What is the Cause of Vaping Lung? Officials Search to Find Answers.
What is the cause of vaping lung? Researchers are rushing to find a cause, and hopefully a solution, to the vaping lung epidemic that has plagued the nation over the past several months.
What is the Cause of Vaping Lung?
Concerns about the safety of vaping continue to escalate as the number of reported vaping-related illnesses — and deaths — rises. Vox Media's recent report on vaping lung illnesses presented a narrative of uncertainty among healthcare officials and practitioners. The article cites that the Center for Disease Control and Prevention reported 1,299 cases and 26 deaths related to vaping illnesses. While the numbers continue to climb, research moves forward – but officials are still unable to pinpoint a single cause.
Lung Damage Mirrors Chemical Spill Victims
Patients reporting symptoms of vaping lung have suffered from consistent problems. These symptoms include respiratory issues such as shortness of breath, coughing, chest pain, and difficulty breathing. Other symptoms include nausea, fatigue, vomiting, diarrhea, abdominal pain, fever, and abnormal weight loss. X-Rays are showing some patients' lungs inflamed as if infected by pathogens. The New England Journal of Medicine published an October report that analyzed biopsies of lung tissue of people affected by vaping lung. The patients' lungs resembled those who had been exposed to toxins during a chemical spill. As safety concerns arise, doctors and officials are working to bring attention to the potential harm caused by vaping.
Uncertainty Remains
CDC officials stated that they still do not know which exact chemical or device is leading to illness. The agency said that many of reported cases did involve THC-based vaping products, but nicotine still remains a potential cause. As reported illnesses increase, investigations still struggle to move forward, leading many people to ask:
Why?
No Liquids, No Results
The CDC stated that the investigation is particularly difficult, noting that the 725 collected samples of products contained little to no vaping liquid. With such minuscule amounts of liquid to test and analyze, scientists are limited in the number and types of tests they can perform. CDC spokespersons said they expect officials will eventually determine a specific cause of the illnesses, but results could take longer than expected. Speculation over causes remains uncertain, but it's likely there is more than one specific explanation.
THC Devices and Other Culprits
Nearly 76 percent of patients reported using THC-containing products with or without nicotine. 32 percent reported only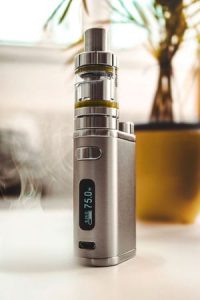 using THC e-cigarettes. While the majority of cases are THC related, it's important to note that thirteen percent of patients reported using products that only contain nicotine. A separate CDC study focusing on Illinois and Wisconsin, two of the states hit hardest by vaping-related illnesses, found that the majority of patients' illnesses were derived from the use of pre-packaged, pre-filtered THC related pods. While there were not specific brands linked to all individual cases, patients reported using brands such as Off White, TKO, and Moon Rocks. The agency's investigation is ongoing, and it's likely that more information will arrive. The agency still could find additional chemicals and brands linked to the cases, and it's important to note that these analyzed Illinois and Wisconsin cases used self-reported data. With significant numbers of reported cases not involving THC, the cause of vaping lung still remains unspecified. The CDC advises that everyone should try to avoid e-cigarettes and vaping products containing THC. The agency put out warnings that the use of nicotine e-cigarettes carries risks. Officials are also urging that anyone affected by issues from vaping or e-cigarettes report it through the Safety Reporting Portal. Those who are worried they've been negatively affected by a vaping product should contact their health care provider or local poison control center at 1-800-222-1222.
Illinois Vaping Lawsuit
Illinois is one of the four states with the highest rates of vaping-related illnesses. Illinois sits alongside California, Wisconsin, and Texas on the list of states with 50 to 99 reported cases of vaping lung. The CDC report also revealed that more than two-thirds of those affected were males with a median age of 23 years old. As the number of vaping-related illnesses increases, it's crucial that the companies producing these products are held accountable. TorHoerman Law filed the first vaping lung-related case in the state of Illinois, the Illinois Juul lawsuit, on behalf of Illinois residents who have suffered injuries as a result of using Juul. We are fighting to hold vaping and e-cigarette companies accountable for their negligent actions, violations of consumer fraud laws, and failures to warn consumers about vaping dangers. To learn more about TorHoerman's fight for those affected by Vaping Lung in Illinois, Missouri, California, and nationwide, visit our Juul lawsuit and vaping lawsuit page. If you or a loved one was affected by chemicals in vapes or e-cigarettes, contact a vaping lung lawyer at TorHoerman Law today. TorHoerman Law offers free, zero-obligation vaping lawsuit case consultations for anyone affected or suffering injury from the use of vaping products. While researchers and officials struggle to answer "what is the cause of vaping lung?", cases of vaping lung illness continue to rise. We urge you to follow the recommendations of the CDC and avoid vaping if you can.