NEWS
3 Things You Should Do to Reduce Your Risk During a Home Invasion
What to Do if Someone Breaks Into Your House
Home invasion seems like something that happens in movies, not something that can happen to you. However, according to the
FBI's Uniform Crime Reporting Program
, "
In 2017, there were an estimated 1,401,840 burglaries
." Furthermore: "
Residential properties accounted for 67.2 percent of all burglary offenses and victims of burglary offenses suffered an estimated $3.4 billion in property losses in 2017
."
It is imperative that you prepare yourself and your family for the potential of a home invasion. Such an event is likely to take you off-guard no matter what, but you may be able to recover more quickly and respond more effectively if you have a detailed plan to fall back on. In addition to calling the police at the earliest opportunity and taking note of details of the intruder if possible, there are three steps you can follow to minimize your family's risk during a home invasion.
1. Have a Response Plan in Place
A home invasion response plan is a detailed set of steps that everyone in the home is aware of and can follow in the event of home invasion. The concept is very similar to that of fire and earthquake drills.
How to Make a Plan for Home Invasions
The steps of your home invasion response plan should be specific, and should take into account the unique home and family. Consider factors such as:
How many levels there are in the home;
Points of entry and exit;
Available communication devices;
Ages of family members;
Accessibility needs of family members.
It may even be helpful to stage a practice home invasion, not only to practice your defense plan itself, but also to locate weaknesses in your home defense from the perspective of an intruder.
In addition to ensuring the safety of your family, if your home is broken into you may have to provide evidence that your property was stolen or damaged. To protect your property take photos of your expensive valuables and consider filming your home and interior every 6 months. Download an app, use a password-protected file, or store your photos and video on the cloud to ensure you have a digital file.
2. Distance Yourself From the Intruder
Although it will be helpful to take note of identifying features if you happen to encounter an intruder, it will be in your best interest to avoid them first and foremost. As such, detection and warning systems such as an alarm or even a pet can prove vital to your safety; the sooner the presence of an intruder in your home is identified, the sooner you can act..
Once you are aware of the intruder, immediately prepare to put some space between yourself and them, whether this involves going to a safe room, or leaving the house. There are advantages and disadvantages of both options, which may depend on the scenario and/or personal preference — however, you should still determine, to the best of your ability, which route is safest in advance as part of your home invasion response plan and stick with it.
Should You Leave the House or Go to a Safe Room?
When deciding whether to stay in a safe room or leave the house, there are a few important factors to consider; a safe room should ideally be a secure area that allows for clear lines of sight. You may even consider building your own safe room. Meanwhile, if you choose to leave the house, it is best to choose a quiet, easy exit that is as far away from the intruder as possible. Get as far away as possible and call 911 from a safe place.
The advantages of a safe room include barred entry, and the possibility of monitoring the situation. It's possible the intruder won't know where to even look for you if they are not aware of your safe room. The disadvantages are continued close proximity to the intruder, however, they shouldn't be able to breach the walls, or find a way in.
If you are without access to a safe room but can leave the house do so immediately. If you're unable to leave the house try to barricade yourself in the home where you can hide from detection. Be cautious of relying on an interior door, many aren't very sturdy and may not offer much protection.
3. Defend Yourself if Necessary
Avoid a confrontation with an intruder at all costs. If you're unable to do so it will be necessary for you to defend yourself. You will need to weigh the situation and your options carefully. Assess the intruder and their state of mind, using the following observations:
Do you know them?
Do they seem agitated?
Is their behavior erratic?
Do they seem confused?
Are they stealing anything?
Are they armed?
This will help you assess whether this is a matter of mistaken entry, a simple burglary, or if the intruder is potentially violent. Prepare to use force with anything at your disposal if you determine your safety is seriously at risk, but also keep in mind that there may be ramifications such as a lawsuit if you react in a way that is disproportionate to the situation. Even in the case of a trespasser, it is possible that homeowners can be liable for certain injuries on the premises.
Self-Defense Tools to Consider
As stated, it may become necessary to defend yourself with anything available. However, it may be helpful to have some self-defense tools prepared. Ideally, it will be best to choose a tool that will incapacitate, but not kill the intruder, for the sake of avoiding a wrongful death lawsuit. Consider the following options:
Pepper spray;
Stun gun;
Bean bag gun;
Baseball bat.
How to Prevent Home Invasions
In addition to planning for what to do in the event of a home invasion, it will also be helpful to take preventative measures against home invasion, such as:
Make your home always appear occupied. This can be achieved with strategic lighting.
Change the locks when you move into a new home or misplace your key.
Always keep your home locked.
Use a deadbolt.
Get creative when hiding spare keys, rather than just hiding it under a mat or in the mailbox.
Do not invite people you don't know into your home without good reason and proper identification.
Doors aren't the only way an intruder can enter; consider windows and other access points as well.
Keep objects that could obscure an intruder, such as greenery, away from windows and doors.
None of this is to say that you should live in fear of home invasion; however, some simple preparations can go a long way to help you avoid potential assault or property loss.
Summary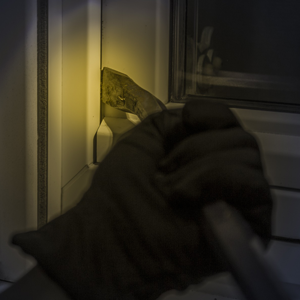 Article Name
3 Things You Should Do to Reduce Your Risk During a Home Invasion
Description
Avoiding injury and property loss during a home invasion is largely a matter of taking simple precautions and preparing a response plan.
Author
Publisher Name
Publisher Logo