NEWS
How You Can Help Make Your Neighborhood Safer

Safety is essential to our well-being. In fact, it's one of the most essential human needs. Without feeling safe, it can feel nearly impossible to pursue purpose and happiness. It's the reason that people make sacrifices to find safer jobs, get their kids into safer schools, and move into safer neighborhoods. While some communities are safer than others, residents can band together to create a better neighborhood. Research shows that small changes can reduce crime, create a better sense of community, and increase overall safety. What can you do to make your neighborhood a safer place? Read on to learn more.
10 Ways to Make Your Neighborhood Safer
These are 10 easy ways to help promote a safer neighborhood for you and your fellow community member.
Get to Know Your Neighbors
Knowing your neighbors makes your neighborhood safer. If it sounds simple, it's because it is. Researchers and criminologists at the University of Michigan School of Public Health found that streets where neighbors got to know each other saw increased rates of community engagement and decreased rates of crime. The safety benefits of getting to know your neighbors include:
Looking out for each other's properties and belongings.
Knowing who is and is not home.
Having more eyes on the street.
Being notified if someone sees something dangerous happening to your home or yard.
Having a place to go in an emergency.
When people know their neighbors, they look out for each other and monitor the activity on their streets. As a bonus, familiarity between neighbors has been shown to boost feelings of happiness, belonging, and altruism. Take the time to get to know your neighbors and consider creating a local network to share resources and information.
Get to Know Your Community
Community prevents crime. Beyond just knowing your neighbors, it's important to develop a good understanding of your community's culture, values, and physical layout. Community-based safety emphasizes engaging with your surroundings and understanding the fabric of your neighborhood. This means taking the time to have a better understanding of what's happening, who's around, and how you can expect people to act. This will give you a better idea of potentially suspicious activity while also helping you feel a greater connection to your community.
Host Community Gatherings
Good things happen when neighbors get together. Whether it's a planned, formal event or just a spur-of-the-moment hangout, community gatherings are one of the most effective tools in creating a safer neighborhood. Gatherings get more people in the street ­– or sidewalks, yards, or buildings ­– creating greater familiarity between neighbors and with the community which, as mentioned earlier, are keys to making a neighborhood safer. There are plenty of options for hosting community gatherings in your neighborhood. Maybe it's a park cleanup event. Or a barbecue. A neighborhood-wide bike ride. A holiday festival. Even a celebration for local business. Whatever they may be, neighborhood events are great for safety, and they provide opportunities for networking and community projects. See if your neighborhood has some sort of event-planning committee. If not, look into starting one.
Start Regular Meetings
Consider organizing regular community or neighborhood meetings. These provide a platform for people in your neighborhood to voice concerns and organize local safety efforts. Here they can share ideas, brainstorm and implement solutions, solve disputes, and even prevent potential serious litigations.  Meetings are also a great way for neighbors to become more familiar with local issues and laws. The ideal frequency of these meetings depends on the size and needs of your community. Regardless of how often you meet, it's best that meetings are held at consistent times and intervals. One a month is a good starting point, but some communities can benefit from more frequent meetings while others do fine with bi-monthly meetups. Considering taking notes at the meetings and providing summaries online for people who are unable to attend.
Reclaim and Invest in Shared Spaces
There are very few things that improve a neighborhood's safety – and its appearance – more quickly than members taking the time to reclaim and invest in shared spaces. Abandoned parks and vacant lots are rarely one person's responsibility, but they can easily become everybody's problem. Research shows that vacant spaces invite crime, house rodents and other pests, lower neighborhood real estate values, and often catalyze area blight. On the other hand, research also shows that creating safe, shared spaces reduces crime and violence. This could mean adding a new park or even something as simple as a few benches. Adding green space to a neighborhood has also been proven to promote walkability and improve mental and physical health. Contact your local police department, alderman, or city councilperson to identify potential ideas and places for new shared spaces. If you are a business looking to get involved in your community, sponsoring a shared space could be a great way to help promote neighborhood safety.
Maintain Your Own Space Responsibly
Increasing neighborhood safety is a community effort, but it's also dependent on individual action. If you want a safe neighborhood, start with a safe home. Take the time to remove, minimize, and secure any potential property hazards. Look for potential landscaping safety issues such as insect nests, dying trees, or foliage that could make it easy for burglary. Cover swimming pools and any other potential wrongful death hazards. Consider installing a home security system, investing in motion sensors and porch lights, and designating spaces for tools or other items that could hurt you or your neighbors. Be sure to keep your doors, windows, and garage door shut and locked throughout the day. While your individual space might not seem important in the grand scheme, it makes a big difference.
Help Uplift People in Your Community
Just as neighborhood safety is essential to our individual well-being, the well-being of individuals is essential to our neighborhood safety. Issues like poverty, neglect, and abuse can lead to trauma and dangerous behavior. While many aspects of these issues are systemic, they can be addressed at both an individual and communal level. Consider ways that you can respectfully help members of your community. Work with your neighbors and community organizations to address issues people may be having. Are there parents who need supervision for their kids while they're at work? Maybe the local food bank could better serve a segment of the population.  Perhaps an organization could host a workshop on identifying signs of mental and emotional abuse. Providing the resources and care to address individual needs is a great way to help keep your community safe.
Form a Group on Social Media
A lot of us are online more than we care to admit. While many people blame technology for keeping us inside and disconnected from our community, neighbors can use social media to make sure everyone feels safe and informed. Forming a community safety Facebook group is a great way to talk about safety issues, make safety-related announcements, and share safety tips. Websites like Nextdoor also make it easy for neighbors to share information, organize community efforts, and coordinate safety plans.
Initiate Cleanup Groups
Keeping a neighborhood clean keeps it safe. While in an ideal world, city and county governments would be able to keep our neighborhoods litter-free, we know that isn't the case. This is where the community comes in. Neighborhood-wide cleanup groups and events are great ways to tidy up the community and bring people together. Organize a group of people to get together and take things into your own hands … literally. Utilize social media groups, fliers, and word of mouth to organize community cleanup projects. Maybe it's a local park filled with trash, or maybe overgrown weeds are blocking a public-access staircase. Cleaning up roadways of debris can go a long way to prevent car accidents, truck accidents, bicycle accident, and even pedestrian accidents. Whatever the issue, get a group together and get to it.
Ensure Kids Are Engaged and Informed
It's important that the children in your neighborhood are engaged and informed. Knowing how to navigate a neighborhood teaches them agency, good decision-making, social skills, and self-confidence. It also keeps them safe. Consider hosting a "neighborhood tour" for kids and their parents. Show them where important places such as schools, parks, playgrounds, and police officers and stations are in their community. Get other parents, stakeholders, business owners, and local law enforcement involved. Be sure to set boundaries with your own kids so they know where they should and should not go.
Promoting Safety in Your Community
Creating a safer community can be more than just a task, it can be an opportunity to make new friends, new connections, and build a new bond with your neighbors and neighborhood. The best way to solve neighborhood crime, accidents and injuries are at a community level. So, invest your time into helping to promote safety in your community and benefit from a safer community and new friendships.  
Summary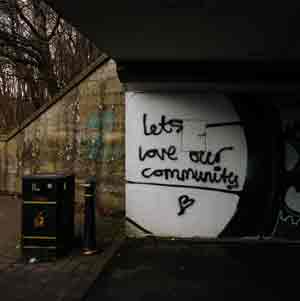 Article Name
How You Can Help Make Your Neighborhood Safer
Description
10 ideas for how you can promote safety in your community & make your neighborhood safer for your community members
Author
Publisher Name
Publisher Logo