NEWS
Why Do Cloth Masks Lower Risk of COVID But Not Wildfire Smoke?

CDC Says Masks Offer Little Protection Against Wildfire Smoke
Earlier this week, the Center for Disease Control (CDC) made an announcement that protective cloth masks do little to protect from wildfire smoke.
"Cloth masks that are used to slow the spread of COVID-19 by blocking respiratory droplets offer little protection against wildfire smoke," the CDC website stated. "They do not catch small, harmful particles in smoke that can harm your health."
The announcement came amidst a national debate over the effectiveness of masks in limiting the spread of COVID-19. The CDC  firmly hold that masks are an effective and necessary means of slowing the spread of novelty coronavirus, citing emerging scientific evidence to support the agency's claim.
CDC Announcement Sparks False COVID Conspiracy Theory Online
The CDC announcement brought forth criticisms, specifically on the social media platform Twitter, sparking viral internet claims that smoke particles are larger than COVID, therefore cloth masks offer no protection from COVID.
Why Do Cloth Masks Lower Risk of COVID But Not Wildfire Smoke?
Contrary to popular online theory, masks do in fact help limit the spread of COVID. There are two main problems with the viral claims that the inability of masks to protect from wildfire smoke particles somehow relates to the inability for masks to protect from COVID transmission.
Are Smoke Particles Larger than COVID Particles?
Not all smoke particles are bigger than COVID. This is the first issue with the theory. Masks provide protection against certain particle sizes. For example, N95 masks get their name because they filter out 95% of particles .3 micron or bigger. There are a variety of cloth masks that stop different particle sizes. Filters that are worn with these cloth masks are typically 2.5  micron filters, meaning they filter out particles 2.5 micron or greater. The size of Covid is between .06 to 1.4 microns. While particles the size of Covid are small enough to get through masks, that isn't the correct comparison. Covid, as far as we know, is not expelled from the body independently. It is expelled as part of a respiratory droplet. Meaning the Covid virus is bound to the respiratory droplet. Respiratory droplets are typically 5 to 10 microns, but there are some smaller particles. Thus, cloth masks should stop those droplets. Smoke, on the other hand, has differing particle sizes, which is called its particle size distribution. Average particle size of smoke from natural materials, such as wildfires, is .01 – 1 micron. Thus the CDC is correct that cloth masks will have little to no impact on inhaling smoke. Smoke in and of itself is also not the right metric – the primary health concerns are related to the chemical components of smoke. For example, the EPA lists formaldehyde and acrolein as two of the principal chemicals that are found in wildfire smoke. These are both part of what are generally classified as "carbonyls." Carbonyls are molecules and thus are very small in size. For example, oxygen molecules are .0005 microns. Breathing these carbonyls in is harmful and cloth masks will do nothing.
Dangerous Chemicals in WildFire Smoke Commonly Found in Vaping Products
A little known fact, or at least not widely discussed fact, is that vaping products contain large quantities of carbonyls. If people are worried about the safety of wildfire smoke, they should be especially concerned with the fact that vaping deposits these carbonyls directly into the lungs. For example, Uchiyama found high levels of formaldehyde, acrolein, and an even more dangerous molecule methyl glyoxal in vaping products.
Masks Intended to Protect From Exhalation Transmission, Not Inhalation Risks
The second issue with the theory is that the intent of cloth masks is to stop respiratory droplets from being expelled.  In other words, the mask is to protect other people from the wearer. If one is wearing a cloth mask and talks, coughs, or sneezes the cloth mask will trap the respiratory droplets from being expelled. There are also other issues like viral load, etc. that matter, but generally wearing a mask lowers the risk of transmission of COVID. The posts that are claiming the CDC has admitted cloth masks do nothing to protect against Covid are false. Just because cloth masks are ineffective to stop wildfire smoke does not mean they are ineffective at reducing the risk of transmission of Covid.
By: Chad Finley – Attorney
Summary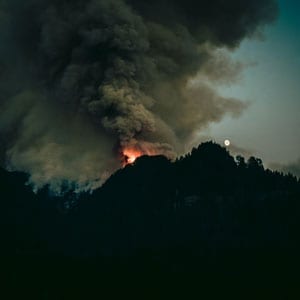 Article Name
Masks Reduce Risks of COVID Transmission, Despite Inability to Protect From Wildfire Smoke
Description
Why do masks lower the risk of COVID but not wildfire smoke? False theory that wildfire smoke particles are larger than COVID, so masks do not stop COVID.
Author
Publisher Name
Publisher Logo