NEWS
10 Road Safety Tips for the Holiday Traveler from a Car Accident Lawyer
Driving Safety Tips for the Holiday Season
The holidays are finally here. While Thanksgiving and Christmas are both great times to enjoy good food, family, and friends, for most of us it also means holiday traveling. Whether you are going by way of plane, train or automobile, this year you can expect a higher-than-normal volume of holiday travelers accompanying you. We have compiled some road safety tips to help you deal with the holiday traffic surge.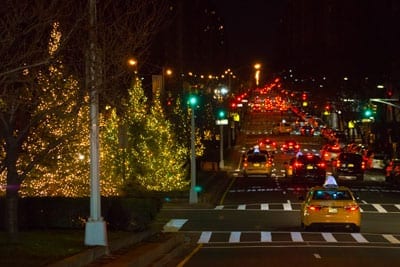 Before Thanksgiving, AAA predicted that nearly 54.3 million Americans would be traveling in excess of 50+ miles from home during the Thanksgiving holiday, the highest volume of long distant holiday travelers since 2005. That statistic proved to be correct. City travel was also expected to take up to three times longer than normal, with cities expected to have some of the largest surges in traveling volume. Roadways were expected to see the highest volume from this holiday surge; 89% of all travelers (45.5 million) were planning to travel by car Thanksgiving. As we near Christmas, there is no question that travel volume will continue to increase. If you are traveling on the road, have no fear. With the right plan in place, even the least experienced traveler can avoid the hassles of holiday traffic. Here are some road safety tips for making your holiday travels safe and successful.
10 Road Safety Tips: 
Give yourself plenty of extra time for travel. Remember, routes are expected to take up to three times longer, so plan accordingly.
Set aside extra money for gas. We are not the only ones that know about the higher volume of road-traffic during the holidays. The gas companies heard about it too, and now gas prices are expected to pay higher gas prices – the highest holiday gas prices since 2014.
Make sure your car is ready for the road. Make a checklist – battery, oil, tires & tire pressure, and fluids. Also, be sure to have an emergency kit ready in case you run into any on-the-road issues. Back jumper cables, ice scrapers, a flashlight, blankets, and emergency gear.
Winterize your car. If you have snow tires, traction control, or other forms of cold weather driving assistance, use it. Even if the temperature is above freezing before you leave, it can drop at a moment's notice.
Do not speed or use cruise control while driving long distances, especially through winter weather. If you do, you will have less of an ability to react to dangerous situations or objects on the road.
Don't overdo it on the driving. Remember to take breaks and switch drivers as needed. Being a tired or distracted driver does not just put your life at risk, you put everyone on the road at risk as well.
NO DISTRACTED DRIVING! This is a big one for us because we know the dangers of distracted driving. Those dangers increase tenfold when you are traveling in high-volume traffic. Keep your cell phone out of your hand, keep the music down, don't drink and drive, and be smart. For more information on the real dangers of distracted driving, visit our page on distracted driving.
Other drivers may not have read our helpful "road safety tips" guide, so they may not be fully prepared for their holiday travels. Take this into account. Give other drivers plenty of room on the road. If you see another driver that seems to be driving distracted or even inebriated, call it in the authorities.
Pack food and beverages, especially if you are traveling with children. With the higher levels of traffic, it could take longer to find an exit to get off. Many businesses will also be closed, making finding some to eat or drink on the road even more difficult.
Print your directions. You may not always have a signal for your GPS or smartphone. The last thing you want to do is get lost on the road during the holidays.
TorHoerman Law – Your Holiday Auto Accident Lawyer
In the unfortunate case that you are involved in an accident during the holidays, TorHoerman Law is here to help. Our team of car accident lawyers is experienced and prepared to represent you in any automobile accident – whether its a car accident, truck accident, motorcycle accident, or anything in-between.