NEWS
The Benefits of Improving Bicycle Infrastructure in the U.S.

How Bicycle Infrastructure Improvements Benefit Everyone
Since the beginning of the 2020 United States cycling boom, an increasing number of Americans have taken to the streets on two wheels. Cycling's benefits come in many forms ­– with positive health, environmental, and economic impacts. With more people riding bikes, it's time for a serious discussion about America's bicycle infrastructure. When it comes to bike infrastructure — things like protected lanes and bikeways — the U.S. is far behind much of the developed world. Bike friendly streets help keep cyclists, pedestrians, and even motorists safely travel. In addition to reducing biking accidents, bicycle infrastructure can benefit a community as a whole. Updates to bike infrastructure create a better standard of living for everyone, not just lycra-clad roadies preparing for race day. Let's take a look how bike friendly streets are better for us all.
Fewer Crashes
Research on bicycling participation in the U.S. shows that more Americans want to ride bikes for transportation. So why don't they? Because they don't feel safe. 50% of adults in the U.S. reported worrying about being hit by a car while riding their bike. Negligent driving* can be lethal for bikers trying to share the roadway, even if the bikers are following the rules of the road themselves. However, 43% said that they would be more likely to ride if there were lanes separating motorists and cyclists. Protected bike lanes are proven to make streets safer and reduce the number of car accidents and truck accidents.
Less Roadway Congestion
Bettering bicycle infrastructure helps traffic move faster. Cities that have invested in pedestrian and bike lanes have seen reductions in vehicle traffic congestion and driver commute times. These improved street designs give residents more transportation options, making it more likely they choose to bike or walk. More cyclists and pedestrians mean fewer cars and less chaos on the road.
Sustainability
Expanding and improving bicycle infrastructure could play a factor in what saves us all. Sound extreme? According to the United Nations Intergovernmental Panel on Climate Change (IPCC), we have about ten years to prevent a major climate change catastrophe. This requires us reducing global greenhouse gas (GHG) emissions nearly 45 percent. More bicycles and fewer cars on the streets could lead to a dramatic decrease in GHG emissions. A United States Environmental Protection Agency (EPA) report on greenhouse gas emissions shows that transportation is the number one source of GHG emissions in the country. Substituting bike commuting for motor travel can help reduce our GHG emissions and improve overall air quality.
Livability
Making biking more safe makes a community more attractive. It's no secret that America's most bike friendly cities are some of its fastest growing, and the benefits tied to bike infrastructure are part of their appeal. Cities and suburbs with strong cycling infrastructure often have cleaner air, less noise pollution, greater safety measures, and less traffic. This makes the city better for everyone, whether they ride or prefer to keep their feet to the ground.
Community Health
A cycling community is a healthy community. Cycling is a low-impact activity with benefits for both mental and physical health. Just 30 minutes a day of cycling reduces a person's chances for depression, anxiety, dementia, high blood pressure, diabetes, and cardiovascular disease by at least 40 percent. Cities that invest in bike infrastructure will help their residents feel happier and healthier.
Macroeconomic Benefits
Bikes mean business ­— literally. Solutions to improving a city's bicycle infrastructure are much cheaper than other transportation projects, and the return on investment is high. Bike lanes provide a direct economic impact by saving taxpayers money; when many cities' streets and sidewalks are in disrepair, bike friendly solutions cost far less to create and maintain. This also creates safer streets, meaning lower medical costs relating to injuries and deaths. Studies on bike infrastructure and local economies show that bicycle lanes and bike parking are good for business. Bike friendly cities almost always have higher rates of pedestrian traffic, bringing more customers into local shops. Some U.S. cities – such as Chattanooga, Tennessee ­– have even seen increases in bicycle tourism with visitors coming specifically for their bike paths, cycle tracks, and mountain bike trails. North America's bike tourism is likely to grow through the 2020s. Bicycle infrastructure has also become a major factor for big businesses. Companies looking to attract younger workers, particularly in creative and tech industries, have increasingly been locating to bike-friendly cities. Because of this, cities such as Chicago, Minneapolis, Austin, and Memphis have created bicycle master plans to draw in new business and talent.
Affordable Transportation
Investing in bike infrastructure can reduce inequities and create roads to opportunity. The average cost of owning a car is more than $8,500, a price that many Americans cannot cover. Bicycling is a much more affordable transportation option, and more bike lanes would make it easier for low-income residents to commute to work. This would also benefit many riders of color.  A report on equity and bike safety by the National Association of City Transportation Officials (NACTO) shows that Black and Hispanic cyclists have a 30% and 23% higher fatality rate than white cyclists. Expanding better bike infrastructure into low-income communities of color would significantly decrease the rate of crashes and deaths.    
Bicycle Infrastructure: Building Bike Friendly Communities
Bike infrastructure improvements create better living for us all. These comparatively inexpensive investments lead to safer, healthier communities and can help tackle some of our world's major problems. While the United States' cycling infrastructure has room to improve, bicycle ridership across the country has been growing for decades. As more Americans turn to bikes for leisure and transportation, it's best that our cities and towns follow suit.
Summary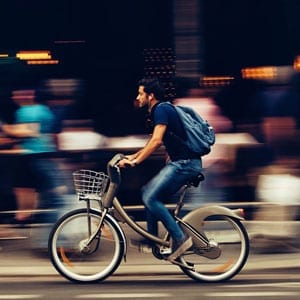 Article Name
The Benefits of Improving Bicycle Infrastructure in the U.S.
Description
investing in improved bicycle infrastructure, bike friendly streets, & biycle tourism would have positive economic impacts that would benefit U.S. cities
Author
Publisher Name
Publisher Logo