NEWS
America's Growing Interest in Walkable Communities

Exploring the Demand for More Walkable Communities
A majority of Americans want to live in walkable communities. This shift in rental and real estate preferences has continued to grow, with 60 percent of Americans reporting a desire to live in walkable, pedestrian-focused communities. These neighborhoods — ones where residents can easily access necessities and recreational activities by foot — boast a variety of personal and communal benefits. While residents from big cities to small towns alike are looking to walk more and drive less, there is one problem. Walkable communities are not that common in the United States, with many U.S. municipalities proving to be unsafe for pedestrians. With the demand for pedestrian-friendly streets at an all-time high, planners and politicians have the opportunity to create a safer, stronger country. Let's take a look at why and how.
Why Are There So Few Walkable Communities in the U.S.?
Studies show that United States' cities and towns are less walkable than those in other nations.  This is largely in part due to America's 20th century car-centric planning that has also left the country behind in public transit and bicycle infrastructure developments. While pedestrian priorities took the backseat for the past 50 years, the case for prioritizing highly walkable development is strong.
The Benefits of Walkable Communities
The market for walkable communities is growing for good reason. They're equitable, sustainable, and good for the economy. These benefits go beyond hyperbole and have been backed by years of statistics and research. Here are five key benefits of walkable communities.
Safety
Walkable communities are safe communities. Streets that prioritize pedestrians over cars have lower rates of both car accidents and pedestrian accidents. The World Health Organization (WHO) cites pedestrian safety as a global health priority, noting that policy and planning reforms such as reduced vehicular access, wider sidewalks, and pedestrian signals create safer, more livable environments.  This especially rings true in the U.S. where road traffic crashes are a  leading cause of death for people ages 54 and younger.
Health
Evidence shows that residents of walkable neighborhoods tend to be healthier and happier. Neighborhoods with higher street connectivity and policies that encourage walking and cycling see greater rates of active transportation (walking, cycling, skateboarding, etc.). This is associated with significant reductions in a number of chronic diseases and a myriad of other mental and physical health benefits. Pedestrian-focused communities also tend to have higher air quality due to reductions in auto emissions.
Culture
Walkable neighborhoods often encourage more social interactions. Research from the Urban Innovation Analysis found that walkability is closely linked with higher levels of creativity, civic engagement, and participation in arts and social movements. Residents of walkable neighborhoods are also usually in closer proximity to parks, community centers, galleries, restaurants, libraries, and other cultural spaces and institutions.  
Economy
Data shows that walkable communities improve outcomes for local businesses, boost housing values, and provide jobs for a large portion of the workforce. Evidence of these economic walkability benefits can be found in both cities and suburbs that have made significant infrastructure developments for pedestrian traffic. Stores in neighborhoods with higher walkability scores see higher foot traffic that can lead to up to 80 percent sales gains. Having a shop located in a well-built, thoughtfully designed area also reduces the likelihood of premise liability lawsuits.
Sustainability
Sustainability is both a global and local issue. Residents in walkable neighborhoods on average drive less often, have shorter commutes, and are more likely to utilize public transportation. A Boston University study on pollution and density showed that per capita emissions drop significantly in cities that are more pedestrian-oriented. Walkable communities also provide more residential shopping options, so residents are less likely to need to have products shipped to their homes.
Accessibility
Increasing walkability can improve accessibility and opportunity. Properly designed walkable, transit-oriented streets can better accommodate those with disabilities, senior citizens, and others who are unable to drive. They're also beneficial to the economically disadvantaged who cannot afford car ownership. According to the U.S. Energy Information Administration, the average American spends nearly $2,000 on gasoline alone each year. Having pedestrian-friendly street infrastructure and good public transit options increases the employment opportunities for those who do not own a car.
Initiatives to Develop Walkable Communities
The demand for walkable communities clearly exists — and so do the benefits. While the United States is currently lacking in pedestrian-centric development, the nation has the opportunity to create healthier, safe, more environmentally friendly communities. Cities such as Washington D.C. and Seattle have embraced National Association of City Transportation (NACTO) urban street design guidelines. Plano, Texas has emphasized mixed-use developments to counter zoning that dissects land use. Walkable suburbs like Montgomery County, Maryland have shown that it's more than an urban-specific policy. There are many ways to create walkable cities, now it's time for planners and politicians to act.
Summary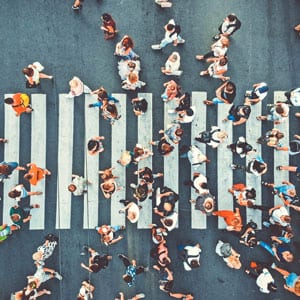 Article Name
America's Growing Interest in Walkable Communities
Description
Exploring the demand for walkable communities - why are there so few & what are the benefits? The economic, safety, and health impacts.
Author
Publisher Name
Publisher Logo