NEWS
Cancer Alley: Causes and Effects of the "Chemical Corridor" in Louisiana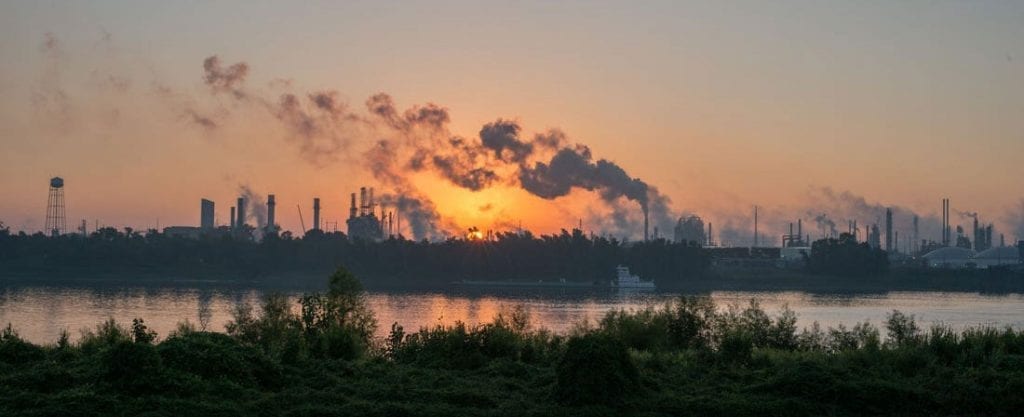 "Cancer Alley" and What It Says About American Priorities
Louisiana's "Cancer Alley" is an 85-mile stretch of land that runs alongside the Mississippi River between Baton Rouge and New Orlean. The corridor is home to more than 150 petrochemical plants and refineries. Residents of these parishes – St. Charles, St. James, and St. John the Baptist ­– were once promised jobs; instead, they found their communities tainted by toxic chemical air pollution. Also nicknamed "Death Alley," the chemical corridor has the highest rate of air pollution-caused cancer in the United States, nearly 50 times the national average. Residents report experiencing other severe health problems including decreased life expectancy and increased miscarriage rates. While it seems that this should be clear ground for legal action such as toxic tort cases, the corporations involved have thrived under pro-business politicians and scant environmental oversight. Various other government bodies could also be subject to lawsuits given the allegations and scope of the issue.
Cancer Alley Research and Statistics
Cancer alley statistics represent a harrowing reality. Pollution is a part of residents' everyday life, and chemicals from these industrial plants are likely carcinogenic. In the 1980s, a New Orleans based doctor described the situation as a "massive human experiment," in which "large quantities of a wide variety of substances have been discharged into the air and water." The "experiment" has proved to be destructive. The University Network for Human Rights (UNHR) presented a report of cancer alley Louisiana research in 2018. After the Environmental Protection Agency (EPA) told St. John the Baptist Parish residents living near a Denka/DuPont plant that they faced the highest risk in the nation of developing cancer from air pollution, a team of researchers collected health data from residents living within 2.5 kilometers of the plant. Findings include: among all surveyed residents, the p-value for cancer prevalence is 3.43% (statistically significant).
nearly half of the children in surveyed households living within 1.5 kilometers of the plant regularly suffer from nosebleeds, headaches, or both.
roughly 40% of surveyed residents reported regularly experiencing chest pain, heart palpitations, or both.
over half of surveyed residents regularly experience headaches, lightheadedness, and/or dizziness.
one-third of surveyed residents said they regularly have trouble breathing and/or experience wheezing.
almost half reported regular eye pain and irritation.
over 40% of respondents experience coughing, sneezing, and/or a horse/sore throat most of the time.
almost 30% of surveyed residents experience lethargy/fatigue most of the time.
over one-third of respondents regularly experience skin rash/irritation and/or itchy skin.
UNHR researched revealed inexplicably high rates of cancer and other illnesses in residents. Their findings are consistent with other parishes and chemical plants throughout cancer alley. While petrochemical pollution affects communities across the chemical corridor, many residents feel like they have little agency in taking on the involved corporations.
Corporate Culpability
Lax environmental oversight has allowed petrochemical industry giants ­– DuPont, Mosaic Fertilizer, NuCor, NuStar, OxyChem, Plains Pipeline, Shell, and others to skirt responsibility for their damage across the chemical corridor. Louisiana state and corporate officials downplay the damages and risks outlined by the EPA. Their actions, however, will continue to hurt Louisiana families. According to an analysis from Propublica, The Advocate, and The Times-Picayune, recent history shows rates of toxic air pollution rising in absolute terms. Seven of the 10 census tracts in the United States with the highest cancer risk are found in Louisiana cancer alley. These corporate actions, or lack thereof, have seemingly resulted in multiple wrongful injuries and deaths. New petrochemical facilities are still being built in communities that are already suffering from some of the nation's worst air quality.
Environmental Racism
Cancer alley represents some of the nation's harshest structural and historical inequities. The toxic air pollution disproportionally affects Black and low-income residents, with many of the plants concentrated in predominantly Black neighborhoods. For example, the population of St. James Parish is 49 percent white and 49 percent Black; the majority of plants are concentrated in the fifth district, a district that is 80 percent Black. St. James residents are also fighting against plans to build a new plastics plant on top of the graves of former enslaved African Americans. The conditions that cancer alley residents face are disproportionally common throughout predominantly Black and Latino neighborhoods in the United States. This phenomenon, known as environmental racism, is due to the fact that minority residents across the country are more likely to live in housing near chemical pollutants. This correlates with some of the highest death rates and severe health problems such as cancer and heart disease. While cancer alley environmental racism correlates with income, studies show that across the country, Black Americans with higher incomes are still exposed to toxic air at higher rates than white Americans with lower incomes.
RISE and Community Backlash
St. James residents and environmental justice activists have organized to fight against the building of a new plastics facility in their community. Rise St. James, a faith-based grass-roots organization was formed by Sharon Lavigne to fight for environmental and racial justice in the parish. Taiwan-based Formosa Plastics plans to build their new plant at the site of the burial ground of formerly enslaved people. Activists also pointed out that the new plant would nearly double the amount of air pollution in the parish. Rise St. James is one of many human and environmental justice groups fighting for residents in cancer alley. Reversing centuries of environmental and racial injustice can't happen overnight. However, residents, activists, politicians, scientists, and legal professionals have begun the fight. Cancer alleys residents can fight to sue for tangible damages, and might also have a case for emotional distress damages. Legal battles in chemical corridor Louisiana could set precedence for environmental justice across the country and the world.
Summary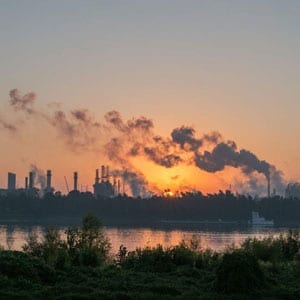 Article Name
Cancer Alley: Causes and Effects of the "Chemical Corridor" in Louisiana
Description
Cancer Alley research & statitics as well as Causes & Effects of the Chemical Cooridor in Louisana exemplify Environmental Racism & Corporate Culpability
Author
Publisher Name
Publisher Logo