NEWS
CTE Brain Injury Connected to America's Favorite Pastime, Football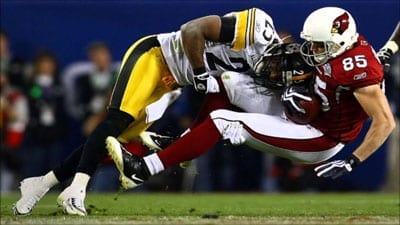 Football is an American pastime with roots dating back nearly 200 years. In 1869, Rutgers and Princeton played the first ever football game using rules similar to Rugby. Less than ten years later, the official rules regulating football were written. Fast forward to 2017, football has become more than a sport – it's a way of life. For high schoolers, 'Friday Night Lights' is a tradition passed down from generations. For college universities, Saturday's on campus have been filled with tailgating and friendly rivalries since that first scrimmage between Rutgers and Princeton. Of course, the end of the weekend means NFL Sunday football, and if that wasn't enough, there are now NFL games on Thursday and Monday nights too. Americans love football, there is no question.
But before now, have we ever considered the dangerous implications of playing the sport?
We enroll our kids into peewee football leagues at young ages hoping they develop the talent and skill to play in high school, college, and maybe even the NFL. Have we stopped to think about the toll the sport will play on our children as they grow? In recent years, there have been numerous reports of health implications related to playing the game, most often from receiving rough hits from tackles. Only recently discovered, researchers have found chronic traumatic encephalopathy (CTE) in the brains of deceased, former football players. CTE, a degenerative disease, has been found to immensely affect the brains of former football players. Those that became professional players have exhibited the most damage, but CTE's effects can be found in those who only played for a few years as well. More than likely, the condition is caused by concussions, and more often than not, repeated concussions. Unfortunately, the condition is only discoverable post-mortem.
In the study conducted by Dr. Ann McKee, Chief of Neuropathology at the VA Boston Healthcare System and Director of the CTE Center at Boston University, 111 of the brains studied were former NFL players. All but one of the former NFL players were found to have suffered from some degree of CTE. In total, 202 brains were studied; 87% of those had CTE. In 2015, 'Concussion', a film chronicling the efforts of Dr. Bennet Omalu, a medical examiner who discovered CTE in the brain of former Hall of Fame center for the Pittsburg Steelers, Mike Webster. After Webster's death, Omalu couldn't find a connection between Webster's frequently erratic behavior and supposed brain damage, but after researching further, he discovered an abnormal amount of particular protein that damaged Webster's brain, leading to the discovery of CTE. He concluded Webster developed CTE as a result of the thousands of hits he received while playing in the NFL.
Many others were found to have developed the same condition: Terry Long, Justin Strzelczyk, Andre Waters. But despite the evidence, the doctor was repeatedly hushed by the NFL, and fans, for fear his research could cause a public outcry of the sport. Although Omalu's efforts were largely discredited at the time, 'Concussion' brought to light the effects of CTE on the brain. Years later, the evidence is mounting that CTE is wreaking havoc on former football players. CTE isn't a topic to take lightly. It's affecting thousands, but researchers have only begun to touch on the repercussions hard hits can have on the human brain. Increased anger, suicide, to name a few, are potential side effects of a CTE brain injury.
In the most recent CTE brain injury news, Aaron Hernandez, a former New England Patriots tight end, committed suicide on April 19, 2017, while serving a life sentence in prison for first-degree murder. The autopsy found Hernandez suffered from Stage 3 CTE, the second worst stage. His fiancee, Shayanna Jenkins-Hernandez, is suing the NFL, and specifically the New England Patriots, on behalf of their 4-year-old daughter for being "fully aware of the damage that could be inflicted from repetitive impact injuries and failed to disclose, treat or protect him from the dangers of such damage." The lawsuit poses one important question: Did CTE cause a drastic change in personality in Aaron Hernandez that not only caused him to commit murder but, also, caused him to commit suicide? Hernandez is only one example of the effects CTE could have on a person.
Unfortunately, there are many, many others who were found to have suffered from the disease. Although there is much we don't know concussions and a CTE brain injury, there is a sufficient amount of evidence that indicates there is a direct correlation between CTE and football. As more and more research is conducted, we have to ask ourselves – what can we do to ensure the safety of all of those who partake in contact sports, specifically football? Of course, sports are a way of life for many, but there are certain safety measures that should be taken, particularly for those who begin playing at a young age. Personal injuries, especially those stemming from concussions that cause a CTE brain injury, are a serious matter and should not be taken lightly.