NEWS
10 National Park Safety Tips to Keep Yourself Safe Outdoors

Visiting a national park can be a fun and fulfilling experience. However, if you do not take proper precautions and care, you could easily find yourself in a dangerous situation. A total of 990 deaths were reported in national parks from 2014 to 2016 which results in an average of 330 deaths per year or six deaths per week, according to the National Parks Service. The following park safety tips can keep you safe on your trip.
10 National Park Safety Tips
As personal injury lawyers, we are attune to many different types of injuries occurring in both private premises and public areas, including parks and other shared spaces. Many of these injuries are easily avoidable by following simple steps of mitigation.  Follow these park safety tips to avoid accidents and injuries while visiting national parks.
Be Careful in Water
The first park safety tip applies to all parks with bodies of water. Follow signs or advisories regarding water safety in the area. Lifeguards are not present at all national park swimming areas. Being a strong swimmer does not guarantee that you will not drown; in many cases, this is a false sense of security that has placed visitors in dangerous circumstances. A properly fitted life jacket can help you float in water while you wait for help. Alcohol and drugs impact your judgment and coordination, especially if you attempt to swim without a U.S. Coast Guard-approved life jacket. Operating a vessel (boat, kayak, etc.) while under the influence is illegal in the NPS.
Bring Emergency Supplies
Safety does not only rely on your actions during an event but also the actions you take before the event occurs. This park safety tip is one you can take in preparation for your trip. Here is a list of some items you can bring to limit potential danger.
Map or Compass

Navigation systems are used when planning your route before your trip, and when you need help orienting yourself in your surroundings during your activity.
First-Aid Kit

Be prepared for emergencies by packing medical care supplies. Check the expiration date on all items and replace them as needed.
Tent, Blanket, or Tarp

Shelter is one of the most important elements during an emergency survival situation. It can protect you from severe weather conditions and exposure to the elements. These are all lightweight options for emergency shelter.
Bring Weather-Appropriate Supplies
Always keep in mind that the weather can change drastically at a moment's notice. You should bring supplies not only based on the current temperature but also the potential change in the weather. Sunglasses and sunscreen are necessary to protect your skin and eyes against harsh UV rays that are responsible for sunburns and skin cancer. Gloves, hats, and rain jackets are also good to have in the event of a cold or rainy change in weather.
Do Not Interact with Wildlife
It is illegal to feed, touch, tease, frighten, or intentionally disturb wildlife. Interacting with wildlife can cause harm to both people and wildlife, including injury and disease. Stay on trails to help keep human presence in predictable areas.
Do Not Take Risks
It can be tempting to take risks for a good picture or even just for thrills. However, it is not worth the danger, especially considering the potential difficulty in retrieving and transporting you to a medical facility. A lack of caution may result in serious injury. Check park alerts for information on closures and other hazards in the park. Keep your eyes on the trail and not your camera while walking. Also, you should always remain on the safe side of barriers and railings.
Obey Signs and Flyers
One of the simplest park safety tips is to follow signs. By following any signs, flyers, or advisories provided by the park, you will prevent damage to the surrounding vegetation and erosion The signs are not just suggestions to make sure you don't get. Some signs may display park rules or directions to ensure visitor safety.
Remain on Marked Paths
Paths are marked for a reason. Diverting from marked pathways is irresponsible and dangerous for yourself and wildlife. A trail that is not on the official map does not receive the same level of staff attention. Staff may not learn about safety issues along these paths, which are not maintained to the usual standards. As stated in a previously mentioned park safety tip, it is important to travel through marked trails to keep human presence in predictable areas. It can be difficult to file a legal claim against a federal or state agency in the event of an injury on public land when you have ignored the clearly posted trail maps, warnings, safety tips and other signage.
Stay Hydrated
The average person drinks one quart of water per hour while hiking on a hot day. Therefore, it is crucial to be prepared and bring plenty of water to avoid dehydration. Although the park may have natural sources of clean, potable water, most springs and water sources along the trails are unprotected and susceptible to contamination. For this reason, all water should be purified before drinking it, except for developed water fountains and marked water spigots within the park.
Store Food Properly
Storing your food properly is a park safety tip that has life-saving effects for humans as well as animals. Depending on which national park you visit, regulations differ for how best to store your food. Not following park regulations for food storage can result in fines, confiscation of food, or other penalties to protect visitors, property, and bears. It is helpful to choose foods that are compact, compressible, and lacking in strong odors. Bear-resistant containers only work if they are closed and locked.
Tell Someone Where You Are Going
The last of the park safety tips is to let your emergency contacts know where you are heading. Whether you are going on a day hike or exploring the wilderness, it is imperative to let someone know where you will be going and how long you expect to be gone. Some parks will also have check-in policies. Therefore, let park rangers in the visitor center know your plans before setting off. Anything can happen so it is helpful to have others know where you are at all times.
Summary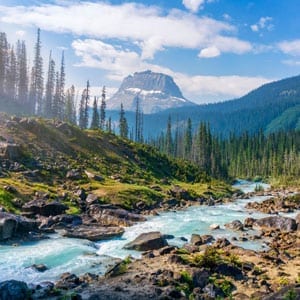 Article Name
10 Ways to Keep Yourself Safe in a National Park
Description
Park Safety Tips - Learn more about how following safety precautions while visiting national parks will help maintain safety for yourself as well as others.
Author
Publisher Name
Publisher Logo