NEWS
Can You Sue the Government? Lawsuits Against State & Federal Agencies

A Guide to Legal Claims Against Federal or State Agencies
In 2015, 21 youth plaintiffs took on the federal government in a fight for climate action. Three years later, their case – Juliana v. United States – reached the U.S. Supreme Court. The court ruled unanimously in their favor, making the toxic tort lawsuit a significant piece of U.S. legislative history. The momentous case further proved that despite how cliché it sounds, the people really do have power. U.S. citizens have the right to sue both the state and federal government. This means you can earn compensation if you were hurt or harmed by a government agency or employee. While taking the government to court is possible, it's not always straightforward. This article covers the basis of these claims and information on how to sue the government.
When Can You Sue the Government?
For a majority of United States history, the doctrine of "sovereign immunity" prohibited citizens from suing state or federal governments and their employees. Luckily this began to change in the mid-1900s; legislation shifted towards increased government accountability and citizen rights. In 1946, the Federal Tort and Claims Act (FTCA) was signed into law, waiving the federal governments' immunity to tort claims. After the passing of the FTCA, many states followed suit with individual state tort claims acts. These acts limit sovereign immunity, meaning that federal and state governments can be held liable for certain actions. Citizens can now sue federal agencies and employees for claims of negligence (careless or wrongful conduct). For example:
The passing of the FTCA and subsequent state claim acts marked the beginning of a new era of government accountability. However, sovereign immunity still exists in many forms today. Unless a claim is permitted by the FTCA or state law, the government is likely to be protected against a suit. Better understanding the FTCA and state exemptions will help you determine if you have a valid claim.
Understanding the Federal Tort Claims Act
The Federal Tort Claims Act (FTCA) holds federal government agencies and employees accountable. Under the FTCA, citizens can sue the federal government in certain wrongful act and negligence claims. The U.S. Department of Justice states the FTCA allows damage claims for:
"injury or loss of property, or personal injury or death caused by the negligent or wrongful act or omission of any employee of the Government while acting within the scope of his office or employment, under circumstances where the United States, if a private person, would be liable to the claimant in accordance with the law of the place where the act or omission occurred"
The FTCA gives citizens the opportunity to earn compensation in suits against the federal government. However, suing federal employees and agencies is more difficult than taking on a private citizen. The FTCA grants numerous protections for the federal government and includes many exceptions and limitations. These include, but are not limited to:
In general, the FTCA only allows for negligence claims. Though rare, suits claiming intentional misconduct by a federal employee are also possible.
Under the FTCA, only federal employees can be sued. This means that the act does not cover cases against independent contractors hired by the federal government.
The agency or employee's negligent act must have been done within and during the defendant's employment.
The claim has to be based on the state law in which the negligent act happened.
While the FTCA contains many other limitations, lawsuits against the federal government can be successful. A lawyer well versed in tort law can act as a federal tort claims act guide and help you determine if your case is worth pursing.
Can You Sue the State Government Under the FTCA?
The FTCA only covers cases involving federal government agencies and employees. However, many state tort claims acts model the FTCA and give citizens the right to make certain claims against the state. These claims acts vary from state to state, so it's important to research your individual state's laws and exceptions. A local lawyer can help you better understand your state's individual claims act. "Can I sue government agencies?" is not a simple question. Working with an attorney who understands how to sue your state or how to sue the federal government and win will increase your chances of a successful claim. If you and your lawyer decide you have a valid case, it's important to know how to correctly file your claim.
How to File a Claim Against a Government Agency
Before you begin filing a claim, make sure your suit is valid. You should be familiar with the basics of the FTCA and state claims acts. It is highly recommended that you consult a legal representative for assistance with filing your claim.
Filing an FTCA Claim
To sue a federal agency or employee under the FTCA, you must first file your claim with the specific government organization. For example, if you're suing the government for personal injury sustained at a VA hospital, you file your claim with the Veterans Health Administration. Once you file your claim, it is considered an "administrative claim" to be reviewed by the federal organization. To streamline this process, you and your legal representative can file a claim using the federal government's Standard Form 95 Claim for Damage, Injury, or Death. The SF 95 is not mandatory, but it helps ensure your torque claim meets all requirements. The government tort claim form can be used for claims against any federal agency. It's important that you file your claim on time. The statute of limitations allows you two years from when the incident occurred to file an administrative claim with the appropriate federal organization. It is recommended that you and your attorney file your FTCA claim as soon as possible to prevent any timeline discrepancies. Once you submit your claim, the federal agency has six months to respond with a decision or ruling. If the agency does not respond, have your legal representative contact them. If the agency denies your claim or refuses to pay the full extent of your damages, you have six months from the date of the decision to decide whether or not to file suit.
Considerations When Filing a Claim Against the Government
Knowing how to sue a county government agency or state government agency requires an understanding of local statues, exemptions, and limitations. For example, local and state government employees in Illinois are protected under the 745 ILCS civil immunities act. This is one of the many reasons why it is recommended you work with an experienced attorney in your state. He or she can help submit your notice of claim, meet time limitations, and ensure your case is as strong as possible.  Despite these restrictions, taking legal action against government agencies and employees who have caused harm is important. Not only does it increase your chances of earning fair compensation for your damages, it can help others who have been wronged while also increasing government accountability. In cases where a government agency or its employees caused harm to multiple people, a class action lawsuit* could be appropriate. It's also crucial that you file your claim in a timely manner. As mentioned earlier, FTCA claims must be filed within two years of the incident or accident. The agency then has six months to admit or deny your claim. After the agency responds, you have six months to file a lawsuit or accept their ruling. When dealing with state government or district courts, these timelines might be different.
Tips When Filing a Claim Against the Government
Whether you're asking, "can you sue the federal government," or you're just handling a smaller, local claim — research is crucial. If the incident is not covered by the FTCA, a state tort claim act, or your county's guidelines, it's less likely you will have a successful suit. If you do have a valid claim, make sure to file it on time with the correct information. When filing a claim, it's important to have relevant supporting documents and evidence. You claim must include factual information for the government agency to be able to determine if it's valid. You are also responsible for determining the money amount for damages you claim. An injury lawyer can help you navigate the intricacies involved with filing a claim against the government.
Summary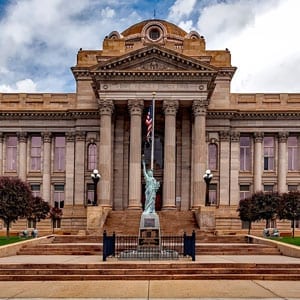 Article Name
Can You Sue the Government? Lawsuits Against State & Federal Agencies
Description
Can You Sue the Government? How can you sue the federal, state, or local government for personal injury or tort & win with the Federal Torts Claim Act.
Author
Publisher Name
Publisher Logo