NEWS
CDC Releases 2020 Distracted Driving Facts and Statistics

2020 Distracted Driving Facts
Distracted driving is any activity that takes the driver's attention away from driving. Distracted driving includes cell phone use and other activities such as eating, talking to other passengers, adjusting the radio or climate controls. There are three main types of distracted driving: taking your eyes off the road, taking your hands off the wheel, and taking your mind off driving.
Distracted Driving Fatalities
Every day about eight people in the United States are killed in crashes that are reported to involve a distracted driver. According to the 2020 CDC distracted driving report, more than 2,800 were killed in crashes involving a distracted driver. About 1 in 5 of people who have died in crashes involving a distracted driver in 2018 were not in vehicles.
Distracted Driving Accidents
A distraction-affected crash is any crash in which a driver was identified as distracted at the time of the crash. In 2018, there were an estimated 400,000 people injured in distracted driving accidents.
Who is at Risk?
Twenty-five percent of the distracted drivers involved in fatal crashes were young adults aged 20-29, according to the 2020 CDC distracted driving report. Furthermore, the distracted driving report states that drivers aged 15-19 were more likely to be distracted than drivers aged 20 and older, among drivers in crashes where someone died.     
New Strategies to End Distracted Driving
New strategies to combat distracted driving:
High Visibility Enforcement
Furthermore, certain states use high-visibility enforcement (HVE) to prevent cell-phone use while driving by increasing the perceived risk of getting a ticket. HVE combines increased enforcement, such as saturation patrols (increased number of officers patrolling a specific area), with paid and earned media.
Impacts
HVE can reduce cell phone use while driving. Pilot HVE programs in Syracuse, New York, and Hartford, Connecticut, used increased enforcement efforts with paid media, press events, and news releases over a one-year period. Syracuse saw a 32% decrease in hand-held cell phone use among drivers, while Hartford saw a 57% decrease.  
Graduated Driver Licensing
Graduated driver licensing is a system that helps new drivers gain experience under low-risk conditions by granting driving privileges in stages. CDC's GDL Planning Guide can assist states in assessing, developing, and implementing actionable plans to strengthen their GDL systems.
Impacts
Limiting the number of young passengers can help reduce distracted driving among teen drivers. A national study of 15-17 year old drivers showed that fatal crashes were 21% lower when zero passengers were allowed and 7% lower when one passenger was allowed, compared with policies that allowed two or more passengers.
Ending Distracted Driving
What the government is doing to stop distracted driving:
What is the Federal Government Doing?
The following notes are some notable actions taken by the federal government to curb the trend of distracted driving.
In 2009, President Obama issued an Executive Order prohibiting federal employees from texting while driving government-owned vehicles.
In 2010, the Federal Motor Carrier Safety Administration banned commercial vehicle drivers from texting while driving.
NHTSA has several campaigns to raise awareness of the dangers of distracted driving, including their annual "U Drive. U Text. U Pay." campaign, which began in 2014.

TorHoerman Law has started our own advocacy campaign regarding distracted driving. In accordance with our "End Distracted Driving" campaign, we've created the TorHoerman Law Scholarship Program where student contestants take part in an essay contest and are asked to discuss the dangers of distracted driving and what steps society can take to end this issue.
What are State Governments Doing?
Several states have passed legislative acts to help prevent distracted driving. The Insurance Institute for Highway Safety tracks cellphone use laws and young passenger restrictions by state. Some states have installed rumble strips on highways to alert drowsy, distracted, or inattentive drivers that are veering off the road.
What Can You Do?
What you can do:
Drivers
Do not multitask while driving. Put your phone in a safe place out of reach and eat your food before or after your trip. You should pull over if you feel any need to take your full concentration off the road.
Passengers
Speak up if you are a passenger in a car with a distracted driver. Ask the operator of the vehicle to focus on the roadway. Reduce distractions for the driver by assisting with navigation or other tasks.
Parents
Talk to your child about the rules and responsibilities that come along with driving. Remind them that driving requires their full attention and texts and phone calls can wait. It is important to know your state's graduated driver licensing system and enforce those guidelines on your child. Set consequences for distracted driving. Additionally, set an example by keeping your eyes on the road and hands on the steering wheel at all times.
Summary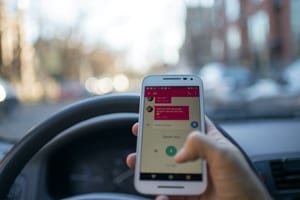 Article Name
CDC Releases 2020 Distracted Driving Facts & Statistics
Description
Learn more about the frequency and severity regarding the dangers of distracted driving from the CDC's 2020 distracted driving report.
Author
Publisher Name
Publisher Logo