NEWS
2019 End Distracted Driving Scholarship Winner Announced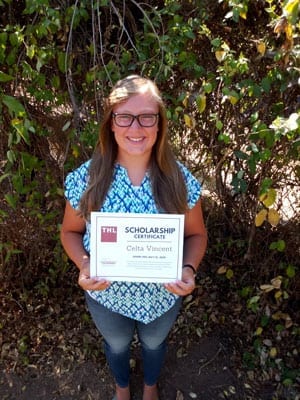 Thank you to all who participated and congrats to our 2019 End Distracted Driving Scholarship Winner.
2019 End Distracted Driving Scholarship Winner
For the second year in a row, TorHoerman Law awarded an End Distracted Driving Scholarship. This year's winner is Celta Vincent, a California native attending Thomas Aquinas College in Santa Paula, California and majoring in liberal arts. Her mother is a physician, her father works for the law enforcement chaplaincy in Sacramento County, and has had a friend and relative severely injured by a distracted driver. It was those experiences that prompted her to take initiative to tackle the problem of distracted driving. In her essay and video submission, Celta tackles the reasons people drive distracted and how distracted driving can be eliminated. Going a step further, Celta created her own campaign, "No Distractions Just Drive" to raise awareness of the issue. Congratulations to Celta on helping to end distracted driving!
No Distractions Just Drive
In recent years, many positive initiatives aimed at curbing distracted driving have arisen. Distracted driving has become a bigger problem now that people own more technology which they feel the need to use while driving. So the state departments of motor vehicles, traffic safety offices, highway patrols, and other organizations have started several campaigns intended to decrease the number of people driving with distractions, and lower the rate of car accidents due to distracted driving. Some of these initiatives include legislation to prohibit certain distractions while driving, and public awareness campaigns (is this the right word? I kind of feel like it's not, but I can't think of the word I'm looking for exactly.). These campaigns remind people of the dangerous, often fatal, consequences of distracted driving and, encourage them to rethink their decision before it is too late. Some of the consequences of distracted driving are more serious than others. Some have only financial consequences, while others have both financial and personal consequences. The first and most obvious consequence is that drivers could crash into other vehicles, resulting in vehicle damage and personal injury. This could end up costing them a large amount of money to repair the vehicles and also to pay for medical bills. Second, drivers who cause accidents due to distracted driving can have their license suspended. This would leave them reliant on other forms of transportation, such as public transit or friends who will drive them around. Third, when someone gets into an accident, their insurance company will raise their rate to offset the cost. This causes people to pay more money for insurance because of their bad decision to drive with distractions. Finally, while some people think that texting while driving is just a minor thing, it can actually have fatal consequences for themselves or others. Because the problem of distracted driving has increased in recent years, more organizations are coming up with positive initiatives aimed at curbing distracted driving. First, more information about the negative consequences and dangers of distracted driving has been added to drivers' education courses and drivers' license tests. This helps educate new drivers about the dangers they will face if they choose to use their phones or other distractions while on the road. Second, some states have passed legislation making the use of phones while driving illegal. These laws help prevent distracted driving by enforcing a negative consequence anytime someone is caught driving with distractions, rather than just the negative consequences after getting into an accident. Third, some phones have now been equipped to send an automatic reply to anyone who texts the driver telling them that the person they texted is driving and cannot reply. This allows drivers to focus their concentration on driving and not worry about checking and responding to texts. Fourth, newer cars now include technology to allow drivers to send and receive texts and make and answer phone calls verbally rather than manually. This technology improves on drivers' using their phones because they can now keep their hands on the wheel and their eyes on the road. But it is still not as safe as not using technology at all while driving. Because drivers who use this technology are taking some of their focus off of the road and using it for their conversations, they are still at a higher risk of getting into an accident because they are distracted and not fully concentrating on driving safely. Fifth, the state of California has started promoting the "One text or call could wreck it all" campaign. They put billboards and signs along freeways and roads to remind drivers while they are driving the potentially fatal consequences of using their phones while driving. Finally, I have started my own positive initiative to put an end to distracted driving with a video I created, NDJD – No Distractions Just Drive. It shows drivers how big an impact their decisions could have on their loved ones. Watch this video at https://youtu.be/zCTuhRXx-L8. So it seems that with all the new and effective initiatives aimed at curbing distracted driving, the rate of death and accidents due to distracted driving will decrease in the coming years. In conclusion, more and more positive initiatives aimed at curbing distracted driving have arisen in recent years since distracted driving has become a bigger problem. State DMVs, traffic safety offices, highway patrols, and other organizations have started several campaigns intended to decrease the number of people driving with distractions and lower the rate of car accidents due to distracted driving. While some of these initiatives include passing legislation to make the use of certain distractions illegal while driving, others use slogans to catch people's attention and get them to remember not to use distractions while driving. These campaigns remind people of the dangerous, and sometimes fatal, consequences of distracted driving and encourage them to rethink their decision before it is too late.   View Celta's Video Submission: