NEWS
April Is Distracted Driving Awareness Month – What Will You Do To Help?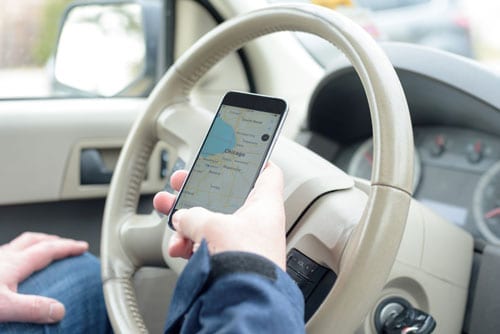 When traveling 55 MPH, you will travel 80 feet in one second. If you take your eyes off the road for more than four seconds, you will travel the length of a football field. Can you imagine what could happen in only four seconds because of distracted driving? April is distracted driving awareness month. To recognize and raise awareness about this dangerous trend, a group of passionate people came together to not only discuss the dangers of distracted driving but how we, as a society, can work together to eliminate distracted driving and make our roads safer. That group of people consisted of those who see first hand the dangers of distracted driving – a research scientist, a lawyer, a psychologist, the CEO of a distracted driving prevention organization for students, and finally, the father of a woman killed by a distracted driver who, later, founded an organization in her honor to raise awareness of the issue.
All come from different backgrounds, but all have the same goal – to eliminate distracted driving. Think about this – are you actually a safe driver or simply just lucky? For most of us, it's, unfortunately, the latter. We have all made errors in judgment when we decide to take our eyes off of the road and distract ourselves with our surroundings. That could mean reading the text that just popped up on your phone, changing the song on the radio, or even, calling a loved one to let them know you're on the way. Those decisions, whether important or not, could have lasting impacts, both on ourselves and those around us. According to Steve Casner, a research psychologist who studies injuries and accidents, 80% of people rank themselves as the best 20% of drivers? Why? Because we overcompensate our abilities. We're a society who thinks we're invincible, and that simply isn't true. As humans, it is important to understand limits. We all have our limits especially when it comes to distracted driving. Realizing it is not safe to take our eyes off the road, for any distraction, is the fundamental lesson that needs to be learned. Distractions are not going away, and most likely, they will continue to increase as technology continues to evolve.
Technology in vehicles has a long been a concern. "Back in the 1950's, radios were distracting drivers," said David G. Kidd, Senior Research Scientist at the Insurance Institute for Highway Safety, "but today, the culprit is the cell phone." Concerns about distracted driving have not changed, but there is a greater push to educate drivers on just how dangerous these distractions can be. The current generation receiving their licenses have grown up with today's modern technology. For that reason, it's important now, more than ever, to teach students about how dangerous these technologies can be while driving a car. "Teens become riskier drivers as they enter their senior year," Rick Birt, President & CEO of Students Against Destructive Decisions (SADD) said, "and 71% of seniors are more likely to use a phone while driving compared to 56% of their sophomore classmates." The trends are alarming, but "students are a part of the solution," said Jessica Hoerman, a lawyer at TorHoerman Law and an End Distracted Driving advocate. Hoerman, along with hundreds of other advocates, travels to schools across the country to empower students to take action. "My intention isn't to lecture these students but to have a conversation," Hoerman said. "The goal is to make these students feel so empowered they will become motivated to make the changes needed to keep our roads safer especially during distracted driving awareness month."
According to Joel Feldman, Founder of EndDD, "Distracted driving crashes are entirely preventable. We can do this if we all work together."
Each of us has the power to choose to drive distraction-free and change the way those we care about drive. What will you do to help raise awareness during distracted driving awareness month?