NEWS
6 Boating Safety Tips You Need to Know to Avoid an Accident
As the weather warms up, we look for numerous ways to beat the heat. One of the best ways to do so is on an exciting or relaxing boating trip. After all, who doesn't enjoy hitting the lake or ocean for good times with friends and family? Like any other motorsport activity, boating comes with potential dangers and irresponsible boaters hit the water every year, putting themselves and other boaters at risk. In 2019, there were more than 2,500 boat-related injuries and over 600 deaths in the US. Before even considering leaving the dock, you must be aware of how you and everyone on board can be safe to avoid accidents and injuries. Boat safety is imperative for everyone involved to have a great summer experience on the water. Follow our 6 boating safety tips to avoid a boating accident this summer.
6 Boating Safety Tips to Follow
These 6 boat safety tips will give you the start you need to ensure that you will not suffer any boat accidents this summer. Follow them, and you are much more likely to have smooth sailing and safe boating ahead. 
Do Not Drink and Drive
Operating a boat should be no different than operating a car, and doing so while under the influence of alcohol or drugs is incredibly dangerous. According to the BoatUS Foundation, nearly half of all boating accidents involve the use of drugs or alcohol.  Drinking and driving is never a wise choice, and partaking puts you, all passengers, and other boaters at risk of grave injury or even death. In addition, boating while intoxicated (BWI) is highly illegal and can result in thousands of dollars in fines or serious jail time.  While it should certainly be avoided, if you find yourself in a position where alcohol consumption is inevitable, always designate a driver to avoid the risks of drunk driving and keep everyone on the water safe.
Be Aware of All safety Equipment Onboard
Dedicate time to learn how to operate all safety equipment available; it can potentially save your life or others' lives. There are a vast array of items to use in emergencies on the water, but some essential ones are: 
Life jackets and other flotation devices

Flares

Fire extinguishers

Radios

Medical kits
Additionally, a captain is only as good as his crew. Before embarking, let everyone onboard know where this equipment is located and how to use it properly. Taking this step can ensure that nobody gets hurt in a summer boat outing and allows everyone to feel safe.
Know How to Navigate Around Other Boats
Whether it's out in the open ocean or at a local lake, chances are you will encounter other vessels on the water. You must be prepared to navigate around them safely to avoid collisions and boat accidents. In general, there are 3 primary situations in which you will interact with other boaters.
Head-on
When approaching another boat head-on, always yield to the right. Reduce the boat's speed and confirm that your surroundings are clear before doing so. 
Crossing paths
If another boat is heading your way from your port, or left side, you have the right of way and can continue on your path.  If the approaching boat is on your starboard or right side, they have the right of way, and you must yield to the right.
Overtaking
When one boat overtakes another, the boat in front always has the right of way and should continue on its intended route. When passing, communicate your presence by briefly blaring your horn. Afterward, overtake the boat on its starboard side with a wide clearance.  To learn more about the right of way rules to boating, consult Formula Boats' detailed article on boat navigation. 
Watch the Weather Before and During Boating
Always examine the weather forecast before boating, and never embark if there is a chance of severe weather. When on the water, look out for signs of severe weather such as dark cumulonimbus clouds, sudden drops in temperature, and large pickups in wind. Also, actively listen to weather forecasts on the boat's radio to stay updated at all times. If it's already too late and you've encountered bad weather, verify that all passengers are wearing life jackets, lower your speed, and search for a shore or dock that is safe to land on. To learn more about boating weather procedures, look at this BoatUS Foundation weather guide. 
Beat the Heat & Know the Symptoms of Heat Exhaustion
In tandem with staying vigilant for bad weather, always prepare yourself for the summer heat. Heat exhaustion is a real threat that can have fatal repercussions if not addressed. Early symptoms of heat exhaustion include fatigue, dizziness, weakness, heavy sweating, and severe thirst.  If you or anyone on board is experiencing this, stay hydrated by bringing plenty of water, and wear proper sun protection. You can learn about which sunscreen to use in our article on sunscreen safety tips. 
Take a boat safety education course
It may take some time to complete, but at the end of the day, completing an official boating course is one of the strongest ways to build confidence and expertise at the helm. Knowing the proper boating procedures and practices is the key to ensuring that everyone has a safe and fun experience on the water. Boat Ed has comprehensive boating safety courses available for every state. Finish that and get your boating license so you can be completely qualified to traverse the waters this summer. 
Involved in a Boating Accident?
In the unfortunate case that you are involved in a boating accident contact an experienced boating accident lawyer from TorHoerman Law for a free, no-obligation case consultation or use our chatbot to take a quiz and find if you qualify for compensation right away.
Summary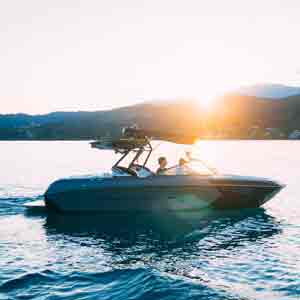 Article Name
6 Boating Safety Tips You Need to Know to Avoid an Accident
Description
Follow these 6 boating safety tips to avoid a boating accident and ensure you, your passengers, and other boaters are safe on the water.
Author