NEWS
How Can You Calculate Damages in a Personal Injury Case?

Personal injury lawsuits can help victims who have suffered physical, mental, or emotional pain due to another party's actions. In these cases, personal injury attorneys work to earn compensation for the victims so that they can return to their lives in the same shape they were in before their injuries. The compensation, referred to as "damages," helps cover losses such as medical expenses, lost income, property damage, and pain and suffering. While many people could benefit from filing a personal injury claim, many of them do not. These lawsuits take both time and effort – especially given that they are rarely handled in small claims court – and it's understandable that people wonder if it's worth it. Making big decisions regarding financial health can feel stressful but taking action can make the difference between financial prosperity and financial ruin. The key is to understand how much can be earned from a personal injury claim. This personal injury payout guide covers how to calculate damages in a civil suit and other relevant information related to personal injury financial compensation.
Types of Damages Used to Calculate Your Claim Amount
If you're wondering, "How much can I get from a personal injury claim?" it's important to understand how damages work. Four different types of damages determine payouts in personal injury lawsuits:
out-of-pocket medical costs
loss of pay
damage to property
pain and suffering.
These help cover both economic and non-economic damages for the victim. The total rewarded claim is the sum of these individual damages. So, what do these damages include?
Medical Costs
Personal injury damages cover the costs of necessary medical expenses such as surgeries, doctor visits, medications, therapies, and other treatments. This includes past and future expenses due to inflicted injuries. For example, someone who develops a severe infection due to medical malpractice could need antibiotics and another surgery. Both of these would be covered in damages payouts. Medical costs are calculated by adding all of the costs related to medical treatment of your injuries, including future costs.
Loss of Pay
Personal injuries can make it difficult or impossible for a person to return to work. For example, if a construction worker breaks his leg in a slip and fall accident, he might not be able to work until his injury heals. Loss-of-pay damages will cover the wages he lost out on during this time period. These damage payouts can range depending on the victim's salary and the time he or she is out of work. Loss of pay damages are calculated by determining the total lost earnings (past, present, and future) related to the injury. A person who tries to exaggerate their lost earnings will greatly diminish their likelihood of a successful lawsuit. So, be honest and forward about your ability to work, follow your doctor's orders, and do not try to extend your period out of work in hopes of increasing your loss of pay damages.
Damage to Property
Property damaged during a personal injury incident can also be covered in a case's damages payout. The victim must be able to provide tangible proof that the damages occurred because of the incident. For example, if a drunk driver hits another car and totals it, the victim is likely to receive property damage compensation for his or her vehicle. Property damage payouts typically range from a few hundred dollars for small items to a thousands of dollars in cases involving home or automobile damage.  
Pain and Suffering
Pain and suffering damages cover permanent, physical distress caused by the injury. This includes, but is not limited to, problems such as chronic pain, limitations in day-to-day activities, scarring, mental anguish, and persistent sleeping problems. It's also possible to sue someone for emotional distress in a personal injury case, though many states require the suffering to be related to a physical injury.   How is the value of pain and suffering calculated? Pain and suffering damages are more subjective and harder to directly calculate. In some cases, they are the sum of the other three damages multiplied by two or three. For example, if someone suffers from chronic anxiety after a dog bite incident, his medical costs, lost wages, and property damages are calculated at $12,000. The pain and suffering damages could reach $36,0000. Pain and suffering payouts depend on the specifics of each personal injury. The victim's total compensation is a combination of the four damages listed above. If the courts determine that a victim had $2,000 in medical bills, $500 worth of personal property damage, and lost $1,800 in wages, this means his pain and suffering damages could reach $8,600. This would earn him or her a total damages payout of $12,900. Again, this is a very broad example and pain and suffering could be much more or much less, depending on the severity of a victim's injuries.   Victims also have the potential to earn additional compensation through punitive damages. Read on to learn how.    
Calculating Punitive Damages
In particularly bad personal injury cases, the victim and his or her attorney can seek out punitive damages. These damages serve as a punishment for defendants whose actions exhibit maliciousness or gross recklessness. Punitive damages are awarded at the court's discretion and are often used to make an example out of the defendant to prevent others from repeating the same behavior. Maliciousness and recklessness are used in court to explain behavior that is, as defined by the Cornell University Legal Information Institute, an extreme departure from the care a reasonable person would exercise in the same circumstances. Punitive damages are common in cases with this sort of extreme behavior that cause irreparable harm for the victim. For example, family members of wrongful death lawsuit victims often earn punitive damages.
State Limits on Punitive Damages
It's important to note that some states place limits on punitive damages; Illinois punitive damages cannot be more than three times the awarded economic damages.
What is the Average Payout for a Personal Injury Claim?
To be honest, it is difficult to provide an average payout for personal injury claims, because "personal injury" is broad term that defines many types of accidents and injuries ranging greatly in severity and associated losses. Generally, the average payout for a personal injury lawsuit is somewhere between $3,000 and $50,000, but case results can be much higher – some personal injury settlements have reached billions of dollars.
What Are the Risks of an Inflated Claim?
When calculating personal injury damages, it's crucial to not exaggerate your condition or over-estimate the costs of treatments, property damage, or lost wages. Doing so can have severe negative impacts on victims in personal injury and class action lawsuits. This is considered fraud and can lose the case for the victim, or worse, lead to civil and criminal charges.
Civil Consequences of Fraudulent Personal Injury Claims
 Civil consquencse include:
Denied Suit or Compensation
If the court or insurance company determines that a claim is exaggerated, they can deny the filing plaintiffs' claim altogether. This means that the alleged victim cannot make a case and will not receive any compensation for his or her injury. This is the least severe consequence of filing an inflated personal injury claim.
Lost Insurance Coverage and/or Legal Representation
Insurance companies and personal injury attorneys have the right to drop coverage for customers who make inflated and/or fraudulent claims. These companies and firms report fraudulent claims to the state Department of Insurance. This creates a record of the fraudulent claim that can make it difficult, or impossible, to obtain future insurance coverage and legal representation. Attorneys can also drop clients who make fraudulent claims, as it put the attorney at risk of being sanctioned.
Revoked Settlement Compensation
If the insurance company awards a claimant a personal injury settlement then later determines that his or her claim is fraudulent, the claimant is required to return the money. If the claimant is unable to return the money, the insurance company can file a lawsuit. In cases that are particularly egregious, the insurance company can also seek out punitive damages (see above). This could also lead to numerous criminal consequences.
Criminal Consequences of Fraudulent Personal Injury Claims
 Criminal consequences include:
Misdemeanor Injury Claim Fraud
The majority of fraudulent personal injury claims are classified as misdemeanors. This applies to cases where claims have been exaggerated or slightly misrepresented. Misdemeanor sentencing in each state varies from small fines to probation to jail time of less than a year.
Felony Injury Claim Fraud
More severe cases of fraudulent claims end up in criminal court as felonies. Felony charges generally carry severe penalties such as lengthy jail/prison terms and heavy fines. Fraudulent insurance claims that involve the destruction of property are more likely to result in felony charges. For example, staging a collision to collect damages could be a felony.
What Are Some Common Signs of Inflated Personal Injury Claims?
Signs that a plaintiff is attempting to inflate their damages include:
Inconsistent Details
It's common for claimants in fraudulent cases to devise a storyline that is false or exaggerated. When this happens, there are usually details that are missing and/or inconsistent. The claimant may change their story, not have witnesses available, or include things that are not possible to have happened.
Repeated Claim History
Attorneys and insurance companies review individuals' histories and look for things like repeated claims and long-term injuries. People who repeatedly file injury claims are more likely to be running a scam or seeking out non-legitimate compensation. Some individuals also try to file new personal injury claims for old injuries.
Suspicious Timing
Timing is frequently the first thing that gives away a fraudulent or inflated personal injury claim. Lawyers and insurance companies review case timelines to look for inconsistent or all-too-convenient occurrences. For example, if an individual increases his auto insurance coverage and then is in a car accident the next week, there's a good chance it was intentional.
Lack of Cooperation
Claimants in personal injury lawsuits typically want their case to be as straightforward as possible. This requires full transparency and disclosure of all relevant details. If a claimant is withholding information, changing the story, or acts uncooperative, attorneys and insurance companies will be skeptical of their claim.   Inflated personal injury claims can carry severe consequences and are never worth the potential increased settlement amounts. Courts, attorneys, and insurance companies are well versed in personal injury claims and have systems in place to detect fraud. While inflated claims are sometimes made intentionally, sometimes they result from miscalculations and misunderstandings.
How Can You Ensure Damages Are Calculated Correctly?
Exaggerated claims can have extreme consequences, and underestimated claims can mean underpayment. This is why it's crucial that personal injury victims ensure they properly calculate their damages. While legal representation is not required, it is recommended. If you're looking to file a personal injury claim, it's in your best interest to seek counsel with an injury lawyer. An attorney will help you understand how to calculate pain and suffering, how to quantify emotional distress damages, how to calculate compensatory damages, and how to get through the claims process. Personal injury victims who work with a legal professional are more likely to receive full compensation for their injuries.
Summary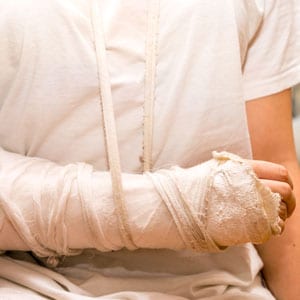 Article Name
How Can You Calculate Damages in a Personal Injury Case?
Description
Do you know how much to ask for in a personal injury claim? Learn how to correctly calculate damages in a personal injury case.
Author
Publisher Name
Publisher Logo