What is Uloric?
Uloric (febuxostat) is a prescription medication used to treat patients with gout which is caused by hyperuricemia, a condition that creates high uric acid in the bloodstream.
Manufactured by Takeda Pharmaceuticals and introduced to the market with FDA approval in February 2009, Uloric was intended as an alternative to treating gout with Zyloprim (allopurinol). But, it managed to capture less than 10% of the treatment market, and for good reason. There have been deadly side effects associated with the use of Uloric, such as cardiovascular-related deaths.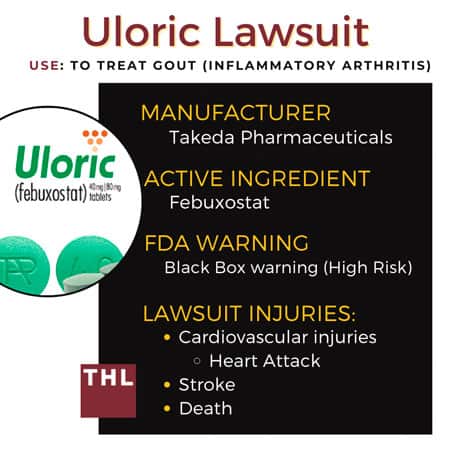 Uloric is used to treat:
Uloric to Treat Hyperuricemia
Hyperuricemia is a condition that leads to too high levels of uric acid in the body which can cause gout. Normally, uric acid is removed through urination. But, in individuals with hyperuricemia, excess uric acid remains which can cause urate crystals which then build up in joints, fluids, and tissues in the body. Hyperuricemia does not always cause gout, and without gout symptoms, the condition does not need to be treated. But, if symptoms such as intense pain, swelling, redness, or heat arise, immediately seek medical attention.
Uloric to Treat Gout
More than 8.3 million Americans suffer from gout. Gout is a form of inflammatory arthritis that can cause extreme discomfort and pain. It is very common for an individual to go between phases of flare-ups and remission. Uloric is one of the medications used to treat gout and it works by blocking the metabolic processes in the body that create uric acid. The blocking mechanism helps to prevent a build-up of urate crystals which trigger gout.