NEWS
Popcorn Lung in Animal Food Manufacturing – Who is at Risk?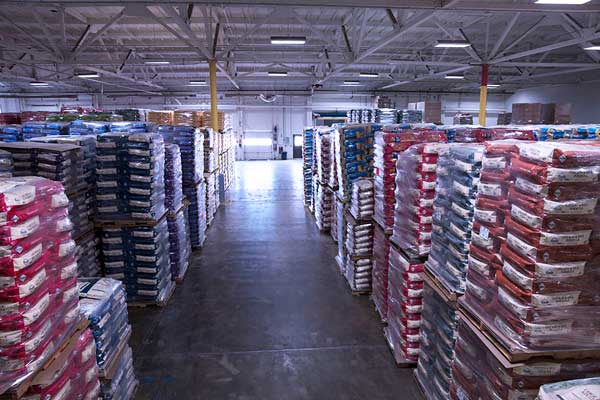 Popcorn lung is a deceiving term to use to describe a potentially lethal lung disease that affects workers exposed to diacetyl. Diacetyl exposure has been found in many different industries, including coffee roasting and chewing gum manufacturing, as we described in the first part of our series on the risk diacetyl puts workers in. The term popcorn lung has been used to describe the devastating effects of bronchiolitis obliterans as a result of the media attention given to the popcorn lung lawsuits brought on behalf of workers exposed to this dangerous chemical through their work at popcorn factories. Workers can also be exposed to diacetyl through their jobs at animal feed plants. An Illinois manufacturer of feed and feed additives for livestock and pet food industries may have exposed its workers to a dangerous chemical at the company's now-closed Wheeling Illinois plant, allegedly putting them at risk for "popcorn lung" and other respiratory issues. Feed Flavors, Inc., now owned by Nutriad, allegedly used diacetyl in their feed. Diacetyl, a chemical most often used to simulate the taste of butter, has been associated with bronchiolitis obliterans, often referred to as "popcorn lung," a serious respiratory illness in which inflammation and scarring in the airways of the lungs can cause irreversible damage to the respiratory system. Popcorn lung is often misdiagnosed as asthma, bronchitis, pneumonia, and emphysema. Some symptoms of bronchiolitis obliterans include a persistent dry cough, wheezing, and shortness of breath upon exertion.
What is Popcorn Lung?
Over a decade ago, Bronchiolitis Obliterans was identified in workers who inhaled artificial flavor working in microwave popcorn processing facilities. Although this same flavoring is used in many different products and facilities, including animal feed, the term "popcorn lung" remains as a way of explaining to exposed workers the risk of this debilitating lung disease through diacetyl exposure. The first of the popcorn lung lawsuits were filed on behalf of workers exposed to diacetyl in a flavor mixing plant in Joplin, MO that specialized in the manufacturing of the butter flavor used in popcorn. Juries ruled against International Flavor and Fragrances and its subsidiaries and ordered the flavoring manufacturer to compensate workers for their injuries, which included lung transplants. Similar popcorn lung lawsuits followed against flavoring manufacturers in Illinois and Iowa on behalf of workers in these Popcorn flavor plants, all of who were identified as having Bronchiolitis Obliterans, or popcorn lung. Popcorn lung lawyers anticipate an increase in lawsuits on behalf of individuals exposed to diacetyl in animal plants as information about the dangerous chemicals and the risk of popcorn lung is tied to animal feed workers' illnesses.
Diacetyl Regulation
According to the Occupational Safety & Health Administration (OSHA), diacetyl (also called butanedione or 2,3-butanedione) is a natural byproduct of fermentation and is also synthetically made by chemical manufacturers. It gives certain foods a buttery flavor and aroma and is widely used in microwave popcorn, snack foods, pet foods, candies, coffee, and baked goods. Foods containing diacetyl can pose a significant health risk to workers in those industries. Under OSHA guidelines, chemical manufacturers and importers of food flavorings containing one percent or more diacetyl must provide information regarding the human health effects, including reports that NIOSH has stated that employees exposed to butter flavorings containing diacetyl are at risk of developing bronchiolitis obliterans. Workers are also at risk for occupational irritations to the skin, eyes, nose, and throat.
Is Diacetyl Dangerous for Pets?
It is unknown whether diacetyl in pet food flavor ingredients poses a risk for pets. The major known risk of diacetyl to both humans and animals is through inhalation. We know that factory workers exposed to/inhaling diacetyl are at great risk for lung disease, and testing of animals that have inhaled diacetyl have produced the same results. But, unlike humans with sporadic exposure, pets could be inhaling low levels of diacetyl at every meal, resulting in health concerns after years of exposure. Susan Thixton, Pet Food Safety Advocate, asks, "Why take the chance on the effects of diacetyl in pets?" She challenges pet food manufacturers to "closely inspect all pet food flavors and if it contains diacetyl – find a new flavor. Please put pet safety (and by the way the safety of your employees handling the flavor ingredient) first."
Popcorn Lung Lawsuits on Behalf of Pet Food Workers
Popcorn lung lawsuits filed on behalf of workers unknowingly exposed to toxic chemicals and diagnosed with a potentially lethal lung disease are currently being filed on behalf of pet food workers. Diacetyl lawsuits will help to expose the dangers of exposure and hold the companies using these dangerous chemicals accountable for injuries that result from them. TorHoerman Law is also actively monitoring the health effects of Juul and other e-cigarettes in relation to diacetyl exposure and cancer. If you believe you have developed popcorn lung, you may qualify for a Juul lawsuit.