About Penumbra JET 7 Catheter
Penumbra's reperfusion catheter is used by many surgeons in thrombectomy procedures when removing blood clots from the veins and arteries of their patients. If you have suffered an injury due to this device, you should contact an experienced JET 7 catheter lawyer immediately.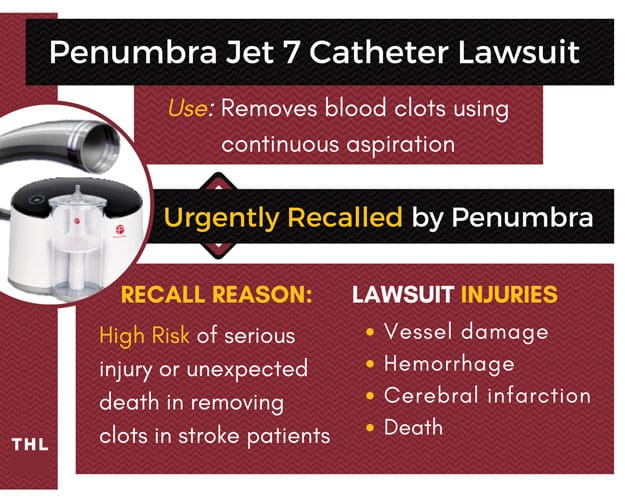 What is its use?
As a component of the Penumbra System with the Penumbra Aspiration Pump and Penumbra Aspiration Tubing, the JET 7 Xtra Flex catheter and JET 7MAX configuration (JET 7 Xtra Flex catheter and MAX Delivery Device) are medical devices intended to restore blood flow by removing clots using continuous aspiration in patients experiencing an acute ischemic stroke within 8 hours of symptom onset who are ineligible for intravenous tissue plasminogen activator (IV t-PA) or those who fail IV t-PA therapy.
Is it safe?
In several reports regarding the device, arterial ruptures led to patient deaths. In some of these cases, the rupture occurred in the internal carotid artery, which supplies blood to the brain and eyes. Furthermore, some reported ruptures were associated with damage to the distal tip.
Gabriel Grego, the managing partner at Quintessential Capital Management, published a short thesis calling the Penumbra Jet 7 "unsafe and unmarketable."