NEWS
Should I Report A Drug Injury or Drug Side Effect?
When people suffer a side effect or injury while taking a pharmaceutical product such as a medication, often the first question is "Did the drug cause my injury?" This is a difficult question to answer and a simple Google search will likely leave you with more questions than answers. Not surprisingly one of the most common questions we receive at TorHoerman Law is, "Why is this medication and/or device still on the market?" Medical professionals and the FDA consider a variety of information in determining whether or not a drug caused an injury. They look at clinical trials, epidemiology, animal studies, and adverse event reports. When a person suffers side effects or injuries that occurred while taking a drug, it can and should be reported to the FDA for assessment.
How Do I Report a Drug Injury or Side Effect?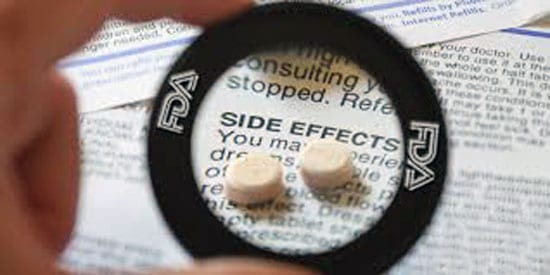 Reporting an injury or side effect to the FDA is important to make sure only the safest and most effective drugs remain on the market. The FDA compiles all of these reports in a database called the "adverse event" database or FAERS. The adverse event database assists the FDA in deciding when to warn the public about side effects.
According to FDA estimates, only about ten percent of all adverse events are actually reported to the adverse event database. Therefore the true number of serious side effects is approximately ten times higher than the FDA numbers. Individuals, along with their doctor's assistance, are in the best position to decide whether the benefit of a drug outweigh the risks it carries. However, individuals are unable to make informed decisions about the drugs they take if they are not provided with all the risks. Click here to report an Adverse Event of a medication.
Clinical Trials
Clinical trials are one of the most common ways to test a medication prior to releasing it to the public. In a clinical study, one group of participants takes the drug, and another group takes either a placebo or a different drug. Doctors observe how the participants in the study react to the medication and how the participants taking the placebo react without it. Once a medication has been released to the public, referring back to the data provided by the clinical trial is often not feasible because the participants are limited and may not have the same medical histories of the individuals prescribed the drug after it has been released publicly.
Answering the question of whether a drug caused an injury can prove difficult as a result. For example, a clinical trial may not allow people who drink alcohol to participate, but people who drink alcohol could be prescribed the drug once it becomes available to the public. Additionally, if a side effect or injury is rare, it would be unusual for the side effect to show up in a clinical trial with a small group of individuals. For example, the FDA changed the warning label for DPP IV inhibitors, such as Januvia, Nesina, Onglyza, and Tradjenta, because of the risk of a serious skin disease called "bullous pemphigoid." There are only 2.4 occurrences of bullous pemphigoid per 100,000 people per year. In a small clinical trial, it is highly unlikely that this serious side effect would occur.
Epidemiology Studies
Epidemiology is the study and analysis of health and disease patterns across the globe. Epidemiology studies are expensive, time-consuming, and difficult to conduct. These evidence-based studies are able to identify risk factors but are not conducted for every drug and every potential side effect. For all of these reasons, it is important that people report any side effects or injuries that happen to them while they are taking prescribed medications. Doctors can, and should, report side effects or injuries to the FDA or pharmaceutical companies. However, often doctors don't report because they are too busy or don't recognize that a drug may have caused the injury. For all of these reasons, it is imperative that consumers understand that the need to report drug injuries or side effects is great. Reports are a critical way the FDA can detect injuries or side effects early and prevent it from unnecessarily happening to others.
Adverse Reports of a Medication
Medications are studied and tested in a variety of ways before they are released to consumers. However, there are flaws in this system because it is impossible to test every medication on every potential patient's health history and life circumstances. With all of the situations we experience, it is impossible for doctors, pharmacists, and the FDA to know how each medication will interact with each patient. It is this impossibility that makes reporting adverse events so important.
Reporting Adverse Events to FAERS allows for the furthered education of doctors, pharmacists, the FDA, and other consumers who may have taken the medication. It is also an important way consumers can make sure only the safest and most effective drugs remain on the market. When a drug injury is reported, the FDA retains that report and compiles the data for future evaluation. Within FAERS is MedWatch, a reporting system specific to pharmaceutical medications, over the counter medications, biologics such as blood and plasma, medical devices, combination products, special nutritional products, and other daily items such as cosmetics and food/ beverages. I
f you experience an adverse event as a result of a medication, MedWatch accepts reports pertaining to serious drug side effects, product quality concerns, and other product failures. It is important to note that health professionals and consumers complete different MedWatch forms to report an issue. Consumers and patients complete FDA Form 3500B. Form 3500B is an online questionnaire that will ask you a slew of questions. Information such as dosage, lot number, NDC number, and usage time frame are all incredibly beneficial to the FDA, and the more information provided, the better. The FDA will ask if you still have the product. If you respond yes to this question, the FDA may contact you requesting you send them the medication. Additionally, the FDA asks for specifics not only about the reaction, but for your personal health history, your habits, and other personal information. This allows the FDA to analyze what when wrong when taking the medication: was it a combination of multiple factors, or was it an isolated reaction?
This database is key to the FDA's decision making. If the FDA receives multiple reports of a negative side effect or adverse event, it can review all of the reports in the system and make the decision on if the public should be warned.
Next Steps
If you have been injured as a result of taking a medication, consult your doctor immediately. Whatever the injury may be, it is important to treat and document it. While the FDA reports on a medication's side effects and what injuries those side effects may have caused, individual consumers, along with their doctor's, are in the best position to decide whether the benefits of the medication outweigh the risks it carries. But, if you are unaware of all of the possible risks, it puts you, as a patient, at risk.
The FDA encourages consumers, doctors, and patients to submit reports of adverse events to FAERS. At TorHoerman Law, we believe all injuries and side effects should be reported to the FDA, as this is the most effective way for the FDA to learn about all adverse events, and when needed, take dangerous pharmaceuticals off the market. If you were injured as a result of taking a prescription drug, and you were unaware of the side effect, contact our team of professional medication attorneys today.