NEWS
What is a Mass Tort Lawsuit? A Plaintiff's Lawyer Explains

Mass tort lawsuits are designed to help people who have been harmed by the same individual or group's actions. They've played a role in taking on abusive employers, negligent drug companies, and corrupt corporations. These cases leverage collective power while still awarding individual legal autonomy. So what are mass tort lawsuits? Read on to learn more.
Mass Tort Lawsuits Explained
Let's start by looking at the mass tort definition and breaking down other important terms.
A mass tort is some act or omission that harms or injures numerous people… Mass tort actions are not single cases, but rather groupings of individual lawsuits alleging the same issues against the same defendant(s) and as such, they frequently involve multidistrict litigation. These actions are used to seek remedies in situations where a class cannot be certified or there exists some benefit over filing a class action lawsuit.
Mass tort lawsuits are a group of individual cases with similar complaints against the same individual or group. The plaintiffs in these cases seek compensation for damages due to the defendant's actions or negligence. While the plaintiffs in mass tort litigations are part of a larger group, each member is treated as an individual. This means that each plaintiff participates in the case and must provide information that proves that the defendant harmed them. Mass tort cases are common when a group of people have been harmed by the same company or product, but with different outcomes or reactions (for example, a group of individuals with varying side effects from a bad drug).
What is a Tort?
The tort definition as:
… an act or omission that gives rise to injury or harm to another and amounts to a civil wrong for which courts impose liability. In the context of torts, 'injury' describes the invasion of any legal right, whereas 'harm' describes a loss or detriment in fact that an individual suffers.
Tort law differs from criminal liability. Tort is used to address private wrongs and is centered on compensation for the victim; crime law addresses wrongdoing against society and often focuses on punishing the wrongdoing. Some cases, such as an unlawful death, can involve both tort and criminal liability. Civil tort cases are often categorized broadly as intentional torts.
Mass Tort Plaintiffs
In mass tort lawsuits, the plaintiffs are the individuals who file a claim alleging that an unlawful or harmful act was made against them by another individual or group. Unlike class action lawsuits, these cases involve numerous individual plaintiffs rather than a single representative group. The plaintiffs' cases are often consolidated into a multidistrict litigation and led by a group of attorneys who are referred to as the Plaintiffs' Steering Committee.  
Mass Tort Defendants
The defendant in a mass tort lawsuit is the individual or group who allegedly committed an unlawful or harmful act against the plaintiffs. There can be more than one defendant in a mass tort. Defendants can share different levels of liability for injuries and losses in a mass tort.  
What is the Process of a Mass Tort Claim? Review these steps
While the specific actions and results of mass tort claims can vary case to case, there are steps that occur in every mass tort lawsuit. We cover these steps in our video. The process includes:
Filing a Claim
Mass tort lawsuits begin when an individual makes a claim against a defendant. The mass tort claim process follows the process of a civil litigation. An attorney helps them generate the complaint, gather the facts, and file the lawsuit. During this step, the attorney will often seek out other individuals who have been affected in similar ways to strengthen the mass tort claim.
The Discovery Process
Thediscovery process is a pre-trial phase of the lawsuit in which the plaintiffs and their attorneys gather information for their case. This typically includes on-record interviews with the plaintiff and any involved witnesses, healthcare providers, scientists, or other relevant parties. Here the individual plaintiffs and their attorneys can work together to make sure they have as strong of a case as possible.
The Motion Practice / Trial
During the motion practice, each side (the plaintiffs and defendant) and their attorneys present their evidence and make their claims. During this pre-trial phase, the plaintiffs' case is handled together as a mass tort. The parties' attorneys might settle out of court or ask the judge to take specific actions. The judge will make rulings based on the evidence and claims, potentially sending the case to trial in front of a jury. If the case goes to court, each individual plaintiff and his or her attorney will have their own separate trial.
Resolution
Once a resolution has been made, participating plaintiffs receive a resolution notification.  If a plaintiff wins his or her case, he or she will earn compensation for damages. Since these lawsuits involve a number of plaintiffs, the compensation is based on each individual's case circumstances.
Advantages of Mass Torts
Mass torts give collective power to individuals who have been affected by the same organization or individual's harmful actions. They can be used to take on powerful groups and often create stronger, more efficient cases. Advantages of mass tort lawsuits include:   Collective negotiating power These lawsuits give individuals more negotiation leverage than they would have with their own single claim. A number of people who have been hurt by an organization will make a greater case than one person fighting alone.   Maintains individual autonomy Even though they are part of a larger group, each plaintiff in a mass tort lawsuit is treated as an individual. This gives him or her the power to present the specific case details. This also means that the case's outcome is not entirely dependent on a class representative as it would be in a class action lawsuit.   More efficient cases It's easier for courts to handle the pre-trial phases of a single mass tort case than it would be to handle each plaintiff's claim individually. This increases judicial efficiency and makes it easier to reach settlement.   Shared resources While mass torts are still treated as individual cases, they give each plaintiff the ability to support each other's cases. Attorneys handling the plaintiffs' claims can share details, evidence, witness testimonies, and other helpful information.   Greater compensation potential In class-action cases, the plaintiff group typically splits any awarded compensation. In mass tort cases, each plaintiff is awarded compensation based on their own individual damages. This gives plaintiffs the ability to earn more compensation.
Mass Torts and Multidistrict Litigations
Mass tort cases are used when a person, group, product, or drug allegedly harms a large group of people. It's common for these individuals to be spread out geographically across court districts and state lines. This is why many mass tort cases are handled as a Multidistrict Litigation (MDL) in a municipal, state, or even federal court.  An MDL is a consolidation of individual cases where the plaintiffs have been affected by the same thing. This makes trials more efficient and helps courts manage cases more efficiently.
Difference Between a Mass Tort vs. Class Action
Many people confuse mass tort and class-action lawsuits. Both procedural tools are used when a number of plaintiffs have similar claims against a defendant. The main difference has to do with how the plaintiffs are treated. In class-action cases, the individual plaintiffs are grouped together and treated as a single "class." A class representative and his or her attorney represent the group in court, and the other class members split compensation rewards. In mass tort cases, each plaintiff is treated as an individual. This means that each individual member presents his or her own evidence and claim. Because of this, mass tort cases often result in greater compensation for plaintiffs' damages.
Common Types of Mass Tort Lawsuits
Mass tort lawsuits are common in instances when a company's products or actions harm a large number of individuals. This can be due to a number of factors such as chemical exposure or a poorly designed product. Common mass tort lawsuits include:
Pharmaceutical Drugs and Medical Devices
Pharmaceutical companies are expected to create products that are safe and effective for consumers when used properly. Unfortunately, it's estimated that millions of Americans face complications due to undisclosed medication risks. Bad drug lawsuits are often consolidated into mass torts so that affected individuals have greater power when taking on pharmaceutical companies.
Product Liability
Products that reach the mass market are supposed to be safe and effective when used for their intended purposes. Defective product lawsuits are common as mass torts when a product defect injures a large number of people. This can include flaws in design, manufacturing, and marketing.
Toxic Torts
Individuals affected by chemical exposure often join mass tort lawsuits. These cases are common when people develop complications from exposure to toxic chemicals at work or in their own neighborhoods. Mass tort lawsuits allow them to leverage their case and prove that the exposure did not occur as an isolated incident.
Mass Tort Damages
Plaintiffs in successful mass tort lawsuits earn compensation for their damages. This covers the losses, both economic and non-economic, they incur due to the defendants' actions or negligence. Compensation helps cover the costs of medical expenses, loss of income and future earnings, loss of quality of life, emotional damages, and more.
How are mass tort damages determined?
In mass tort lawsuits, each individual plaintiff's damages are determined based on their specific case and losses. Personal injury compensation is based on a variety of factors and includes both special damages and general damages. Special damages are easier to determine and include expenses such as medical bills and debt, cost of litigation, and property damage (think with a fixed price). General damages cover more subjective expenses relating to healing, emotional distress, and traumas.  
Does every plaintiff receive the same amount?
No. In mass tort lawsuits, each individual plaintiff is awarded damages based on his or her specific case. A personal injury lawyer can help plaintiffs determine an idea of his or her potential compensation.
Mass Tort Resolutions
Mass tort cases can take years to resolve. Even though the court is able to consolidate the cases during the pre-trial phase, each plaintiff's claim is still treated as an individual case. While this makes the resolution more time-consuming, it also means that settlements will be better tailored, and often better paying, for each plaintiff's specific situation.
Individual Settlements
Because mass tort lawsuits are handled as individual cases, each plaintiff receives a settlement based on his or her specific damages. This means that each plaintiff and his or her representative attorney are responsible for making their case claim in court. Rewards vary from plaintiff to plaintiff, helping ensure the compensation is proportional to his or her losses.            
Organized Group Settlements
Group settlements are not as commonly awarded in mass tort lawsuits. Group settlement are more commonly used in class action suits to be split evenly among class members. However, some mass tort resolutions will involve settlement money that is allocated to all members in addition to their individual compensation.    
How Do I Sign Up for a Mass Tort Lawsuit?
Joining a mass tort lawsuit can help bring justice for you, your family, and everyone else who has been affected by a group or individual's harmful actions. Whether you're looking to join an existing mass tort case or you believe your case has the potential to become one, it's best that you understand your legal options. Contact an attorney experienced in mass tort lawsuits to determine if you have a potential successful case.
Summary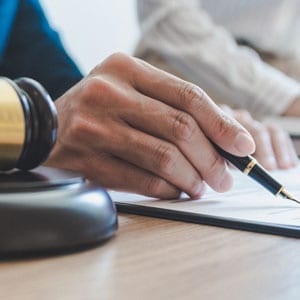 Article Name
What is a Mass Tort Lawsuit? A Plaintiff's Lawyer Explains
Description
A Mass Tort Lawsuit is a collective action designed to help individuals who suffer similar losses related to another party's actions.
Author
Publisher Name
Publisher Logo