NEWS
Barbecue Safety Tips for the Grilling Novices and Aficionados, Too

As personal injury lawyers, we see all kinds of injuries, bbq injuries not excluded. Whether it be the grilling novice or veteran, simple mistakes can lead to serious injury, property damage, and other losses. We wanted to provide some good barbecue safety tips so that you can avoid your barbeque plans (and house) from going up in flames.
Barbecue Safety Tips From a Personal Injury Lawyer
After a long winter, we are officially into the summer months, which means we are well into barbeque season. Whether it be a backyard party, summertime cookout, a day by the water, or an early-season tailgate, you are likely to throw on the apron and jump behind the barbecue grill at some point in the coming months. But safety is still important and every grill-master should know at least a few barbeque safety tips that will keep them safe.
BBQ Grilling Accidents Most Common in the Summer
While most of us like to consider ourselves masters of the pit, some of us aren't barbequing safety experts. In fact, an estimated 7,000 Americans are injured by barbecue grills each year. Summertime is the peak season of barbecue grill accidents, with July being the most prevalent month and making up 17 percent of all barbecue accidents, followed by June (14 percent), May (13 percent), and August (12 percent).
BBQ Accident Statistics
Here are some more barbeque accident statistics, courtesy of the National Fire Protection Association (NFPA), that may make you reconsider barbecue safety:
More than one-quarter of grill structure fires started on an exterior balcony or open porch. Ten percent began when an outside wall caught fire; 5 percent began with some type of structural member or framing.
Gas grills were involved in an average of 8,700 home fires per year, including 3,600 structure fires and 5,100 outdoor fires annually. Leaks or breaks were primarily a problem with gas grills. Eleven percent of gas grill structure fires and 23 percent of outside gas grill fires were caused by leaks or breaks.
Charcoal or other solid-fueled grills were involved in 1,100 home fires per year, including 600 structure fires and 500 outside fires annually.
Whether you're a novice or an aged grilling vet, take a few minutes to read through our barbecue safety tips before you fire up that grill this season. It could be the difference between an enjoyable summer day and a trip to the emergency room or surprise visit from your local fire station.
Barbecue Safety Tips
Here are some barbecue safety tips from a concerned personal injury lawyer:
Keep your grill or barbecue pit at least 10 feet away from your house and any flammable material.
The further you can keep it from your residence, the better. This includes garages, carports, covered structures, porches, and decks. Got a yard? Take advantage of it. According to the NFPA, 27 percent of home fires started by a grill started in a courtyard, terrace, or patio. 29 percent started on an exterior balcony or porch. NEVER grill indoors, under any circumstance. Indoor grills, even very small ones, pose two major threats: (1) indoor fires, which are much more dangerous than outdoor fires. (2) carbon monoxide poisoning, due to the release of carbon monoxide – odorless, colorless, poisonous gas — into an enclosed area. It's best to keep your grill on a concrete structure, away from brush, plants, or overhanging trees. Keep decorations and furniture away from your grill as well. Your grilling area should be completely clear of any non-grilling materials. Keep used grilling material away from the grill. This includes paper towels, containers, plastic wrap, bags, seasoning containers, and any similar materials. Once you have used it, toss it. Don't keep it near your grilling space.
Clean your grill and grilling material on a regular basis.
Fat and grease build-up are two of the primary causes of grill flare-ups and fires. Be sure to scrape and wash your grill after every use. If you are using a charcoal grill, allow time for the charcoal to fully cool before properly disposing of it. Do not leave burnt coal near flammable material, even if you believe it is cooled.
Check your grill hoses for potential gas leaks.
To do so, mix a solution of half liquid dish soap and half water. Rub the solution across the exterior of your grill hoses. Turn the grill gas on and look at the lines to be sure that there are no soap bubbles on the exterior of your gas lines. If you do find bubbles, there is a gas leak on your lines. Contact the manufacturer to report the leaks and replace your lines before using your grill again. If you replace your lines, be sure to check new lines before using the grill.
Make sure that your grill is on a stable surface.
Ideally, you want to keep your grill on a grill pad – a flat, large, concrete surface specifically designed for grilling. If this is not possible, at least be sure that you keep your grill on a stable surface where it cannot be tipped over. Always put your grill on a grill mat, regardless of what surface your grill sits on. Grill mats keep grills from sliding, moving, or tipping.
Always be ready to put out a fire.
It's always good to be prepared for the worst. Always have a fire extinguisher within arm's reach of your grill. Baking soda is also a necessary grill fire-fighting tool. Baking soda is one of the best counter-measures to a grease fire. Its' properties smother grease fires quickly, so it is always a smart plan to keep a box near your grill. A small squirt bottle full of water is also good to have on hand. Small flare-ups are very common while grilling. We don't always necessarily need a fire extinguisher for small flare-ups because, sometimes, a little bit of water will do the trick. Best of all, water won't ruin your food so dinner is safe while fire isn't. But the best way to handle a grill fire is to CALL THE FIRE DEPARTMENT when a grill fire occurs. Many fire deaths occur because people try to fight the fires themselves, rather than call the experts.
Wear the right clothes.
Most clothing materials are very flammable, so there really isn't the right type of clothing to wear. However, there is a right way to wear your clothing. Do not wear baggy clothes, long sleeves down, or draping jackets while grilling. Tuck in your shirt into your pants. If you have long hair, wear it back or wear it in a hat. Wear protective eyewear such as glasses or sunglasses to avoid injuring your eyes from a flare-up. Keep your apron strings tied and tucked in. Do not wear flammable jewelry, such as bracelets, on your arms.
Never turn on the gas while the grill is closed.
This will cause gas to build up inside of the closed grill. Once you open and light the grill, this can (and often does) cause a fireball explosion to burst in your face due to the excess gas built up inside your grill.
Never leave your grill unattended.
Never, under any circumstance leave your grill unattended. Fires double in size every minute, so two minutes away from your grill could mean the difference between a burnt patch of grass and replacing your porch, or worse. If you need to step away from your grill for a minute, ask an adult to monitor the station while you are gone. Make sure to show your replacement where you keep the fire extinguisher, baking soda, and squirt bottle. You can never be too safe.       There are specific safety rules for the two different types of grills. These NFPA safety tips should also be followed, depending on what type of grill you are using:
Safety Tips For Charcoal Grills
Only use a proper charcoal starter fluid, never flammable or combustible fluids.
Store starter fluid out of reach of children, and well away from heat sources.
Never add charcoal starter fluid when coals or kindling have already been ignited.
Safety Tips For Propane Grills
After the grill has been sitting from last season, check the propane cylinder hose for leaks. You can use a light soap and water solution; run it through the hose and it will quickly reveal escaping propane by releasing bubbles.
If you have determined that your grill has a gas leak by smell or the soapy bubble test and there is no flame, turn off the propane tank and grill. If the leak stops, call a professional to service the grill. Call the fire department if the leak doesn't stop.
If you smell gas while cooking, immediately moves away from the grill and call the fire department. Do not attempt to move the grill.
All propane cylinders manufactured after April 2002 are required to have overfill protection devices (OPD) which shuts off the flow of propane before capacity is reached. This function limits the potential for the release of propane gas if the cylinder heats up. OPDs can be identified by their triangular-shaped handwheel.
Never store propane cylinders inside buildings or garages. If you decide to store a gas grill inside during the winter, disconnect the cylinder and leave it outside.
BBQ Meat Safety Tips
Besides starting a fire, the second most common health hazard during barbecue season is undercooked and ill-prepared foods. These barbecue safety tips can keep you and your family and friends healthy and free of food-related illnesses while cooking.
Wash your hands.
You haul all the coolers, grills, and charcoal out to the park, set up the picnic table, then reach in your basket to start passing out snacks. Did you wash your hands? If your picnic is outside and away from clean running water, make sure to pack hand sanitizer, soap, and water, or disposable wipes.
Keep marinated food cool.
As your kids unpack your picnic basket, you whip up your famous marinade and pour in on the chicken breasts to start the magic. Letting meat marinate in the warm air can encourage bacteria and other foodborne illnesses to develop on your legendary chicken. Instead, marinate the meat in the refrigerator, and then keep it cold until it hits the grill by keeping it in a cooler packed with ice. Keep all your cold food colder by putting the coolers in the car with the passengers where it is cooler, instead of the trunk.
Separate the raw food.
You smile as your children cooperatively unpack the coolers, until one of them pulls a package of steaks out, dripping the juices onto all the food left in the cooler. Instead, pack your raw meats in a separate cooler, making sure they are wrapped up tightly. And though you hate to waste that awesome marinade left in the Ziploc bag, avoid the temptation – plan ahead and reserve a separate potion that hasn't touched raw meat. And don't forget to bring enough utensils to use different tools to cook raw meat and serve the food.
Cook thoroughly.
Between kids, dogs, bugs, and Frisbees, it's easy to lose track of cooking time. Pack a food thermometer to make sure your food is cooked thoroughly and all bacteria has been destroyed. If you're in your backyard – partially microwave the food, then throw it on the hot grill to finish cooking.
Keep all foods at the correct temperature.
Hot food should be kept at 140 degrees or higher. Cold food should be kept at 40 degrees or below. Hot or cold perishable food should not sit out longer than one hour is the outdoor temperature is above 90 degrees. The food can be out for up to two hours if it is below 90 degrees outside.
What To Do If There is a Barbecue Accident
You can avoid most accidents by following the barbecue safety tips. But, if you are involved in a barbecue accident, you should contact the authorities right away. Be sure to mitigate injuries by seeking proper medical attention for all barbecue accident injuries, no matter how big or small. Mitigate your other potential damages by limiting the property damage caused by the incident. In a barbeque accident incident, that means calling the fire department right away. If the barbecue accident resulted from a product defect, such as an exploding propane tank or a malfunctioning grill, contact a product liability lawyer right away. If you suffered injuries and losses resulting from someone's negligent actions while grilling, you may be entitled to compensation gained through a personal injury lawsuit. Contact TorHoerman Law to discuss your legal options, free of charge and no obligation required.
Summary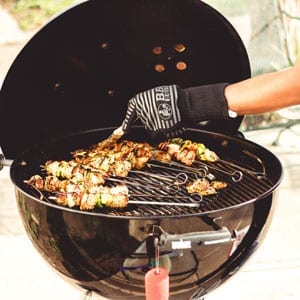 Article Name
Barbecue Safety Tips for the Grilling Novices and Aficionados, Too
Description
Barbecue Safety Tips | BBQ Meat Safety Tips | Charcoal Grill Safety Tips | Propane Safety Tips | follow these bbq safety tips to avoid a barbeque accident
Author
Publisher Name
Publisher Logo