NEWS
Avoiding Lawnmower Accidents Injuries & Lawnmower Accident Lawsuit
Lawnmower accidents, while not as common as other personal injury accidents, are much more common than one would think. Oftentimes lawnmower accidents result in much more serious injury. Personal injury lawyers generally see an increase in lawnmower accidents and injuries in the summer months. Here are some ways that you can prevent lawnmower accidents and injuries.
Increase in Lawnmower Accidents During Summer Months
Summer is in full swing and families are spending more time outside, grilling, playing in the yard. Unfortunately, the summer months also bring an increased risk of accidents, including lawnmower accidents. In honor of National Safety Month, take extra safety precautions. Watch out for the kids, especially when mowing the lawn. Accidents of this sort are not uncommon, according to the U.S. Consumer Product Safety Commission. An estimated 35,000 riding lawn mower injuries were treated at hospitals around the country between 2012-2014. An annual average of 90 deaths occurred between 2008-2019 as a result of lawn mower accidents. In recent weeks, reports of children being injured or even killed in these accidents have increased. In Ohio, a child severely injured his arm when he fell off the lawnmower he was riding on with an adult. In an accident in North Carolina, a child was hit by a lawnmower, injuring his legs and feet. Luckily, both children survived, but many others may not be as fortunate.
Lawnmower Safety Tips
To prevent an accident from occurring, keep in mind the following tips:
Read the lawnmower safety manual and familiarize yourself with the machine
Don't allow the kids to play in the yard while mowing the lawn
Don't mow the grass with a child sitting on your lap
Pick up all loose debris in the yard, such as tree limbs, large rocks, or toys prior to mowing the lawn
Children should be at least 12 or older before operating a push lawnmower
To operate a riding lawn mower, children should be 16 or older
If your children are old enough to mow the lawn themselves, talk with them ahead of time about safety precautions
Wear the proper attire, including safety glasses, shoes, pants, gloves, and long-sleeved shirts
Never step in front of a lawnmower while it is still running
Never get off a lawnmower while it is still running
Always let everyone in your household know that you are using the lawnmower
Keep a cellphone or other communication device at all times while using a lawnmower
Children aren't the only age group at risk of suffering injuries from a lawnmower accident. Adults can be victims as well. It is important to stay vigilant and aware of your surroundings when mowing the lawn. Accidents can happen swiftly and without warning, but with preventive safety measures, these accidents can be prevented.
Common Lawnmower Injuries
Lawnmower accidents commonly result in, but are not limited to, these lawnmower injuries:
lacerations and cuts
severed limbs
broken bones
death
You can prevent these injuries by practicing safety at all times while operating a lawnmower.
Should I File a Lawnmower Accident Lawsuit?
In some events, the injured person is not at fault for the lawnmower accident. In these instances, they may be eligible to file a lawnmower accident lawsuit to gain compensation for the damages that they incurred. Some instances where the injured person may choose to file a lawnmower accident lawsuit:
If you or a loved one has suffered an injury at only some or no fault of their own resulting from a lawnmower accident, contact TorHoerman Law today for a free, no-obligation case consultation to discuss your legal options.
Summary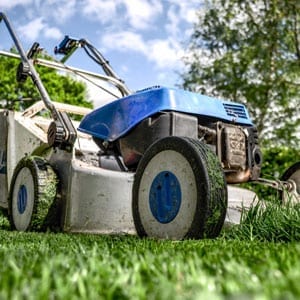 Article Name
Avoiding Lawnmower Accidents Injuries & Lawnmower Accident Lawsuit
Description
Lawnmower accidents injuries can be serious & even fatal - use these lawnmower safety tips to avoid lawnmower injury & a lawnmower accident lawsuit
Author
Publisher Name
Publisher Logo