NEWS
THL Advocates on Behalf of American Citizens in Legislative Lobby Days
Over the course of two days, members of the American Associate for Justice (AAJ) and the Women Trial Lawyers Caucus (WTLC) came together in Washington D.C. to participate in the Legislative Lobby Days 2017 event to advocate on behalf of American citizens. Jessie Hoerman, attorney at TorHoerman Law and member of AAJ, participated in legislative lobby days 2017, meeting with ten Illinois senators and representatives to discuss two separate bills– H.R. 985 "The Fairness in Class Action Litigation Act" which will move onto the Senate for review after coming out of committee and H.R. 1215 "Protecting Access to Care" which will be introduced in the House of Representatives in June.  Both of these bills represent the worst kind of tort "deform" that we have seen in a long time and would harm every one of our clients.
Legislative Lobby Days Bills
Over the course of the event, a number of bills were discussed. These bills have a major effect on the civil litigation process, courtroom conduct, and personal injury law.
H.R. 985
H.R. 985 immunizes corporate misconduct at the expense of civil liberties. It would apply to all class actions, mass torts, and multidistrict litigation (MDL) proceedings.  It is one-sided in that it only limits an individual's right to hold these bad actors accountable and the cost of the injuries/damages from their wrongdoing would instead be passed onto taxpayers.
H.R. 1215
H.R. 1215 is a tort reform bill that is being described as a cap on medical malpractice lawsuits, but it extends to so much more. H.R. 1215 is more appropriately called the "Everything-In-Healthcare-Reform-Law" as it would also apply to bad drugs, medical devices, hospital facilities, and insurers.  Furthermore, it applies to intentional torts such as the physical abuse of an elderly person in a nursing home injury.  Although H.R. 1215 has been marketed as a federal extension of other state's tort reform efforts, it is broader than any state reform currently existing and it would preempt all state laws. Despite its name, H.R. 1215 does not 'protect access to care,' but rather, prohibits citizens from obtaining justice after being harmed. It benefits large corporations and harms the average person. H.R. 1215 will affect anyone who is provided health care benefits under Medicare, Medicaid, Obamacare, or military members.  And, although it is being marketed to the public and Congress as a "medical malpractice" bill, it is much broader, limiting access to the courts in the case of any "health care provider" who harms an individual.  While this does apply to doctors, it also applies to hospitals, medical facilities and any manufacturer of FDA approved drugs and medical devices (i.e., it protects "big pharma.").
"I find myself at a loss for words at how any Congressman can support H.R. 1215 and why all Americans aren't disgusted by any Congressman that votes in its favor," says Jessica Hoerman, a lawyer at TorHoerman Law. "H.R. 1215 is the brainchild of an organization that is funded by Big Pharma, the tobacco and insurance industries.  It is being marketed as a medical malpractice bill because that is an easy sell to the American people – we love our doctors.  But, don't be fooled, this is the broadest restriction to state tort systems that has ever been created – it will restrict American's rights to access the courts if you were harmed by anyone or anything related to healthcare, including dangerous drugs and devices."
This bill goes so far as to protect these same "health care providers" in the case of intentional torts such as rape, assault, or battery.  So, for instance, if a nursing home resident is raped by an employee and it is learned that the nursing home facility failed to conduct a background check, the family of the nursing home resident would be limited in holding the nursing home liable for putting their elderly family member in harm's way. H.R. 1215 takes a wrecking ball to our democratic state tort system, drawing a lot of conservative groups to oppose H.R. 1215.  According to Hoerman, "It is truly disturbing that this bill that causes us to give up on our system of federalism is being fast-tracked through Congress, with very little debate.
It is a bill that specifically removes the right of a state to govern its own courts and instead tells the American people that D.C. is in a better position to govern them.  In Illinois, the courts have specifically overruled a cap on damages not once but twice, yet, D.C. lobbyists plan to step in and cap them anyway.  Regardless of what you think about tort reform, everyone should be able to agree that it is something left to the states to decide." Americans are left with no choice but to step up in place of a real debate.  Please take the time to call your Representative and let them know that you do not support any bill that will limit your access to the courts, and specifically H.R. 1215.
About Legislative Lobby Days Event
"Being a client advocate, I am most comfortable advocating in court and have never "lobbied" Congress before. But, these two so-called "tort reform" bills contain the most egregious limitations of the Constitutional right to a day in court that I have ever seen.  In addition, it is crazy to think that our own elected officials would consider allowing the federal government to step in and tell our states how to run our courthouses.  Yet, this is exactly what these bills are doing" said Hoerman.
With the shift in the Congressional majority during the 2016 elections, Big Pharma and other corporate interests believe they can now enjoy the support of an administration and Congress that is willing to prioritize Corporate profit over the rights of everyday Americans. It is very important that all Americans stand up for their rights and write/call your member of Congress to tell them to reject H.R 1215 and H.R. 985 as well as any other bills that limit their constitutional right to a day in court. Hoerman noted that "These bills are the worst examples of tort 'deform' we have seen in a long time and they are being swept in by well-paid D.C. Lobbyists hoping to take advantage of the shift in political priorities in D.C.  It has never been more important for lawyers to step up and be a voice for their clients so our elected officials know the stories of real people that will be hurt by passage of these bills.  It was an honor to join over 160 Women trial lawyers from the American Association of Justice who participated in over 300 meetings with elected officials last week and I can only hope that our efforts can help stop the stripping of our client's rights." To contact your elected officials, please visit https://www.usa.gov/elected-officials.
Summary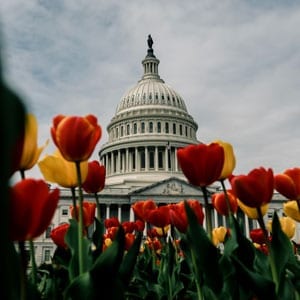 Article Name
THL Advocates on Behalf of American Citizens in Legislative Lobby Days
Description
Jessie Hoerman fights for your rights in Washington D.C. during Legislative Lobby Days where she discussed patient rights with lawmakers.
Author
Publisher Name
Publisher Logo