NEWS
What are the Most Dangerous Areas for Pedestrians in Chicago?
Chicago is the third largest city by population in the country, and with that comes the distinction of being an unsafe city for pedestrians and drivers. Despite a nationwide uptick in pedestrian fatalities in 2020, Illinois as a whole optimistically fell behind the trend. Regardless, pedestrian accidents are still an issue in the city and lead to unnecessary fatalities every year. 
Many areas in Chicago are geared toward pedestrian accessibility and connect to the sprawling public transit network. The city government has also put together a comprehensive plan for pedestrian safety going forward, but still much of the city's space is dedicated to car travel. Large intersections difficult for pedestrians to cross safely accommodate swaths of car traffic, and smaller intersections face issues with dangerous drivers not taking into account pedestrian foot and bicycle traffic. 
5 Most Dangerous Areas for Pedestrians in Chicago
According to fatality data gathered from the Dangerous by Design Report, a project from the non-profit Smart Growth America, and information from news reports and projects by the Active Transportation Alliance that include community concern and data on pedestrian accidents, these Chicago roads, intersections, and areas are among the most dangerous for pedestrians: 
1. Ashland Ave
Ashland Ave is one of the deadliest roads in Chicago for pedestrians. Between 2008 and 2019, 22 pedestrian deaths have occurred on or very close to Ashland, with six deaths having occurred in the West Englewood and Englewood neighborhoods. The road is extremely busy, with four lanes of traffic stretching nearly 18 miles north-to-south across the city. Most injuries and deaths have occurred on South Ashland Ave, where infrastructure like crosswalks or deterrents like red light cameras are lacking.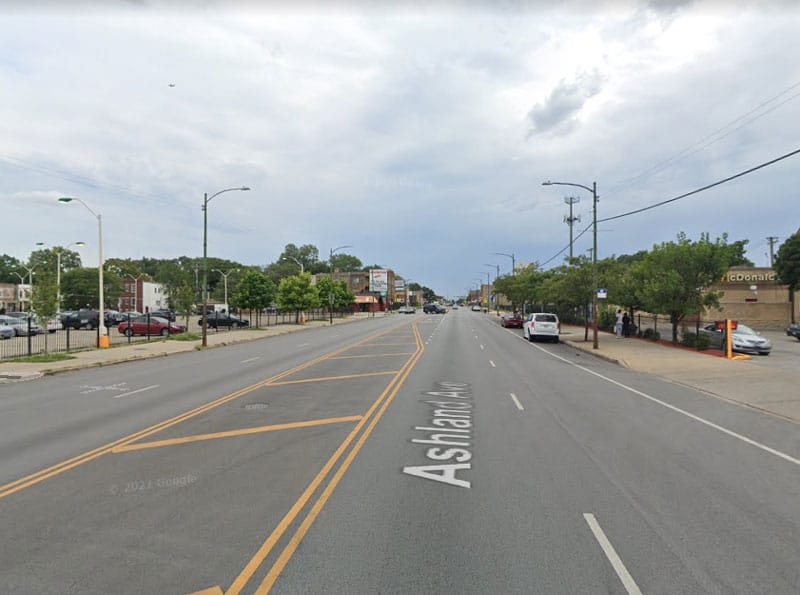 2. Lake Shore Drive
18 deaths occurred along the iconic Lake Shore Drive between 2008 and 2019. Three deaths occurred directly next to Grant Park. Though there are clearly marked pedestrian crossings in areas along Lake Shore Drive that generally have higher numbers of walkers, bicyclists and tourists, there is still a persistent issue of people being struck and often killed by speeding or distracted drivers.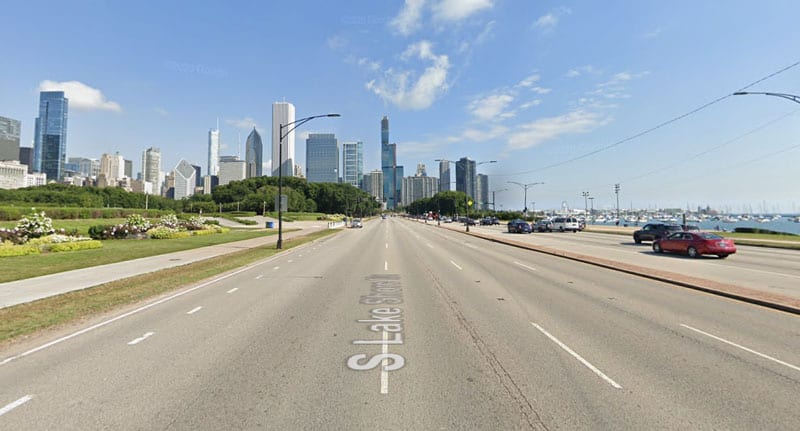 3. S Stony Island Ave
Spanning five miles, South Stony Island Avenue has seen 16 pedestrian deaths between 2008 and 2019, with five deaths occurring in the Dauphin Park and South Chicago Heights areas.There are many points of interest near this road that drive pedestrian traffic up, like the Jackson Park Hospital on South Stony Island and the Chicago State University campus a few blocks west, that in turn put people at risk for accidents. Changes are coming to the dangerous intersection of Stony Island Ave and 79th street, pictured below, to lessen a chronic traffic accident issue, but more ought to be done to ensure the protection of walkers and bicyclists along this stretch of road.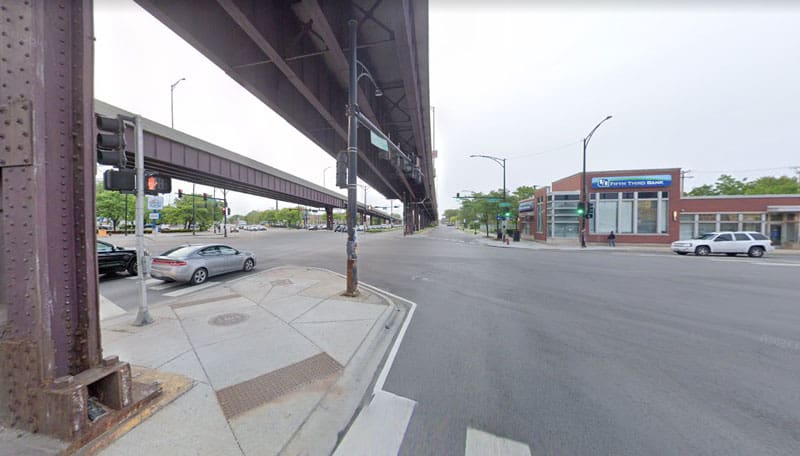 4. W North Ave
A main arterial road on the north side of the city, North Avenue has seen 15 deaths between 2008 and 2019. Massive intersections lend themselves to the heavy traffic flow and lead to pedestrians having to traverse up to six lanes of traffic in order to cross the street. Large intersections like the one pictured below force pedestrians to cross quickly and offer little protection from drivers who may be distracted.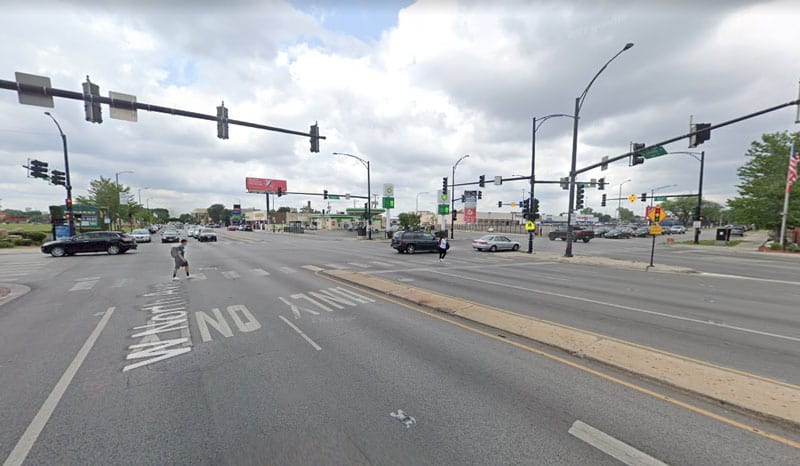 5. S Archer Ave
14 deaths have occurred on S Archer Avenue, which partly runs parallel to Interstate 55 and runs through neighborhoods like Brighton Park, McKinley Park, and into Chinatown. Like all on this list, S Archer Avenue is an arterial road with two lanes of traffic on either side of the road, which has been shown to be most dangerous for pedestrians.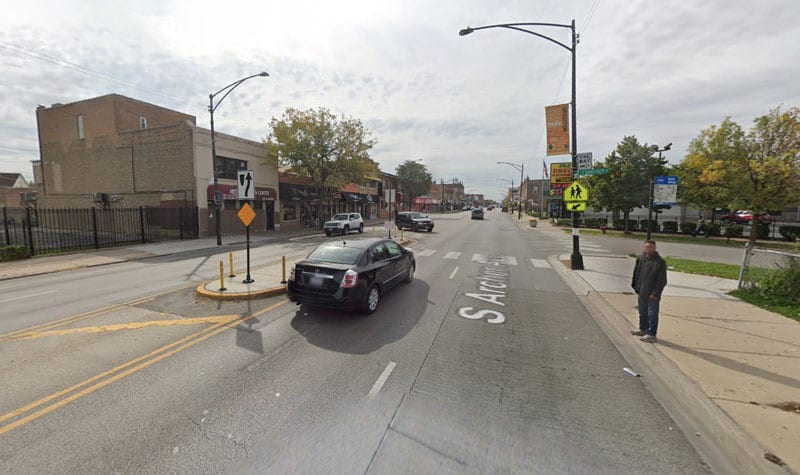 How do pedestrian accidents typically happen? 
As pedestrian-related accidents have been increasing at an alarming rate, the questions of how and why these incidents happen have forced urban planners, city-council members, and traffic safety enforcers to confront the underlying issues with roadways and drivers. 
A 2017 National Highway Traffic Safety Administration (NHTSA) report found that most pedestrian-involved accidents are a result of distracted or negligent driving, and most accidents occur between 9 p.m. and midnight. Alcohol consumption, of either the driver or pedestrian, was found to be involved in 47% of pedestrian accidents in 2017. It was also found that SUVs and small trucks were involved in pedestrian accidents at higher rates than sedans. 
How to Keep Yourself Safe as a Pedestrian in Chicago
It's important to consider that the above information details only pedestrian deaths, not instances where a pedestrian was struck by a car and not killed. Accidents can happen anywhere, and being aware of your surroundings is paramount in keeping yourself safe. 
Crossing roads in areas flooded with car traffic can be extremely dangerous, and it's critical to use a designated crosswalk if available. Traveling in well-lit areas, refraining from using headphones, and always double-checking before crossing intersections are steps to take as a pedestrian to ensure safety. 
Especially in Chicago, it is extremely important to be aware of your surroundings while traveling by bicycle. A significant portion of pedestrian accidents in Chicago occur when a pedestrian riding a bike is struck by a car. If you are involved in a pedestrian accident riding your bike, contact a Chicago bike accident lawyer for assistance.
What changes can be made to avoid pedestrian accidents from an urban planning perspective
From large city planning projects that can change the perception and appeal of an area, to incremental changes that make walking beside or crossing a street more pleasant and safe, a number of changes can be made by a city to make its streets safer for pedestrians:
Increasing safety measures on roadways (more visible crosswalk signs, warning signs for drivers to watch out for pedestrians)

Altering traffic patterns (implementing one-way roads, narrowing lanes)

Slowing speed limits

Adding bike lanes

Reducing blind spots for drivers and pedestrians at intersections
What to Do if Your are in a Pedestrian Accident in Chicago
Being involved in a pedestrian-vehicle accident is a stressful and often traumatizing experience. Whether you're the driver or the person who was hit, it's important to know how to handle the situation. This will help ensure the best outcome for every person involved. These are the five steps to take after a pedestrian automobile accident:  
Do not leave the scene

Call 911 and seek medical assistance

Document the accident and contact your insurance company

Thoroughly document your injuries and property damages

Seek legal assistance from a

pedestrian accident attorney or a Chicago injury lawyer